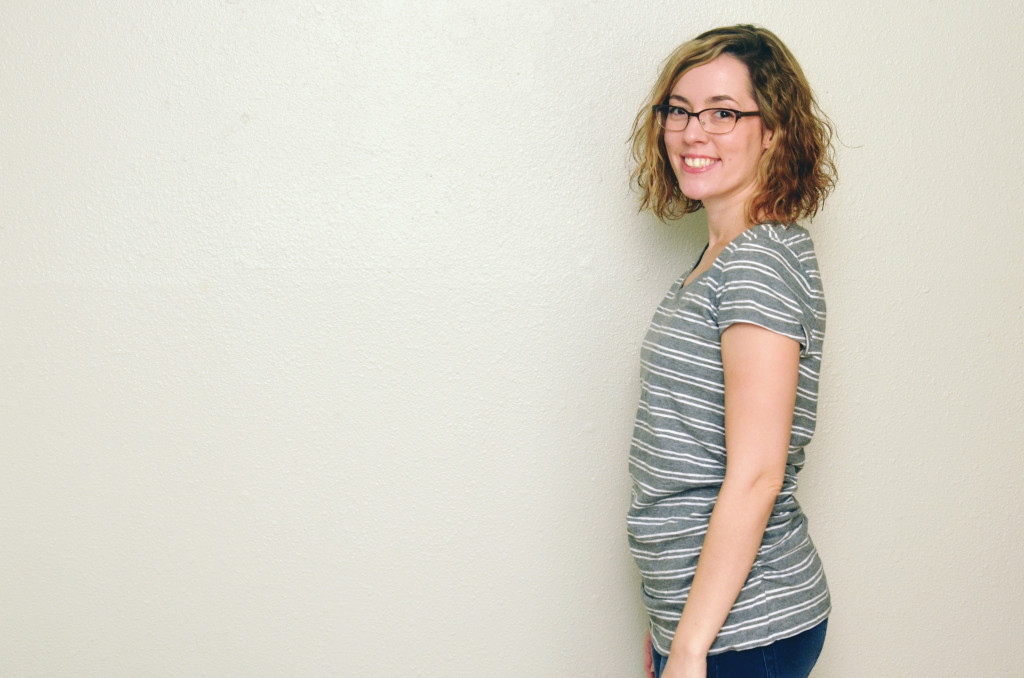 How Far Along: 7 weeks (pic is 7w4d)
Appointments/Milestones: We have our second ultrasound tomorrow morning. If things look good, we are past all of our loss milestones.
Size of Baby as Relative to Common Household Fruit or Vegetable: Kidney Bean
Total Weight Gain: Still haven't weighed myself. I'm guessing I'm up 2-3 lbs. just because I'm not really exercising or able to eat very healthily right now.
Sleep: I'm certainly doing a lot of it and always wish there could be more.
What I miss: I miss caffeine like you would not believe. I could really use the boost.
Cravings: One day last week I really wanted a peanut butter sandwich dipped in soy sauce. That's pretty disgusting. We also did a Greek buffet twice this weekend, although that's more because it was the only thing that sounded edible, not so much because I was craving it.
Symptoms: I'm so tired. We just wrapped the long Labor Day weekend, and I took naps every single day–one for nearly 2 hours. Food aversions have kicked in with gusto. I definitely feel more pregnant than I did 2 weeks ago.
Emotions: Anxious
Maternity Clothes: If our ultrasound tomorrow goes well, I will start going through my tub of maternity clothes. I don't need them yet, but I figure in another month, I probably will, and I'd like to have the clothes situation sorted out before our upcoming vacation to Oregon next month.
PgAL Thoughts: Because our last ultrasound was at 6w3d, and our last loss milestone was our baby last summer stopping development at 6w6d, I've been a nervous wreck this week, halfway convinced the pregnancy is over. It's just hard to believe things could work out. I'm very ready for my u/s tomorrow, to know one way or another.
Best Moment This Week: I had an echo done to check in on a congenital heart defect today. Things look good, although my cardiologist may want to see me regularly during pregnancy just to keep an eye on things. So that's one less worrisome thing on my plate.