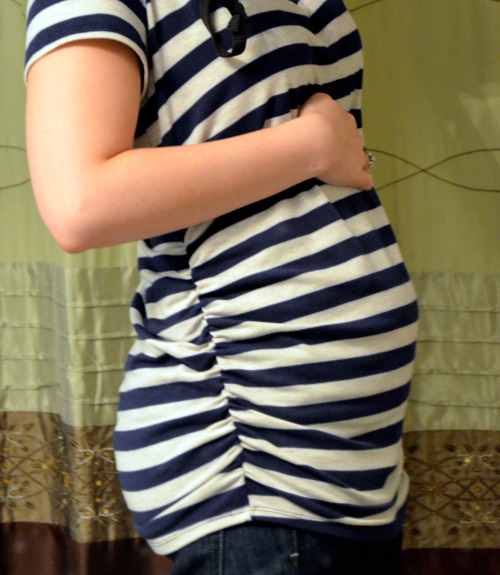 How Far Along: 15 weeks (pic: 15w1d)
Size of Baby as Relative to Common Household Fruit or Vegetable: Naval Orange
Total Weight Gain: Down 4 lbs. still, but up a lb. from my lowest point.
Sex: Two more weeks!
Movement: Nada
Sleep: Apart from all the peeing, pretty good.
What I miss: Hot buttered babies and roller coasters.
Cravings: Pickles and fondue.
Symptoms: Nothing really.
Emotions: I've been in a fan-frigging-tastic mood pretty much all week. Not sure if that's pregnancy related or just that it's been a great week.
Maternity Clothes: Trying to figure out what I'm going to do about our Europe trip. I've got some holes in my maternity wardrobe…
Best Moment this week: Dinner at Gustav's with Brandon and Rachael, celebrating Rachael getting a full-time position after being laid off last spring. So much fun! This whole week though has been great. I've just been really happy, over the moon about the baby, busy with work, totally in love with my husband. It's hard to beat a week like that. 🙂