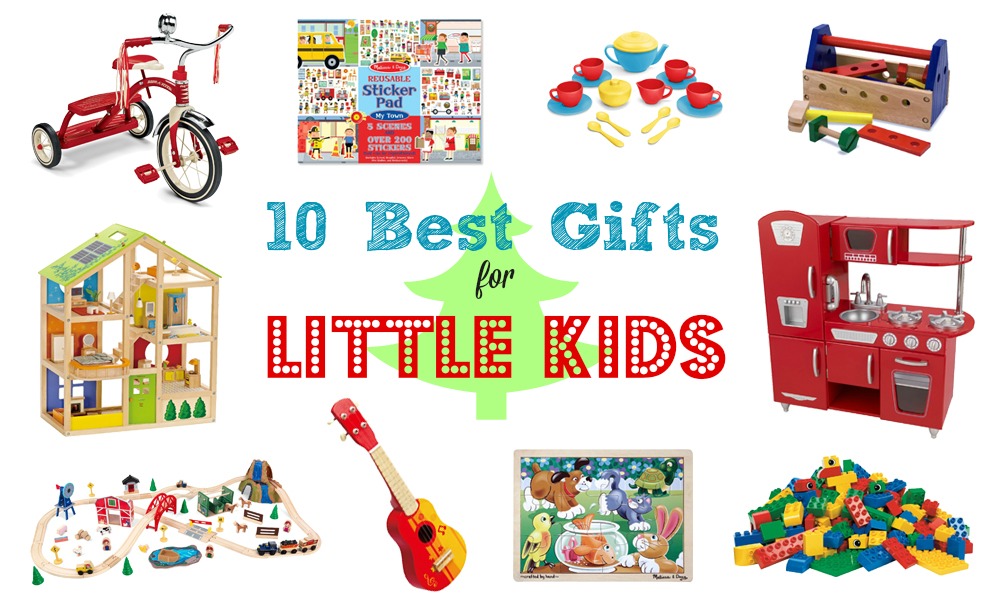 Blocks are a big favorite at our house, both for Isla and for us. This massive Duplo set provides plenty of non-specific blocks that allow kids to build to their imagination's content.
Isla loves throwing tea parties, and this is the perfect set for little hands, because it's not breakable ceramic, but you can still have real tea parties using the little tea pot and cups.
This beautiful, fully furnished wooden dollhouse makes a great setting for pretend. Dolls, pets, and additional furniture can be purchased separately.
This year, a ukelele tops our list of gift ideas for our musical little girl. Even if they aren't quite ready to learn to play, it's great to give little ones the opportunity to begin exploring music with their very own instrument.
This wooden train set has a bridge and a waterfall and a barn and lots of animals. It's so cool, I kind of want it for myself.
For kids who love to cook–or at least pretending to–this rad retro kitchen makes a great base for make-believe culinary excellence.
Puzzles are great for developing fine and gross motor skills, problem solving abilities, and shape recognition. Plus, they're a lot of fun.
Isla has 2 of these reusable sticker pads, and they are in heavy rotation at our house. She loves to rearrange furniture, animals, kids, and vehicles in her sticker pads. There will definitely be a couple more of these under our tree this year.
Another favorite in our house! At this point, Isla mostly just likes to hit the nails and scream, "HAMMER! HAMMER! HAMMER!" But she's also learning a lot about how different tools work with nuts and bolts and screws.
Little kids are obsessed with wheels. This classic tricycle is a perfect way to give yours their first taste of freedom.