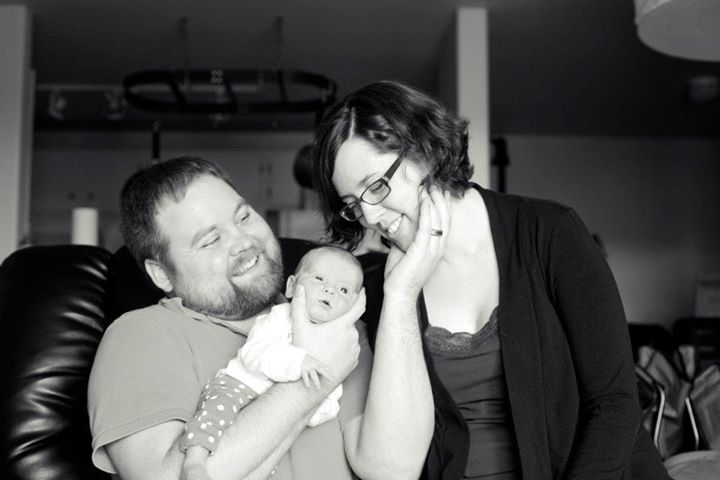 One of my clearest memories of new motherhood was sitting on my couch when Isla was all of 3 weeks old crying to my mother and another new mom about how hard it was adjusting to being a mother. Specifically, I remember saying I thought we'd made a big mistake. Also, something about not having anymore kids until Isla was in high school, if ever.
I can laugh about it now. I'm a well-seasoned mom and the spectre of being responsible for a tiny human doesn't seem nearly as daunting as it did then. I'm used to my schedule no longer being my own, but running according to my daughter's daily rhythms. I'm used to not being able to go where I want and do what I want whenever I want, to having significantly less me time and absolutely zero privacy. My identity as "Mama" is as familiar and comfortable now as my identity as just "Katie" was before my daughter was born.
I also know what's on the other side of having an infant. These days Isla only has to eat a few times a day, instead of every hour-and-a-half. I can prepare her food, and she can feed herself. Eating doesn't require her to be physically attached to me, although she still prefers to move her chair right next to mine so she can lean against me. While there's the occasional body fluid situation now and again, there are no more diapers and or incidents that involve poop absolutely everywhere. (Knock on all the wood.) I can leave her alone in a room for several minutes without worrying she'll kill herself. I still can't go to the bathroom by myself if she's home, but at least I can usually get the first 30 seconds or so alone before she realizes I've disappeared and comes to find me.
I sleep 8 hours most nights, instead of 3 or 4 restless hours sprinkled throughout the night. That honestly may be the biggest difference of all between then and now and one critical to my ability to take the daily challenges of motherhood in stride, rather than feeling like every hitch and hiccup is the end of the world.
Being a mother to a 3-year-old is very different than being a mother to a 3-week-old. And sometimes, when I think about how easy motherhood has become, how our family has fallen into a rhythm with each other that is comfortable and almost always pleasant and fun, I wonder…why the heck are we starting all over again?
Having a second child didn't seem like that big of a change when we first started trying to have another baby. Isla was barely 2 then. She was still in diapers, still largely unintelligible in her communications, still completely beyond the reach of reason. Still a baby in all the important ways. But as the months passed, and it became clear a take-home baby wasn't going to come quickly and easily–as Isla became the big, independent kid she is now–we found ourselves asking, do we really want to do the baby stuff all over again?
The answer was obviously ultimately yes. In most ways, I'm fairly certain the second baby will be easier. I know what to expect this time. I'm probably not going to beat myself up as much over every little thing. While I know in particular not having my body to myself and not getting enough sleep will be hard, I have the benefit now of perspective. I know that this phase doesn't last long (even if baby doesn't sleep through the night until they're well over a year old) and that as hard as it is, there are things I will miss about the brief window of my time when my baby is actually a baby later.
At the same time, I also know that having a second baby is going to profoundly change our family dynamic and relationships, that there will probably be another fundamental shift in my identity. At least this time, I know it's coming, but much like before, I don't really know how everything is going to shake out in the end. Being a mother of 2 is as much a mystery to me as being a mother at all was before Isla was born.
I've been re-reading some of my old posts from when Isla was fairly new, trying to remember how transformative that first year with Isla was and all the things I felt in becoming a mother, trying to imagine what it will be like starting over again with another baby. I'm going to be reposting them over the next several days, fresh reminders of what new motherhood was like.
As I've said before, for a long time we had given up on the idea that we'd have a baby again. Now that it's really happening, it's exciting and elating and, in a way I never experienced with Isla, also a little scary, because I know how hard those first few months in particular are going to be. I'm looking forward to the hard stuff in the way only a mother can. I'm going to be so exhausted, so weary, so worn…but also so very enamored of our little boy. And someday not all that far away, he's going to be a big, independent kid just like Isla, and I'm going to wish–just like I do with her from time to time–we could go back and do it all again.