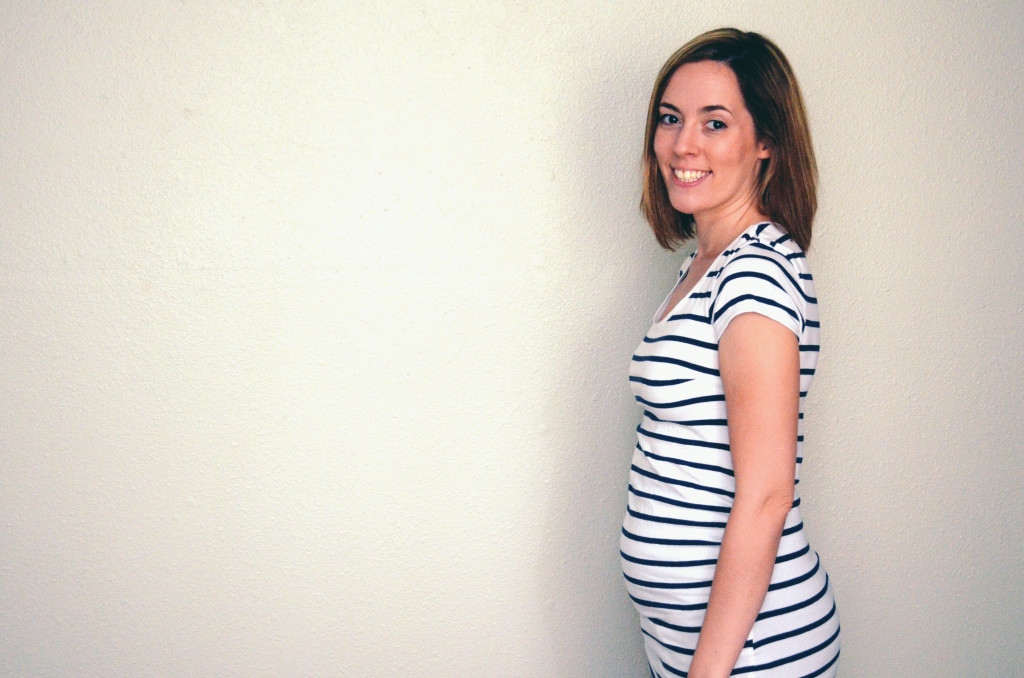 How Far Along: 13 weeks (pic 13w5d – why do I look like an oompa loompa? I swear I haven't been messing with the spray tan.)
Isla Comparison: Here is me at 13 weeks with Isla.
Size of Baby as Relative to Common Household Fruit or Vegetable: Lemon
Total Weight Gain: I have no idea. My next appointment is in 3 weeks, so I'll let you know then. I am very happy to be in the phase of pregnancy where a pound a week is acceptable weight gain!
Sex: Boy!
Movement: Maybe? I've felt what I've though might be a few kicks and rolls here and there. It's not much, but the little flutters sure do feel familiar.
Sleep: I can't get enough!
What I miss: Caffeine
Cravings: This week, I've been all about the hot dogs.
Symptoms: I'm still experiencing a lot of fatigue, but the last week, I've been jet lagged and/or sick, so it's hard to say whether that's pregnancy, typical fatigue related to travel and illness, or some combination of both. I've also been having a lot more back and joint pain.
Maternity Clothes: Yup. You can tell from the picture I'm starting to round out. I'm definitely still in the "is she pregnant or is she just a little chubby?" phase, but it's all elastic waistbands and stretchy/loose-fitting tops from here on out.
Emotions: Run down. While I'm thrilled to be moving into the second trimester and to know we're having a healthy boy, it's been a rough week in several ways not related to being pregnant.
PgAL Thoughts: I'm feeling much more at ease now that we're leaving the first trimester behind and everything is looking so reassuring. I'm not as worried about imminent miscarriage as I have the last several weeks. Instead I'm looking toward the end of pregnancy and all the challenges we may face there. I've worried so much about potential complications with the pregnancy, with the birth, with things going horribly wrong. I feel like I didn't worry about any of that stuff at all with Isla until our 20 week ultrasound, when our doctors alerted us to potentially serious issues. I've never had a normal pregnancy or birth, so that has been a big source of anxiety. I just want this pregnancy to be normal and healthy and boring and to be able to turn off all the worries floating around in my head.
Best Moment This Week: Getting great news at our 12-week appointment!