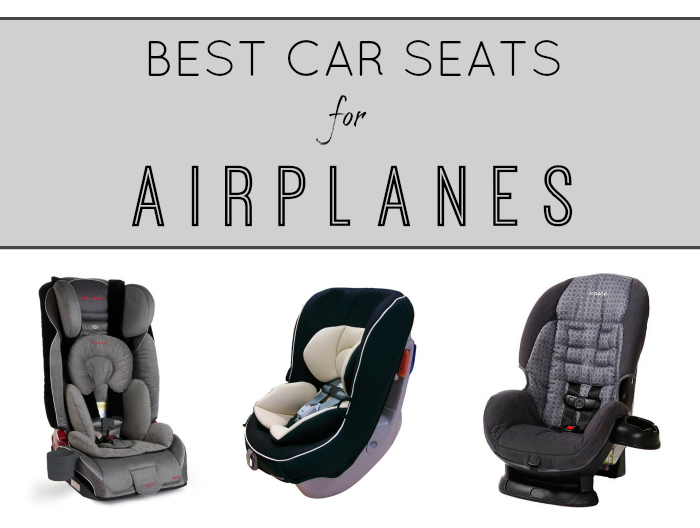 So you've decided you want to use a car seat on your next plane trip, but you aren't sure which are the best car seats on airplanes.
Airline seats aren't exactly known for being spacious these days. When we decided to use a car seat on the plane, I wanted to make sure the car seat was going to fit before we boarded the plane. At the time, I had an Evenflo Triumph 65 LX Convertible Car Seat, my husband had an Evenflo Symphony 65, and our babysitter used a third Evenflo Symphony in her car. None of these car seats work very well on planes. They're all FAA approved. It's just that an airplane seat is only 16″ wide. The Triumph is 20″, and the Symphony is a whopping 22″ wide. (Find out how wide your car seat is here.) They both work fantastically in our car, but in an airplane seat, it would be a tight squeeze. We knew that both car seats could fit in some seats on some airplanes. I just didn't know if ours would fit, and fit comfortably, on the planes we'd be on.
So I started researching the best car seats on airplanes, thinking it might be smarter to purchase a new car seat just for air travel. The three I'd heard lauded as great car seats for airplanes were the Combi Coccoro, the Diono Radian, and the Cosco Scenera. All three of these consistently received positive reviews from people who had flown with them, and they definitely fit in the vast majority of plane seats.
The Combi Coccoro is 15″ wide, making it the slimmest of the three options. It also weighs only 12 lbs., which makes it light for a car seat and easy to transport. It's a cute car seat and comes in a lot of fun colors, and I like the overall design. It's a mid-range car seat in terms of price. I've seen it anywhere from $170-$200. In terms of safety, the latest model has good ratings. It's a convertible car seat, meaning it goes from rear-facing to forward-facing. However, it is a small convertible car seat with a rear-facing weight limit of 33 lbs. and a forward-facing weight limit of 40 lbs. Most of the reviews I read said kids tend to grow out of it pretty quickly. Even before kids hit the weight limit, they often become too tall to use it, because it is a small car seat.
There are multiple versions of the Diono Radian, but they're all about 17″ wide. It's a heftier car seat, coming in at over 20 lbs. It's a convertible seat, though, with a wide range of use. Rear-facing goes to 45 lbs., and forward-facing goes to 80 lbs. It can also work as a booster up to 120 lbs. Reviews all seem to state that this car seat will go the distance. If anything, it will expire before your kid grows out of it. The Diono Radian also appears to have good crash ratings. If you know your family will be traveling by plane a lot, this would make a great choice for your a car seat both in and out of airplanes–safe, high quality, convertible, and you'll be able to use it a long time. The down sides to this car seat are that it's not very attractive (in my opinion), it's heavier and might be more cumbersome to travel with, and it's much more expensive than the other options. I've seen the various versions range from $210 and $340.
The Cosco Scenera is 17.5″ wide and weighs 11 lbs. in the packaging. It's also a convertible seat and the weight limit is similar to that of the Combi Coccoro, up to 35 lbs. rear-facing and up to 40 lbs. forward-facing. It's taller than the Combi Coccoro, so you won't have to worry about your child hitting the height limit as quickly. It still isn't the sort of car seat, though, that will go from birth until your child needs a booster. The Cosco Scenera has high safety ratings, which is impressive considering it is by far one of the least expensive car seats out there. Ranging from $39-75, it's a very inexpensive car seat.
Our Choice
After looking at the options, we decided to purchase a Cosco Scenera. Because we already had 3 car seats in use in our vehicles, we really weren't looking to purchase an expensive car seat. The Diono Radian would be out of our price range entirely, and we were concerned about how long we would be able to use the Combi Coccoro. The Cosco Scenera hit a sweet spot for price, safety, transportability, and long-term use.
We've used the Cosco Scenera several times over the last couple of years while flying back and forth between Texas and Oregon, and at under $40, we don't feel guilty at all about the amount of money spent.
The Cosco Scenera is light-weight, narrow, and easy to install on the plane. We use the Sparco Compact Luggage Cart with a short bungee cord to get around the airport. It's actually really nice to have the car seat on the luggage cart in the airport, because we can pile our backpacks into the car seat and not have achey shoulders by the end of the trip. Keeping Isla in a car seat for the duration of the flight helps keep her seated and quiet, because it's just like riding in the car for her. Then when we hop off the plane in Oregon, we can put the Cosco Scenera into a rental or a friend's car and make the long journey out to the Coast to see Kellen's family without any worries.
At this point we've had the Cosco Scenera for 2 years and made several trips, and it's held up well to all the travel. When we first purchased it, Isla was 2 years old and only 22 lbs. and could ride rear-facing on the plane and in the car. Now at 3, 35 lbs. and 38″ tall, Isla can still use it forward-facing. We're coming close to the weight limit on the Cosco Scenera, but once Isla outgrows it, she will be big enough for the regular seat belt on airplanes.
An alternative to a car seat, if you just don't want to lug a car seat around the airport, is a CARES system, which is a special, FAA-approved harness system for children 22-40 lbs. to use on an airplane. It's fairly inexpensive, not bulky and easy to use on planes. It could easily slip into your carry-on.
There are plenty of other options out there, and I encourage you to check out this list to find out if your car seat will work on an airplane or if there are other options that might work for you.
Check back again later this week for more information on how to install a car seat on an airplane and for ideas on how to transport your car seat inside the airport.
* This post originally ran on May 29, 2013. This article was edited and republished on September 1, 2014 and July 17, 2015.