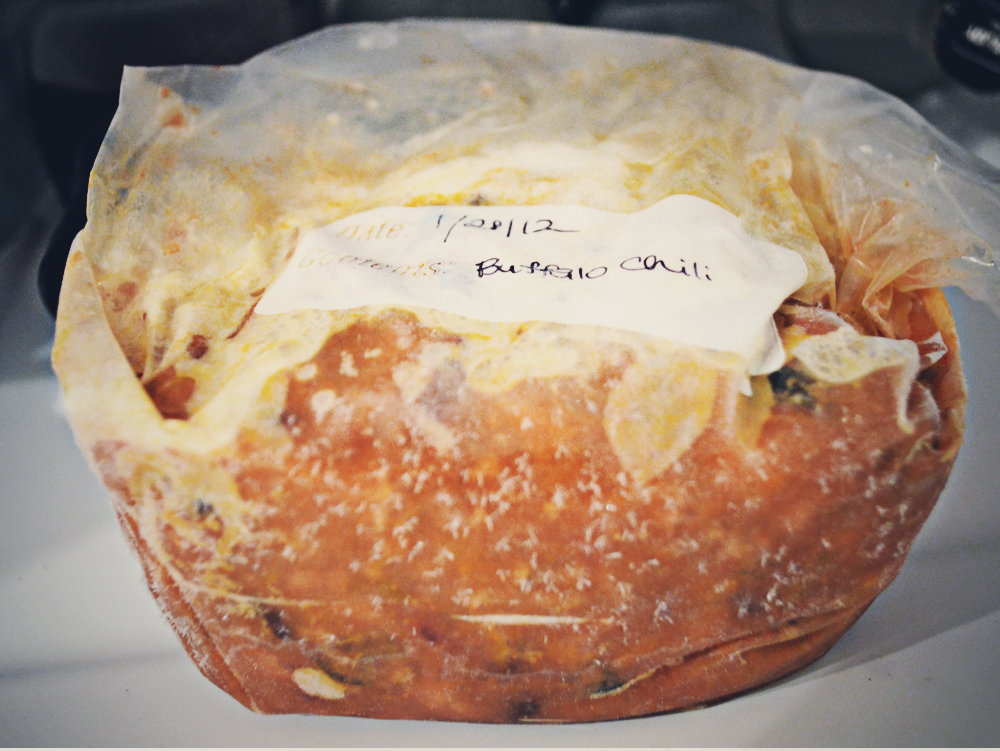 Ingredients
1 lb. ground buffalo (can substitute with ground beef or ground turkey)
2 cans of bean tri-pack OR 1 can kidney beans, 1 can black beans
1 small can of sliced olives
1 can rotel
1 large can tomato sauce
1 medium yellow onion finely chopped
2 carrots finely chopped
2 stalks of celery finely chopped
1 tbsp olive oil
salt
pepper
ground cumin
chili powder
cayenne powder
Directions
In a large saucepan, saute chopped onion, celery and carrots in olive oil until soft.
Add ground meat to the saucepan. Mix well with veggies and brown.
Add can of rotel, can of olives, can of tomato sauce, and beans.
Season with salt, pepper, cumin, chili powder and cayenne to taste.
This typically makes about 8 servings.
To freeze, this time we put the chili in a freezer bag, then put the freezer bag in one of our other freezer-safe containers. We chilled first in the fridge, then put in the freezer overnight. The next morning, the chili was frozen through in a perfect cube, and we were able to put the freezer container back under the cabinet to use later.
This is one we actually made and froze for our friends when they had their baby back in December. They said it was delicious reheated. Check back with us later to see if it's as tasty to us reheated as it was to our friends!