After Isla was born, I struggled a lot with what had happened during her birth. In addition to the fact that everything ended in an emergency c-section, which is a scary situation absolutely no one wants to experience, I felt like I'd been bullied, manipulated, and generally treated poorly by medical staff over the course of the birth even when things seemed to be going well. I decided a long time ago I wanted to have a different experience the second time around: more supportive and caring doctors, a doula, and a chance to try for a VBAC.
At issue was not necessarily how another baby would come into the world–vaginally or surgically–but how I would be treated during the delivery and how much recovering, physically and emotionally, I'd have to do afterward.
When I got pregnant with Ian, after struggling for over a year with repeat pregnancy loss, I channeled all of my energy into preparing for a VBAC. I tried to eat better, exercise more, and find the right doctors. In addition to doing yoga 3-4 times/week and walking miles around our neighborhood almost every day, I saw a chiropractor weekly after I hit the halfway point in my pregnancy. I hired a doula with a winning streak of successful VBACs. I still worried a lot about what would actually happen during the birth, but I felt certain at least our care providers would be nice to me during the delivery.
My waters broke 2 days after Ian's due date after days of contractions. Like my labor with Isla, things with Ian progressed slowly and didn't follow the textbook perfect birth. My waters broke early in the process. It took 22 hours to dilate from 2 cm to 10. I got an epidural again. Toward the end, Ian had a lot of late decels, and I spiked a fever during pushing that could have indicated an infection. Ian had to be delivered with vacuum assist an hour-and-a-half into pushing because we were trying to beat the clock on having to send him to the NICU due to the fever. He came out asynclitic, which may have been the reason labor was so long and painful.
Talking with our doula–who was an amazingly calming presence throughout the experience–a couple of weeks after the birth, she said my VBAC happened against the odds. That with any other provider, it probably wouldn't have happened. Despite the fact that there were a lot of things that could have gone wrong, and did, though, throughout the experience I felt safe and calm, even while being aware of the complications and prepared for whatever actions might need to be taken to ensure a safe delivery of our little boy. There were several points where I completely expected to have the doctor say it was time for a c-section and felt 100% at peace with that as an outcome. The fact that the birth ended with a successful VBAC had nothing to do with why the experience was so much more positive than my daughter's birth.
The biggest difference between my daughter's and son's births was how I was treated. No one tried to keep information from me when things were going wrong. They shared the information calmly and matter-of-factly, letting me know the possible consequences of action and inaction, and ultimately left it to me to make informed decisions. No one was rude to me or talked down to me. No one rolled their eyes at me or treated me like a drama queen when I asked simple questions about my or my son's health and care. No one panicked when things looked bad. I felt like I was surrounded by competent, caring people who would do whatever they could to make sure my son got here safely, while still treating me like a human being. Even if I'd had to have another c-section for Ian to be safe, I would still have been happy with how things went overall.
I want to add: recovering from a vaginal birth is a totally different experience from recovering from a c-section. While a few hours after Isla's birth I looked like this:
This was me just a few hours after Ian was born: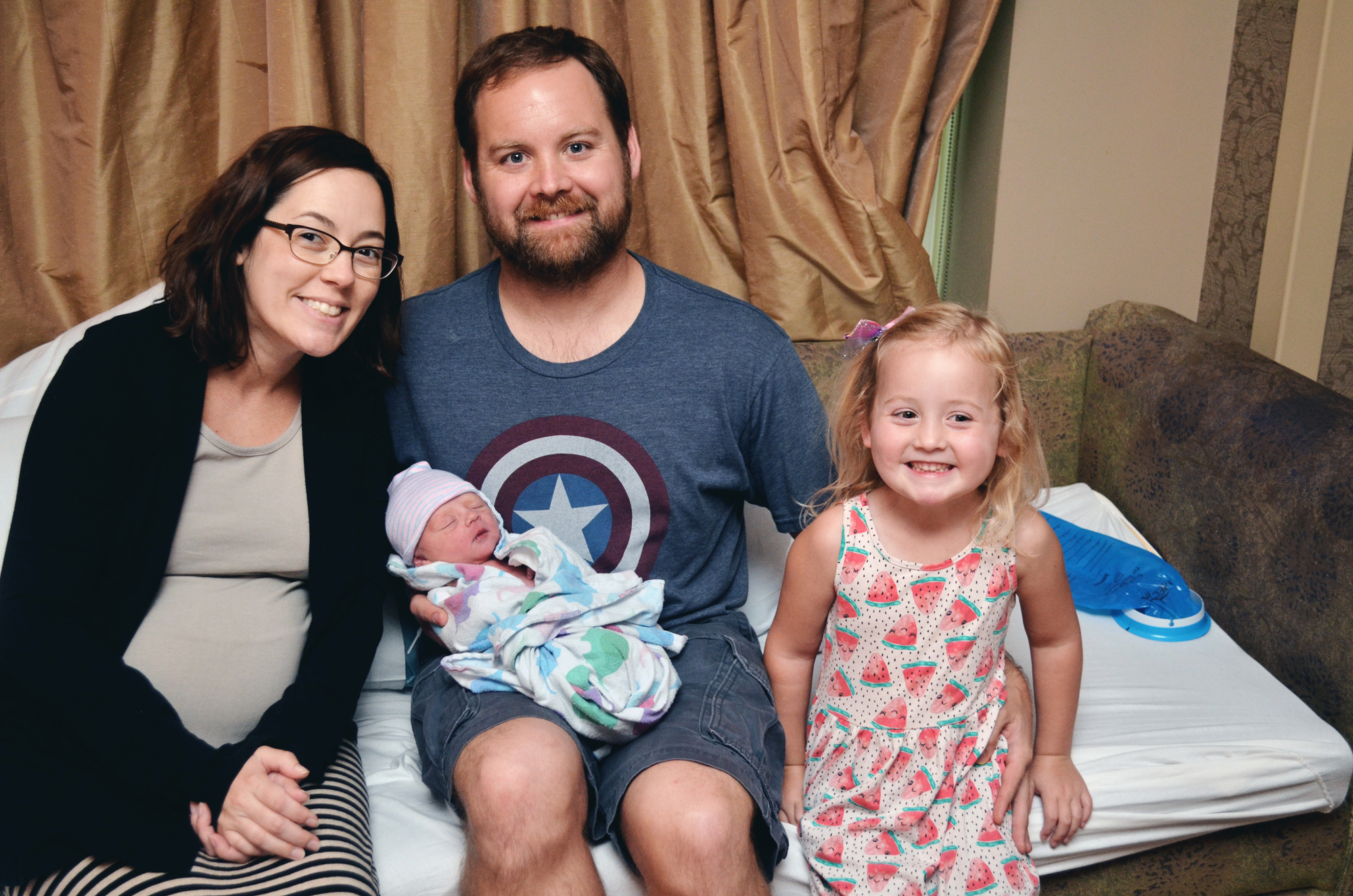 I was able to walk and wear my own clothes within a couple of hours of his birth. I didn't have to wait until drugs wore off to be able to hold my son. I wasn't hooked up to an IV and catheter.
And the most amazing differences in recovery came in the days and weeks later. While it took a few weeks to get back to feeling like myself after the c-section, I was out and about and feeling great within a few days of Ian's birth. That's been a huge boon given that I've got an active 4-year-old to take care of in addition to a newborn. A month after a c-section, I was still recovering from the c-section. A month after a vaginal birth, it's easy to forget I was just pregnant and had a baby a few weeks ago.
On the whole, I'm so glad I had a VBAC. Specifically, I'm proud of myself for pursuing not simply a different outcome, but what I feel without question was better, more supportive care from medical professionals who value and respect their patients. It helped me resolve a lot of the guilt and self-doubt I felt after Isla's birth.