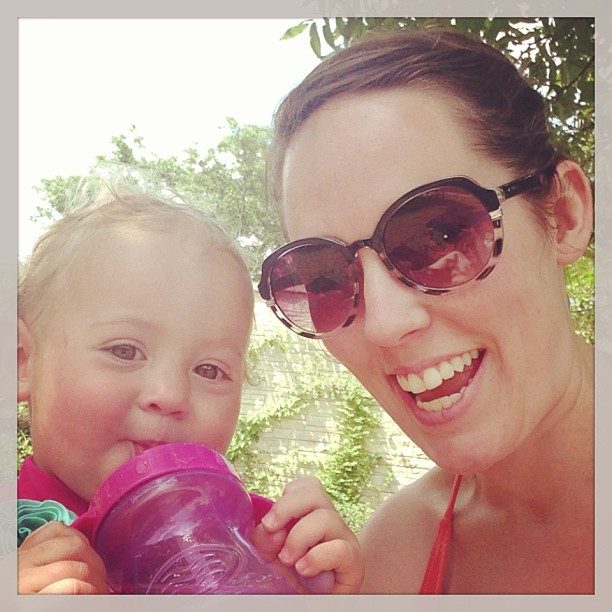 Yesterday was one of those nightmare days where everything went wrong. Our plans got screwed up, and our back-up plans all seemed to go awry. Isla had multiple public meltdowns, refused to nap, was unappeased by our normal reset activities, and basically spent most of the day being a little terror. By the time she went to bed, I felt like the worst mother in the world. My kid didn't know how to behave anywhere, and it was all because I was a terrible parent. Nevermind that I knew she was teething and had a cold and that our morning routine had been thrown out of joint due to the changes of plans. I was a bad mother.
We had a BBQ at our place last night to celebrate my 29th birthday, which is on Tuesday, and the house didn't clear out until after midnight. We'd made plans to go to Barton Springs Pool fairly early the next morning, and I was dreading the 6 AM baby alarm and the possibility of a repeat of a miserable day.
This morning when Isla woke up, though, she was in a great mood. We got dressed and ate some breakfast then packed up to head to the pool.
I didn't know how she'd take to Barton. The water is very cold, and there are a lot of hazards like steep hills, concrete stairs, and not to mention a whole lot of deep water, so she'd have to be fairly closely supervised. Visions of her jumping headlong into the deep end (which has happened before!) or having a meltdown because she was tired of being held or being flanked by both parents, supremely irritating to her independent spirit, danced through my head.
She loved it, though. She loved playing in the water and watching all the other people. She loved it when Kellen would pick her up and let her kick her feet. She charmed total strangers, and one of the life guards commented on how brave she was and how unusual it was to see a little one like her take to the water the way she did.
After an hour and a half of swimming, we went back up to our towels to have a small snack (we sneaked in some animal crackers) and drink some water, and she sat calmly and looked around and watched the lady with the tiny baby sitting next to us and pointed out dogs and birds. We took a break from swimming to walk around the grassy area and walk up along the concrete walkway, and she loved looking at the flowers and the people.
Then we got back in the water for a bit, and she was happy to be held and occasionally dipped or splashed.
We went home, where the good humor persisted right up until naptime, where she slept almost 2 hours. She woke up a little cranky, but quickly perked back up until dinner time. From the time she woke up until the time she went to sleep, she was in a great mood. Sweet, friendly, fun and just the right amount of curious, being brave when she needed to be and cautious when she needed to be as well. It was a perfect day that completely undid all the feelings of inadequacy and insecurity of yesterday. I'm not a bad mother. I'm a great mother! Why was I so convinced 24 hours ago that I was unfit to raise a child?
Days like these are always a reminder to me that everyone has bad days, and you can't judge your performance over the long haul based on how one bad day goes. I'm not a bad mom because Isla has a bad day, just like Isla's not a bad kid because she has a bad day. Bad days are just bad days. Everyone has them. You just have to make it through them the best you can and try again tomorrow, because tomorrow might be a perfect day.