This is a sponsored post.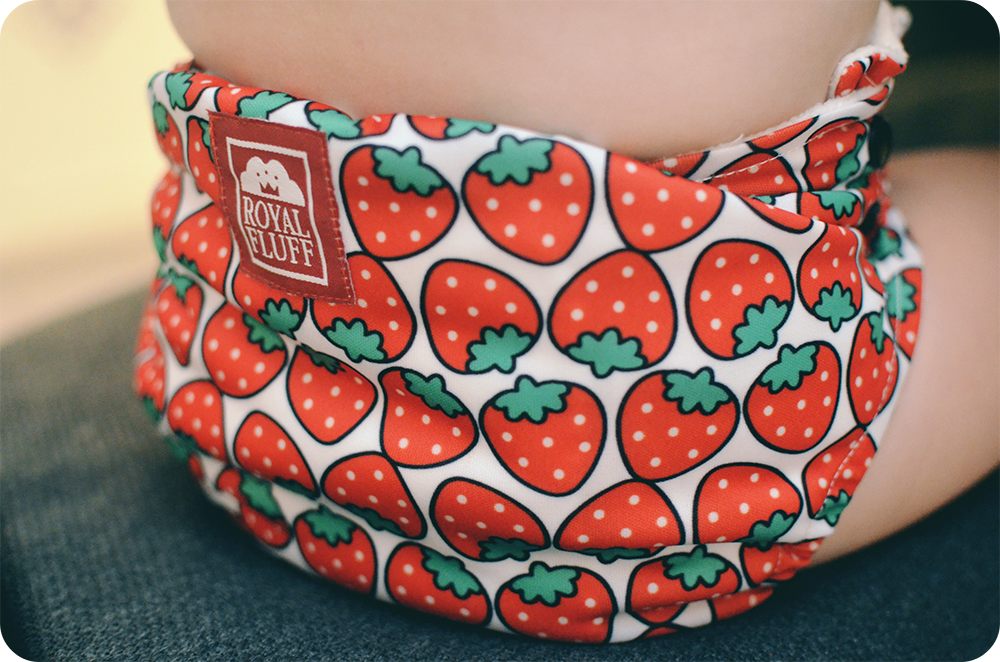 Royal Fluff Diapers are one-size pocket diapers made from a 100% polyester knit cover with a PUL lining and super soft fleece on the inside to wick moisture away from baby's skin. Each diaper comes with a thick, fluffy microfiber insert. After a few runs through the wash, they are ready for regular use.
We've been using Royal Fluff for about a year now. When Isla first started wearing them, she was 18 months old and weighed 25 lbs. She's now 2.5 and weighs 30 lbs. The fit has been great for the last year. These cloth diapers seem to run a little larger than most of our other diapers, which is beneficial for us, since Isla is on the older/bigger end of the spectrum for one size diapers. I'm not sure how well they would work for smaller babies, since I've never had a smaller baby to test them out on. If you're running out of diapers in your stash that will fit your toddler, though, I would highly recommend trying these.
Here you can see Isla last November in Royal Fluff. You can see that even though she was 25 lbs., the diapers still had a lot of room to grow with her.
And here she is at 2.5 in Royal Fluff. You can tell how much she's grown, but these diapers have scaled well, and in fact, I probably should have them snapped in a little more for them to fit snugly here. This is the "diapered while sprinting around the house" fit.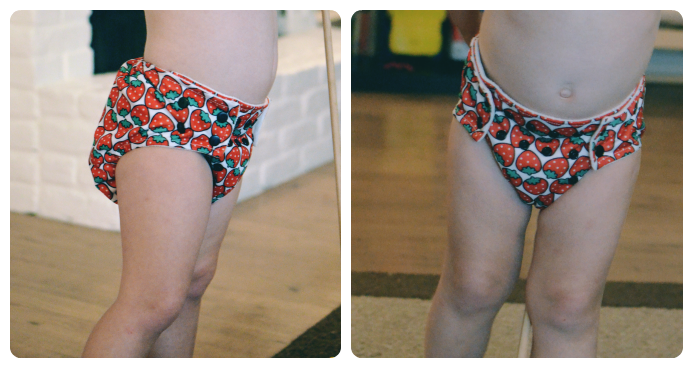 We've never had problems with leaks with Royal Fluff. They fit very snugly around the legs. Occasionally, if I don't get the waist setting snug enough, pee will leak around the waist at nap time, but as long as I get the waist setting tight enough, that's not an issue.
My favorite thing about Royal Fluff is that they are incredibly soft. One of my biggest complaints about some of our cloth diapers with fleece linings is that over time, the fleece gets natty, stiff, and scratchy. Even the Royal Fluff diapers we've had in rotation for a year, though, are still soft and fluffy. These diapers have held up very well. They're sturdy and well-made, but still comfortable and soft.
The diapers also come in a ton of cute patterns. My favorite from our stash is the Love pattern, which I don't have any pictures of, but which is absolutely darling.
My only complaints about Royal Fluff are that they are a little bulky and if you have hard water like we do, you'll probably want to swap the microfiber inserts for an insert made with natural fibers. Microfiber can be harder to get clean and fresh smelling, but that's true of any microfiber insert.
The price can be a little steep as well when compared to similar pocket diapers which typically sell at under $20 a piece. They are available for $23.99 at the Royal Fluff website. Royal Fluff is a smaller diaper company, though, and the diapers are high quality, so the higher price point makes sense in that context. And if you're looking for a larger diaper for a toddler who has outgrown most of their other cloth diapers, it would be worth a few extra bucks to add these larger diapers to your stash. If you're a bargain shopper like I am, you can also often find Royal Fluff on sale at Zulily. Although I've been given diapers to review by the company, I've purchased additional Royal Fluff diapers from Zulily for around $11/diaper. Be on the lookout for sales!
On the whole, these are great diapers. Good quality, soft, leak-free, and still big enough to fit easily and comfortably on my large toddler. If you'd like to learn more, check out RoyalFluff.com, and if you're interested in winning a free Royal Fluff pocket diaper, come back to Mom in Leggings on Friday, November 7!
* This article originally ran on November 28, 2013. It has been edited and republished on November 3, 2014.