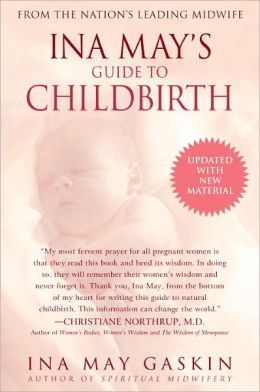 Numerous people have recommended Ina May's Guide to Childbirth as the quintessential book for anyone hoping to have a natural birth. Because I am hoping to have a natural birth experience with baby #2 (no, I'm not pregnant), I decided to pick it up and give it a read.
I was not as impressed with this book as I thought I might be. I have a tremendous amount of respect for the opinion of Ina May Gaskin's opinion and expertise on the subject of natural birth, but I found this book to be a little heavy on the side of opinion. Which is not to say there is not a lot of good, hard evidence for natural birth in this book. Gaskin makes an excellent case for natural birth in cases where mother and baby are healthy and tolerating labor well, and provides fact-based evidence for using medical interventions like narcotic pain medication, epidurals, labor inducing medication, and c-section sparingly.
However, I found the facts to be interwoven with opinion and anecdotal evidence, and the two were at times treated as almost interchangeable. There was more than one occasion when she made conjectures about outcomes of natural birth and medical interventions without good evidence other than personal experience. While I believe that Gaskin's opinions are, in many cases, probably correct or at least heading down the right track, it always makes me a little uncomfortable when experts don't make clear delineations between hard evidence and speculation.
The other thing that bothered me was the fear-mongering around hospital births. I understand that Gaskin has strong opinions about her preference for home births over hospital birth, but I did not appreciate that most of her examples of hospital births swirled around death and other women's horrifying experiences of near-torture. I say this as a woman who had a pretty awful hospital birth. I think terrifying women about the prospect of a hospital birth is no better for women than the doctors I see terrifying women about the prospect of home births. I think women should have real, slant-free information about both options (and other options, like birth centers), and be allowed to form their own opinions based on evidence. Fear is not a good place for anybody to make a decision from, and trying to scare women into one situation or another isn't responsible.
Beyond that, the book was a little hippie dippy for my tastes. A large portion of the book shares women's real life natural birth stories, most at home or at The Farm. The stories are inspiring and for the most part made me feel much more determined and capable of having a natural birth. Every so often, though, there was one that was just too out there for me to get on board with. When I came to those, I usually had to put the book down for a few minutes and take a few deep breaths and convince myself it was worth it to keep reading.
The book did contain some really great information about the side effects and potential risks of various drugs to induce labor, various artificial means of pain management, and c-section, and I think these are excellent because you won't hear doctors or nurses mention these very often. You may have to sign a form acknowledging something may go wrong, but no one ever really tells you how often those things happen or how likely it is to cause difficulties later in your labor and birth experience or how it might impact future fertility, births, and general health.
The book also contained some excellent recommendations on how to get labor moving and strategies for handling common difficulties in labor and birth, as well as how to find a health care provider who will be on board with allowing nature to take its course unless there is clear evidence that something is not right.
On the whole, I would say it's worth the read. Just be aware that some of the evidence put forward is more anecdata than hard data and that her portrayal of hospital birth is a little extreme. She makes multiple valid, evidence-based points, but she tends to lean more heavily on exceptional cases and experiences. Balance out your reading here with other, less dogmatic books.