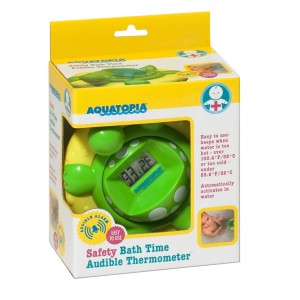 About the Aquatopia Bath Thermometer
The Aquatopia Bath Thermometer is a pretty simple device. You put it in the bath tub. You fill the bath tub with water. The thermometer floats on top and gives you a constant reading of the temperature of the water in both Fahrenheit and Celsius, alerting you if the water is too hot or too cold. It turns off and on by itself depending on whether it's in water, so you don't have to bother with remembering to turn it off or on. Easy and very helpful, especially if you're a paranoid parent like me who has a hard time gauging appropriate bath water temperature for baby. It's fast, easy to use, and takes the guess work out of finding the perfect temperature, and while my little one is too young to have much interest in it, it's also a fun turtle shape so I imagine older children would probably enjoy it as a bath toy.
Buy It
This and other bath time safety products from Aquatopia can be purchased on Amazon, among other vendors.
Win It
If you'd like to win an Aquatopia Deluxe Safety Bath Thermometer Alarm, please visit between April 1 and 15 and enter to win in the Ohh Baby Baby Giveaway.