Books are a fairly recent addition to Isla's bed time routine. Up until a couple months ago, she never really had the patience for reading a book at bed time and vastly preferred her bottle to a story. With her growing attention span and weaning from the bottle, though, books have become a central part to getting Isla ready to go to sleep.
I thought I'd share some of her favorite bed time stories, in case anyone else is looking to add books to their bed time routine. These are great reads particularly for babies and toddlers. All are either board or cloth books, which are great for destructive toddler hands and drooly baby mouths.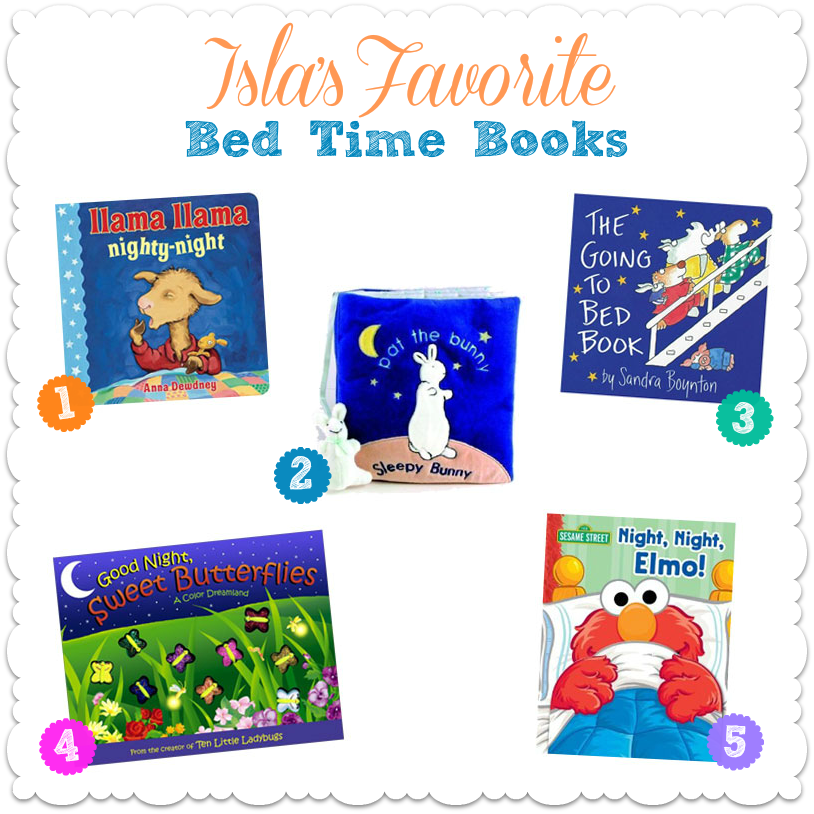 I've read Llama Llama Nighty Night so many times, I have the book memorized cover to cover. Kellen and I alternate reading the lines, and I don't have to look at the book at all anymore to know the next line or where to turn the pages. The Llama Llama books are of excellent quality and among Isla's favorites, and this one is no exception. This is the book that sets the mood for sleep in our house. We usually read it last, and it signals that it's time for lights out.
Sleepy Bunny is a sweet cloth book with a tiny stuffed bunny attached. You walk the bunny through his bed time routine as you turn the pages. Isla likes to take the bunny out of his cozy arm chair, feed him a late night snack, read a book, pet the kitty, and then tuck him into bed. It's especially nice because it's an easy one to tuck her into bed with. She's been known to go to bed with one of her board books, too, but this is a little more snuggly. It's a companion to Pat the Bunny, a children's classic. You probably had it yourself when you were a kid!
We love Sandra Boynton books in our house. The rhymes are great, the subject matter is always fun and a little unexpected for children's books, and the art work is adorable. (See: The Belly Button Book or Birthday Monsters.) Her Going to Bed Book is a fantastic bed time story. I love how the rhymes go from the boisterous beginnings of the characters' bed time routine to its gentle, quiet end. It's especially great because the rocking of the boat described in the book matches the motion of the rocking chair as I'm putting Isla down to sleep.
Good Night, Sweet Butterflies is an old favorite. The sparkly, 3D butterflies and colorful illustrations have been able to hold Isla's attention for months now. Our copy of the book has been taped backed together umpteen times, and my mom has her own versions in both English and Spanish at her house. It is technically a bed time story, although Isla loves it at any time of day, and is a great bed time book for kids who haven't quite developed the patience for a full fledged story. Pro tip: if your kid won't sit through the story yet, you can always just say the colors as you turn the pages, count the butterflies on each page, or point out different things (bird, frog, moon, bubble) in the illustrations.
Generally speaking, I'm not a huge fan of the Sesame Street books (for reasons.) Isla loves this book, though, and as far as Sesame Street books go, this is great quality. It has fold out pages and a pop-up Elmo sleeping in his bed. Isla likes to pull back the shower curtain or open the book he's reading. At the end, Isla tucks Elmo in under his blanket and says, "Night night"–sometimes she'll even give him a kiss–and it's absolutely darling. If your kid likes Sesame Street, you'll be happy to have this one.
That pretty much rounds out our list. We have a few others, but these are the ones that get read night after night and that Isla seems to ask for the most.
Do your kids have any bed time reading favorites?