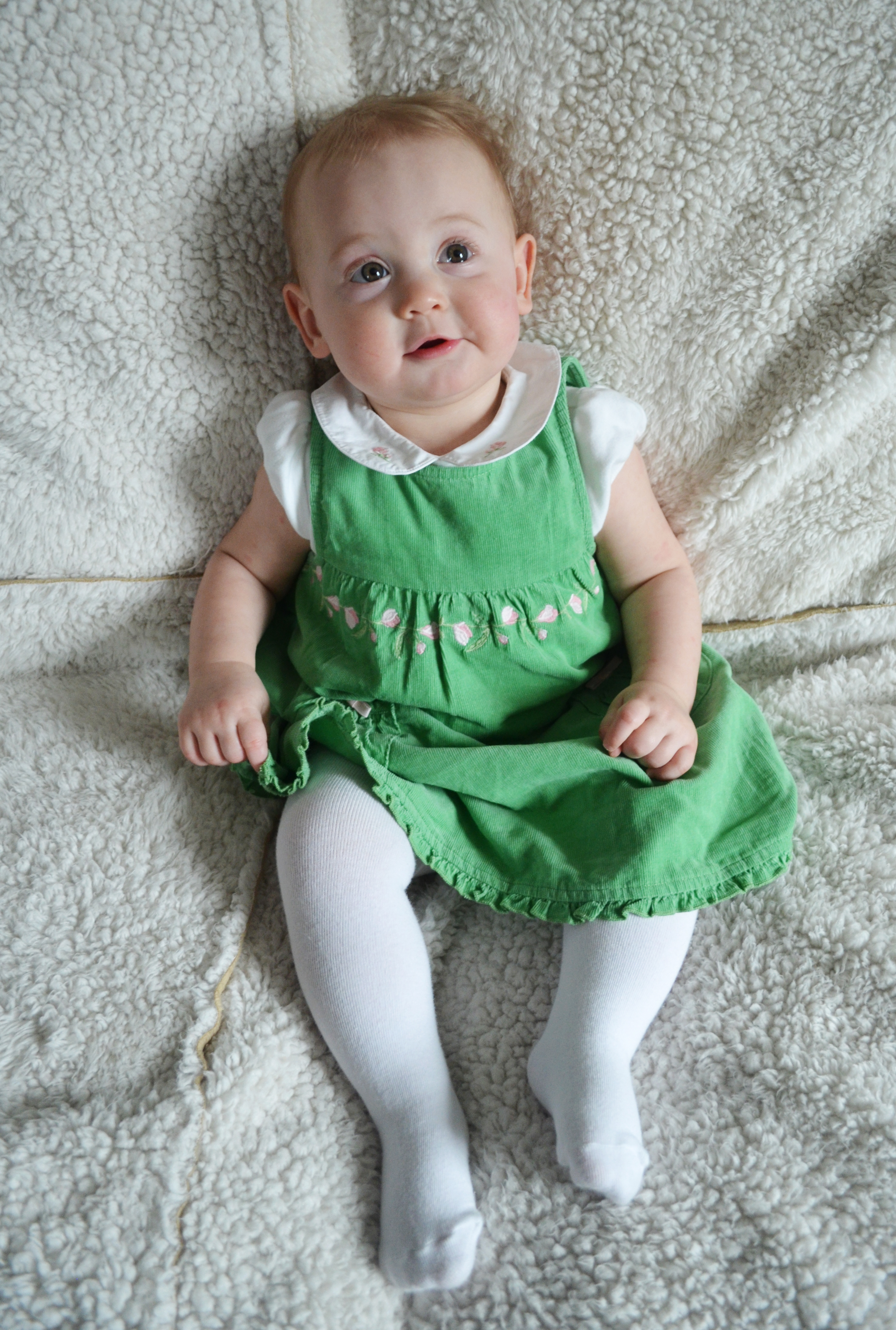 This will be pretty short, since we're leaving in a few short hours for Texas. This month…
Isla is a full-time walker at this point. She can get to her feet from any position. She doesn't need to pull up anymore, and she only crawls to get under the dining room table.
Her top teeth are pretty much all the way in now, so she has two very distinct top teeth in addition to her two very distinct bottom teeth. She has a gap between her front teeth, which apparently Kellen and I both had when we were little. (We knew before Isla was conceived that braces were in her future.)
She claps when other people say "Yay!" or when she hears other people clapping. For instance, she'll clap when the audience claps toward the end of The Sound of Music or when she sees the audience clapping in a basketball game.
She says "Hi" and "Bye Bye" and waves. When the front door opens, she yells, "HI!" over and over and starts waving and runs to the gate that blocks the route to the front door.
She says "No" and shakes her head no. She does this most frequently when she touches something she knows is off limits. She asks, "No?" in the most adorable little voice, and then when we confirm that it's a "no," she shakes her head at us.
She will come to us usually when we say "come here." It's nice, because she can fairly reliably follow us through the house without needing to be herded away from any previously very enticing danger zones like the bathroom or the kitchen.
She still signs "dog" and "more." Her "all done" sign has changed from a "bye bye" wave to frantic hand waving and shouting.
She sort of says "dada" sometimes, but I'm not sure they're directed specifically at Kellen yet. She says "da" to and about a lot of things. "Mama" is still almost always just lip smacking instead of an actual "mah" sound, and even then, it's not directed at me so much as she just likes the sound it makes.
She got her first baby doll and loved it so much, she held it with her in the Ergo all the way through Ikea (where we picked it up), while we checked out (had to scan it while she was holding it), through the parking lot, until we put her in the car. She held onto it all the way through lunch and the car ride home (except when she accidentally dropped it, and then she was heartbroken.) It was super cute. It didn't hold the same sort of attraction once we got home, but it was weird to see Isla so focused on a single toy for so long. Usually, toys last about thirty seconds before the interest wears off, and she's on to something else.
She's a fantastic eater. This month, she's eaten fish, greens, pickles, pineapple and loved them all and has for the most part graduated to people food. She doesn't have a lot of patience for purees anymore, insists on eating what the grown-ups eat, and I have a feeling we've purchased our last baby food packets for a good long while.
She'll feed me, too. It's cute!
Isla is sleeping through the night for the most part. We've had a cold and then some hives this month, plus medication for the hives, which have been a little disruptive, but on the whole, she's a champion sleeper and (*knock on wood*) I think we're over the sleep deprivation parenting hump. At least for now.
Isla has grown up so much this month. She's a completely different baby than she was at Christmas, and it's so strange to look back on videos from even a month ago. Physically and mentally, she's changed so much. When I compare her to what she was when she was born, I can hardly believe all this happened in under a year. She went from being this teeny, tiny little creature with huge eyes that rarely closed and were, from the very first hour of her life, alert and curious, to a big, active, curious girl who can now go and personally investigate all the things she once analyzed from afar. It blows me away.
I'm trying to savor this last month of babyhood before her first birthday. In a few short weeks, she'll officially leave behind infancy and become a toddler. I wish I could keep her small forever, but I feel like Isla is racing to grow up. She does everything full speed ahead, never slows down, never second guesses, never looks back. She's always so eager for every new milestone, every new discovery, every new experience. It's gone so very fast.