About Planet Wise and Planet Wise Wet/Dry Bags
Planet Wise wet/dry bags are a fantastic way to store dirty diapers between washes, both at home and on the go. These bags are waterproof, right down to their seams, so that you don't have to worry about leaks, no matter how wet the things you put in them are. They have zipper closures to ensure odors and moisture are kept in. The handle snaps so that you can hang them in your laundry room, near your diaper station, or even from your diaper bag if need be. These bags are Made in the USA, are PVC and lead free, anti-microbial, and are a great green alternative to plastic bags.
Planet Wise is a family owned company committed to practices that are good for the environment and good for their employees.
My Experience with Planet Wise Wet/Dry Bags
I love my Planet Wise wet/dry bags. We've never had any problems with leaks, even when I've forgotten about having wet diapers in them for a day or two. Once, after accidentally forgetting about dirties in the bag for a couple of days, the bag did emit a slight odor. However, that was after leaving a half-full wet bag stuffed in our diaper bag in a steaming hot house for the two hottest days of the summer! Even then, the diaper bag didn't smell bad.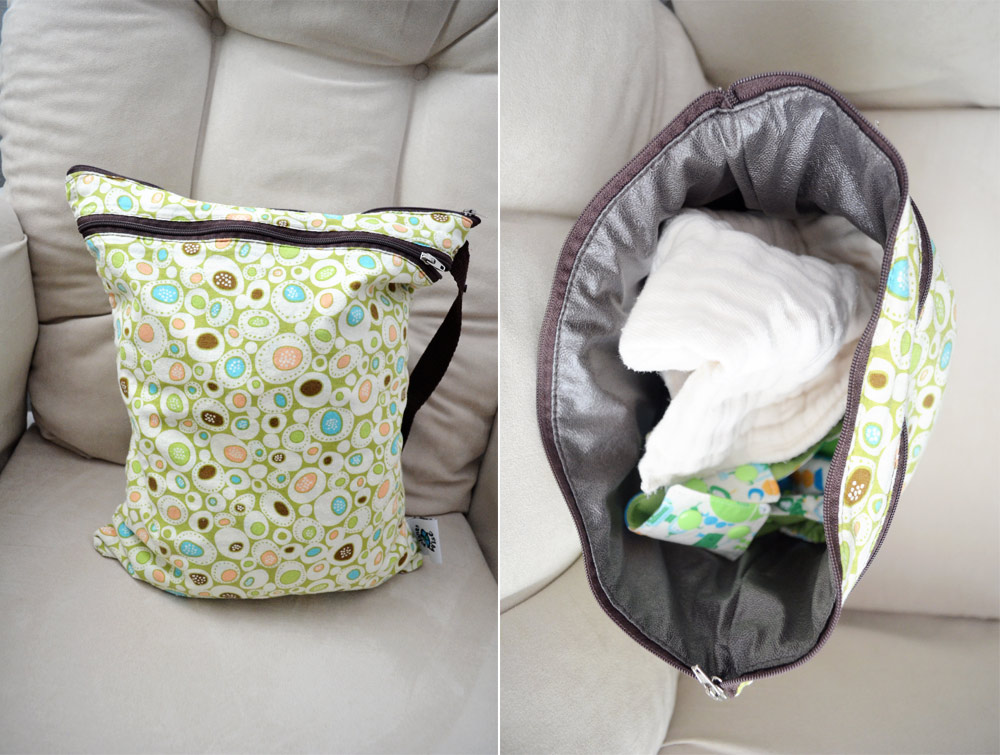 In terms of how many diapers a bag will keep, a small bag is perfect for a quick trip out where we know we'll only go through a diaper or two. The medium bags will last for a whole day and great for long days out or road trips. We used the medium size bag for an overnight trip to visit family. One medium size bag held an entire day's worth of diapers. (About 10 prefolds and a couple of covers for us.) Plus, we had it in our room with us overnight, then in the car with us for a long, 6-hour drive home, and we never smelled it. It never leaked.
For long trips, when the wet/dry bag starts to get super puffy and doesn't fit in your diaper bag anymore, you can use the snap handle to attach it to your diaper bag. I've done this a lot this summer, what with all of our long days away from home and usually outdoors where it's a pain to lug around 10 different bags everywhere you go.
The large bags will work great for regular laundry around the house. You can easily keep a couple of days' worth in one of the large bags, which is about as long as you want to let your diaper laundry go anyhow.
When it's time to do laundry, I just toss these wet bags in with the rest of my diaper laundry. Easy peasy.
Even if you don't cloth diaper, a small wet bag is really useful to keep around in your diaper bag for those fun moments when, oh, your baby wets all over herself in the middle of a diaper change and you're an hour away from home and need a way to store urine-soaked clothes so it doesn't get all over everything else in your diaper bag. You can also use them to store cosmetics, sweaty gym clothes, wet swimsuits and towels and more.
In all, it's a fantastic wet bag. They come in all kinds of cute prints, are very effective, and I like that they are made in America by a socially and ecologically conscientious company.
You can purchase Planet Wise wet bags from PlanetWiseInc.com, Amazon.com, or any number of cloth diaper and cloth diaper product shops both online and in your community. The medium size bags retail for $16.50.
Update 8/13/14
2 years later, and this wet bag is still in tip top condition. It's been in regular rotation when we travel and for daycare. The bag is very sturdy and well-made, so I haven't had any problems with the waterproof layer delaminating or the zipper breaking. I very highly recommend this bag.
* Originally posted on 8/9/12, republished with an update on 8/13/14.