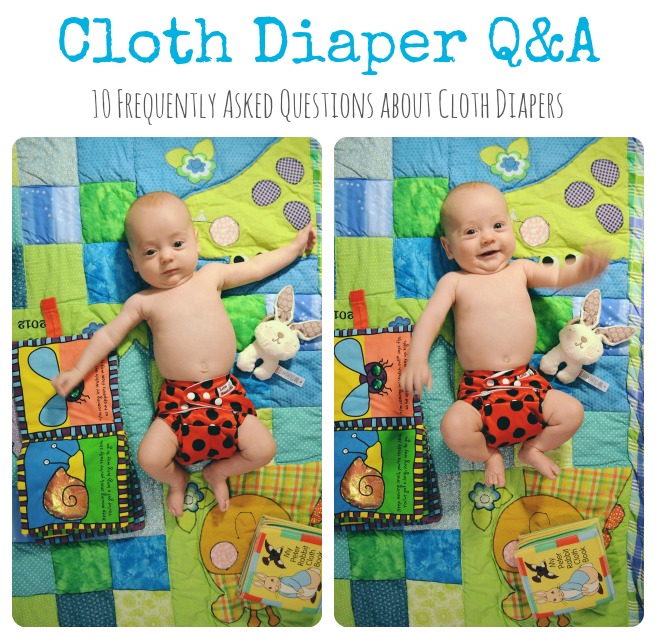 Here are a handful of questions I'm frequently asked about cloth diapering and my typical responses.
1. Why did you choose cloth diapers?
It was cheaper. When I was pregnant with Isla, I was very concerned about how much having a baby was going to cost, and diapers are a huge and ongoing expense. I looked at some of the cost comparisons and realized we could save hundreds, if not thousands, of dollars by using cloth diapers with the 2 children we planned to have.
No more than any other kind of diaper. Yes, there's a little extra work involved around getting poop into the toilet before tossing the diaper in the pail (which you should be doing with your disposables anyway!) and doing laundry, but for the most part, the process of changing a diaper is identical to using a disposable and I have absolutely never had to deal with my kid blowing out a diaper so bad they had poop up to their neck. Basically no one who regularly uses disposables can say that.
3. What's the laundry like?
Cloth diapering full time will essentially add 3 loads of laundry to your weekly laundry routine, as you don't want to let dirty cloth diapers sit for more than 3 days. It seems like a lot of extra work, but it's completely doable. My husband and I both work full time, and we manage to stay on top of it no problem. We just run the wash while we're cooking/eating dinner and fold diapers while we watch a show after Isla's gone to bed. If you absolutely hate laundry, 3 loads might seem like overkill, but if you're merely ambivalent about laundry like I am, it's really not that bad. What else am I going to do while I watch TV anyhow?
About every six months, we hit a major snafu in our laundry routine. Usually, this is related to some big dietary or developmental change, but we also had a big change when we moved from Portland with very soft water to Austin with very hard water. These laundry crises usually require a couple of weeks of really intense research on what might be causing the problem and doing some experimenting to get our routine back in order and our diapers smelling fresh again. This is probably the worst part of cloth diapering, when suddenly your diapers start reeking when you pull them out of the drier and you have no idea why. But it's fairly infrequent, and when I go through these periods, I just remind myself of all the money we're not spending on diapers. So there's some cloth diaper real talk for you.
4. So what's the best part of cloth diapering?
Normally, this is the part where I say the money, because it has saved us a lot to be sure, but the very best part is probably how freaking cute they are. There's a reason why you find people out there with massive stashes who claim they are addicted to fluff and have to hide their new diaper purchases from their spouses, and why you can find certain rare prints and colors selling on Ebay for hundreds of dollars. (No, I'm not joking.) I'm not a diaper hoarder, and I'm not going to pay more than $20 or so for a diaper, BUT. They are pretty stinking cute, and I have been known to splurge on a really cute print.
5. Do you cloth diaper all the time?
No. We use disposables for overnights, just because finding a cloth diaper that holds up for 12+ hours can be challenging and expensive, and we ultimately decided it wasn't worth the hassle. We also don't travel with cloth, unless it's a very short trip, because I don't want to have a wet bag full of stinky diapers with us everywhere (especially if we're on a plane in cramped quarters with hundreds of strangers) or have to mess with laundry. I know lots of people who do cloth diaper full time, but we're kind of lazy.
6. How does cloth diapering work out with daycare?
It depends on the daycare and the state (some states don't allow daycares to use cloth diapers), but we've had pretty good luck with cloth diapers at daycare so far. The center Isla went to in Portland allowed cloth diapers, as did every other center we spoke to, which wasn't surprising considering how popular cloth diapering is in Portland. All of my friends who had babies while we were living there used cloth at least some of the time. And all of the in-home sitters we've had since have used cloth diapers, no trouble. In fact, our current sitter said after using them with Isla, she really wished she had used them with her daughter. I will say here in Austin, daycare centers in general seem to be less accommodating of cloth diapers, but as long as there are no laws against them, I think if you're willing to show the daycare how they work and provide everything you need to get them through the day, it shouldn't be much of an issue. I'll update you on that, though, when Isla starts at a new daycare center in the fall. She's potty trained except for at naps, though, so I'm not really worried about having to send her with a disposable a day for a few months until we can get her potty trained at nap time as well.
7. What does your husband think about cloth diapers?
My husband was a little dubious at first, mostly because he's a germaphobe and didn't want poop in our washing machine, but after doing some research and learning about how much money we would save, he was 100% on board. He's never balked at changing a diaper, even when we used prefolds (and in fact, vastly preferred prefolds when we were using them), and always helps out with laundry. He still doesn't like handling dirty diapers, but he's a grown man. He takes responsibility for his daughter's care and doesn't shy away from the messy parts, because that's what grown men do. I'd like to believe the men who try to weasel out of the less fun parts of parenting are actually few and far between, and that this stereotype about men who refuse to help with cloth diapers (or any diapers) is rather empty. I think most dads are better than that.
8. I've looked into cloth diapering, but there's so much information out there, it's completely overwhelming. How did you learn about cloth diapers?
I spent 9 months researching cloth diapering, followed a whole bunch of blogs, and lucked out and had a handful of friends who also cloth diapered to turn to for advice. I advise you to start simple, though, and work your way out into the broader cloth diapering world only once you encounter problems. There are basically 4 things to do when you start to cloth diaper: 1) Pick the kind of diaper you want to use and buy enough of them to get you through 2-3 days. 2) Buy wet bags or pail liners to store your dirties in. 3) Decide whether you want to use cloth wipes, and if you do, buy or make them. 4) Buy a laundry detergent you think might work well with your diapers and start washing them.
If you start having problems with fit or absorbency or laundry or diaper rash, then get into more targeted research on cloth diapers. Don't try to learn everything at once, though. Over time, you'll learn about all the various options and accessories and laundry methodologies. Cloth diapering can be really simple, though, if you just stick to what you need. I have a Cloth Diaper Guide you can refer to as a starting point.
9. How much did your stash cost?
My entire stash cost less than $900, and around half of those items were gifts from family and friends or given to me by companies to review or give away. This number includes wet bags, pail liners, wipes, cloth diaper-friendly diaper rash creams, diaper sprays, Snappis, and a diaper sprayer, in addition to a complete newborn prefold stash and a complete one-size pocket/all-in-one stash. I could probably do without around $200 worth of this stuff.
10. I'm still not sold on the idea. Is there anything else you can tell me that might change my mind?
Probably not. 😉 What I can tell you is that cloth diapering is honestly one of the least challenging parts of parenting and at this point is so routine, it's not even something we really think about. It's just what we do, like feeding our kid and getting her dressed and spending time with her. It's much easier and less complicated than it often seems from the outside, and it gets a bad rap for being gross and a lot of work when it's honestly not. It is a little extra work, sure, but it pales in comparison to the challenges of breastfeeding or sleep issues or dealing with tantrums or sorting out daycare or potty training or coping with the financial strain of having a child. Cloth diapering has been surprisingly easy, and part of why I advocate for it so much is because I think a lot of people would benefit if they could get around the stigma surrounding cloth diapers.
I'm not dogmatic about cloth diapers, though. I do it more for financial reasons than environmental or health/safety reasons (although those are added bonuses), and I don't see any real issue with disposables. I think every family has to make the choice that's right for them. I want people to know that cloth diapering is a viable option, though, and not nearly as hard as it looks.