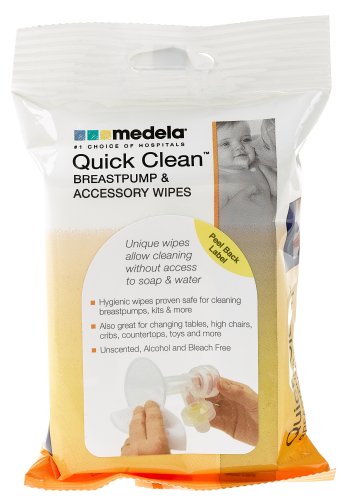 About Medela Quick Clean Breastpump & Accessory Wipes
These portable wipes can be used to clean breastpump and accompanying accessories and parts when you're on the go. They are unscented and alcohol- and bleach-free and come 24 wipes to a pack. You can find out more about Medela's Breastpump Wipes here.
My Experience with Medela Quick Clean Breastpump & Accessory Wipes
When I went back to work, I noticed that my pumping clean-up routine was not going to hack it. At home, I could take everything apart, soak it in hot soapy water, let it dry and then put it back together between every pumping session. After all, I was nursing most of the time and pumping maybe once or twice a day, and because I was at home, time was never of the essence. Half the time, I left everything sitting in soapy water for hours while I got busy doing other things.
At work, I have half an hour to hoof it to the other side of the building where the mother's room is located, get everything put together, pump, get my milk stored and everything cleaned up, and hustle back to my desk. I tried soaking and rinsing and taking everything apart the first few days, but realized it was taking me 15 minutes just to do my usual clean-up routine. Add to that, I'm sharing the nursing mothers room with other people, and I'm terrified of letting my pump parts touch anything in the room other than surfaces covered by towels I'm bringing in from home (one more thing to carry every day!), and you get a huge hassle.
So I got these wipes. It may not be quite as hygienic as taking everything apart and washing everything with hot, soapy water, but for the 7 hours between my first and last pumping session at work, the wipes work just fine. I can do a more thorough clean, including using the Microsteam Bags, when I get home. I can easily do my entire pumping routine these days in the half hour slot allotted to me, and I don't have to skip on the good hygiene.
Pros:
Fast and easy!
Helps me keep all my parts clean on the go.
I'm not bringing in towels and bottle brushes to work every day to keep my pump parts and storage bottles clean. Hallelujah!
This is the only way I know of to get everything taken care of in the brief time I have to pump, so I'll take it.
Cons:
I'm a little germ-phobic, so it's not my ideal method of cleaning. It's functional, not perfect.
While it is unscented and bleach- and alcohol-free, I do worry a little about residue left on pump parts.
I have to let everything air dry for a couple of minutes before I stick it back in my bag or fuzz from my bag gets stuck to things. Yuck.
It's kind of pricey, since each pack is somewhere between $10 and $15 and only contains 24 wipes. Considering that I pump 3 times a day at work, and I'm at work 4 days a week, one pack of wipes lasts me barely 2 weeks.
It's disposable, which means more garbage in the landfill.
Buy it!
You can buy these wipes anywhere the Medela line is carried, like Babies R' Us or Target. You can also purchase them online for $14.99 a pack at Amazon.
Win it!
You can enter to win these wipes here as part of the Back to Work Giveaway, which starts on Saturday!