As the baby stuff begins to pile up, the space we have available in our apartment (have I mentioned that our place is tiny?) has begun to dwindle.
The diaper and bath storage seems to be working out a-okay. The Baby Diego Bathinette has been a huge help. Our entire cloth stash and all of our diaper/bath toiletries fit in it. We got a couple of really nice storage boxes and baskets to put our disposable stash in (which we'll be using for the first week or two) and for first aid items.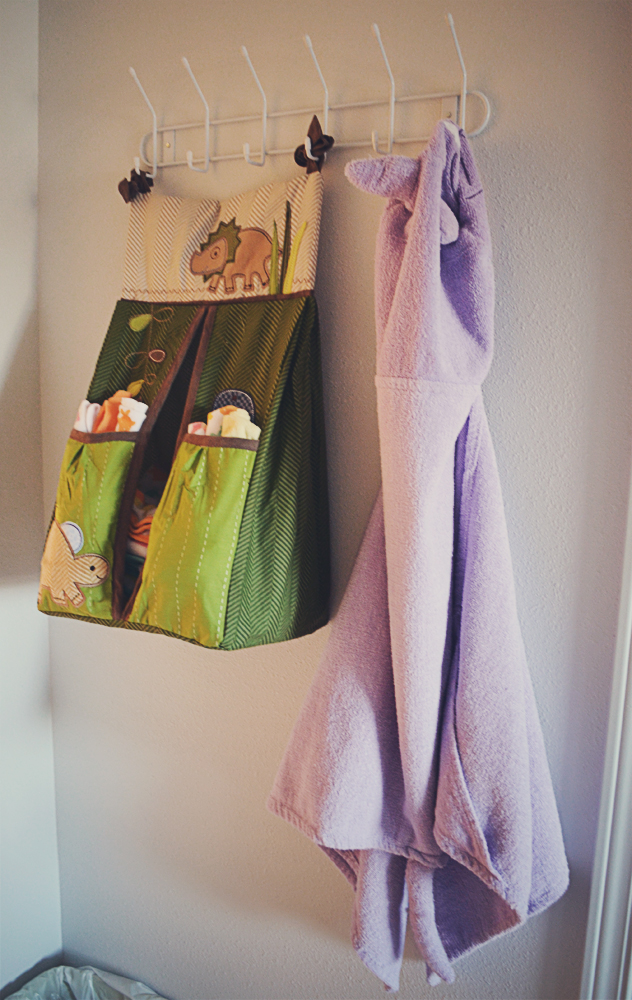 Since we aren't planning on using disposables long term, we decided to use our Jill McDonald Adorable Dinos Diaper Stacker as a wash cloth and hooded towel station. (It's seriously humorous how many wash cloths we have. Our baby is going to be getting a lot of baths, apparently.) It's hanging right next to our bathroom, which will be the perfect spot. We can wheel the bathinette into the bathroom, grab wash cloths and a towel, then go to town.
The biggest challenges we have in front of us right now is figuring out where to put all of the bottles we received (I got 2 starter sets, plus a 3-pack of Nuk bottles) and all of the big fluffy blankets we have that don't really do "compact." So I'm throwing this out there to the internet: How on earth do you store all of your bottles and big baby blankets? Any tips or advice? Is there any product out there that you've seen that is designed to help you store/organize these items, or something you've rigged up that works really well? I'm completely at a loss.