Last month, I posted a list of the baby products I couldn't live without. Well, a month later, things have changed. A lot of the things I used religiously a month ago, I'm using less and less, and many of the items I didn't have or were collecting dust then are now necessities.
I feel like the thing that's changed the most this month is the need for serious equipment. In Isla's first month, we mostly stayed close to home, bonding and working on breastfeeding. She was so new, and I was still healing from birth, so a quiet day at home was enough busy-ness for the both of us. In her second month, though, Isla has become much more curious, and I've had to get back to the business of life. All that equipment that in the first month was barely touched, this month has been put to work!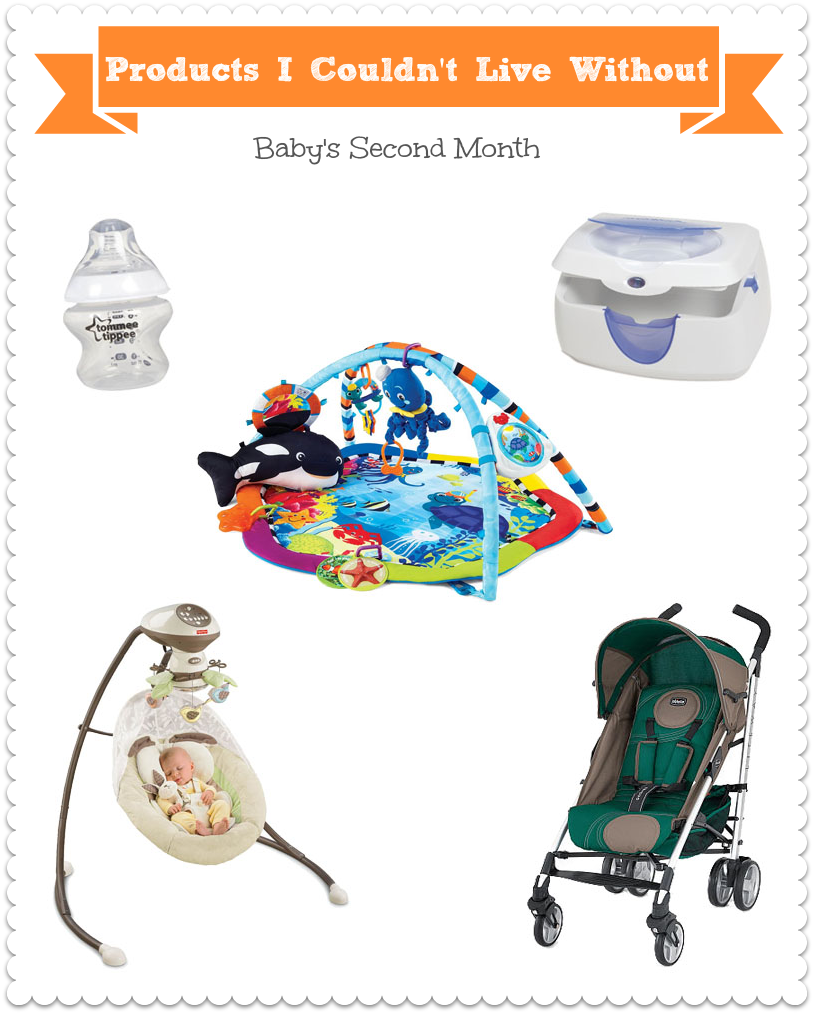 Playmat
Isla hit a big growth spurt at about the 6-week mark, and with it came a lot more awareness of what was going on around her. The playmat has become her new best friend. She sits in it for 20+ minutes at a time, batting at, talking to, and chewing on the items that dangle from above. She tends to get fussy if we hold her for too long if she's not hungry or sleepy. She wants to be free to wiggle and explore, and the playmat is a good way to give her her space. Plus, it's super cute to watch. We have the Baby Einstein Neptune Ocean Adventure Gym.
Freddie the Firefly is Isla's favorite. It goes on her playmat. It goes on her carseat. It goes on her stroller. She loved looking at this thing even before she hit the 6-week mark, and now that she's fully into batting, grabbing and chewing on things, Freddie is by far her favorite thing to maul. It's colorful, makes weird noises, and has lots of different textures for baby to explore. Highly recommend as a baby toy.
Swing
It's funny. When Isla was new, the swing didn't really do it for her. Now? The swing is the only reliable way to get her down for a nap. We also use it on the rare nights when Isla has gas so bad, she can't sleep (and therefore, we can't sleep.) I know all of the baby sleep books warn you against using swings as a sleep crutch, but seriously? When you've got a 2 month old who never sleeps, you'll take whatever you can get. We use the Fisher Price Cradle 'N Swing.
Stroller
We don't use the stroller a lot. I still vastly prefer my carrier. But there are times when you're going somewhere where you'll be on your feet for an extended period of time and will have other things (like a diaper bag) to carry, too, and you might not want a wiggly bowling ball strapped to your front half. For instance, when we go to the mall, the last thing I want to be dealing with is a 9-lb. baby strapped to my front, a 10-lb. diaper bag slung over my shoulder, and a bunch of bags in my free hands. No, thank you. A stroller can be nice for solo mom outings when you don't have someone else around to help carry things. We use the Chicco Liteway stroller, which is a light-weight stroller that you can use even for newborns.
I said last month that everyone should have a bottle that works for their baby. We've finally found the one the right one for Isla. Tommee Tippee bottles have made bottle feeding sessions SO MUCH easier and faster. Worth a try if you're a breastfeeding parent trying to get your baby on a bottle.
Bottle/Pump Parts Drying Rack
Now that I'm pumping regularly, and we're using more bottles, one of these bad boys became absolutely necessary. Before we got this, it was either losing all the tiny little bottle/pump parts in our regular drying rack, along with pots, pans and other big dishes, or it was having everything spread out on cloths all over my kitchen cabinets. Not cool. We've got the Munchkin High Capacity Drying Rack, and it's awesome. It has two tiers, so the storage goes UP and not out, taking up less space, and it spins, so it's easy to get to things in the back. No more scrambling to find things. No more taking up ridiculous amounts of my kitchen counter space.
Wipes Warmer
If you're using cloth wipes, a wipes warmer is a great way to store damp wipes so they hold in moisture. We're using plain flannel squares for wipes, and the Munchkin Wipes Warmer works just fine for us.
Diaper Sprayer
Gone are the days of delicate little newborn poops. Isla poops once every 1-2 days, and when she finally goes, she GOES. It's like a horror movie. We're using cloth diapers, and I only do laundry every 3 or so days, so if I don't get a big poopy diaper into the wash for 3 days, it's not only going to stink to high heaven, but it's also going to stain much worse than if it gets a quick rinse right after Isla drops a bomb. We have the Cool Craft toilet sprayer. Tip: get an extra wet bag for your bathroom if your diaper set-up is currently in a different room.
Car Seat Mirror
I think I've mentioned that Isla HATES her car seat. To the point that when we took her to get her vaccinations, her impassioned wails were old hat, and neither Kellen nor I batted an eyelash. The thing is, even when she does this Every. Single. Time. we put her in the car, it can still be a little scary, especially when she cranks the crying up to 1,000. So, to make sure that there isn't actually anything wrong with her when she's crying, we've got our trusty Brica mirror so that we can check up on her when she's melting down and we've got places to be. It's not fun to drive around a screaming baby, but at least this way, I know it's just because she hates the car seat and not because there is something horribly wrong with her.
MP3 Player Speakers
Okay, so I could live without these, but they definitely make things more fun. I plug my iPod into the iHome portable stereo system in Isla's room so that I can have my tunes while we play or I do laundry, reorganize her nursery, etc. Once we get the glider in her nursery and Isla starts sleeping all night in her crib (starting probably once she hits her 3-month growth spurt), I'm thinking it will be even nicer to have music going in there at night when I do our middle of the night feed.