Our daughter likes our phones and tablets, as do most kids. After one too many car trips where one of us had to give up our entertainment for the greater good of a quiet, happy child, I decided to look into a reasonably-priced tablet just for her.
There are a ton of cheap, "kid-friendly" tablets on the market, but most are just that: cheap. I wanted one which would last a couple years even with a toddler's abuse, play the games and support the books my kid loved, be easy for her to use, and be cheap enough that I wouldn't feel like I was throwing away money.  After a ton of research, I chose the Amazon Fire Kids Edition.
Amazon 
Fire

Kids Edition Options

There are two options for the Amazon Fire Kids Edition:
 

Fire

Kids Edition: $99.99, 7″ 1024×600 screen, 1.3 GHz quad-core, 7 hours battery (currently on sale for $84.99)
 

Fire

HD Kids Edition: $149.99, 6″ 1280×800 screen, 1.5 GHz quad-core, 8 hours battery
I chose the regular Fire Kids Edition over the Fire HD Kids Edition because the upgraded features weren't necessary for our 3-year-old. They may come more in handy for an older child who will want more performance from a tablet.
Special Kids Edition Features
If you're wondering why not just buy the less expensive non-kids version of the Amazon Fire, which goes for $49.99, or the Amazon Fire HD, which goes for $99.99, the Kids Edition option comes with all of these features included in the slightly higher price:
 Kid-proof case: $21.99 value if bought separately
 2 year worry-free guarantee: Free replacements for any accidental breakage $18-$50 value
 1 year Amazon FreeTime Unlimited: access to 10,000 kid-friendly books and apps. $60 value non-prime, $36 value prime members
The total added value of the Kids Edition version over the regular Fire or Fire HD is $94 minimum, all for only $50 more than the price of the non-kids versions.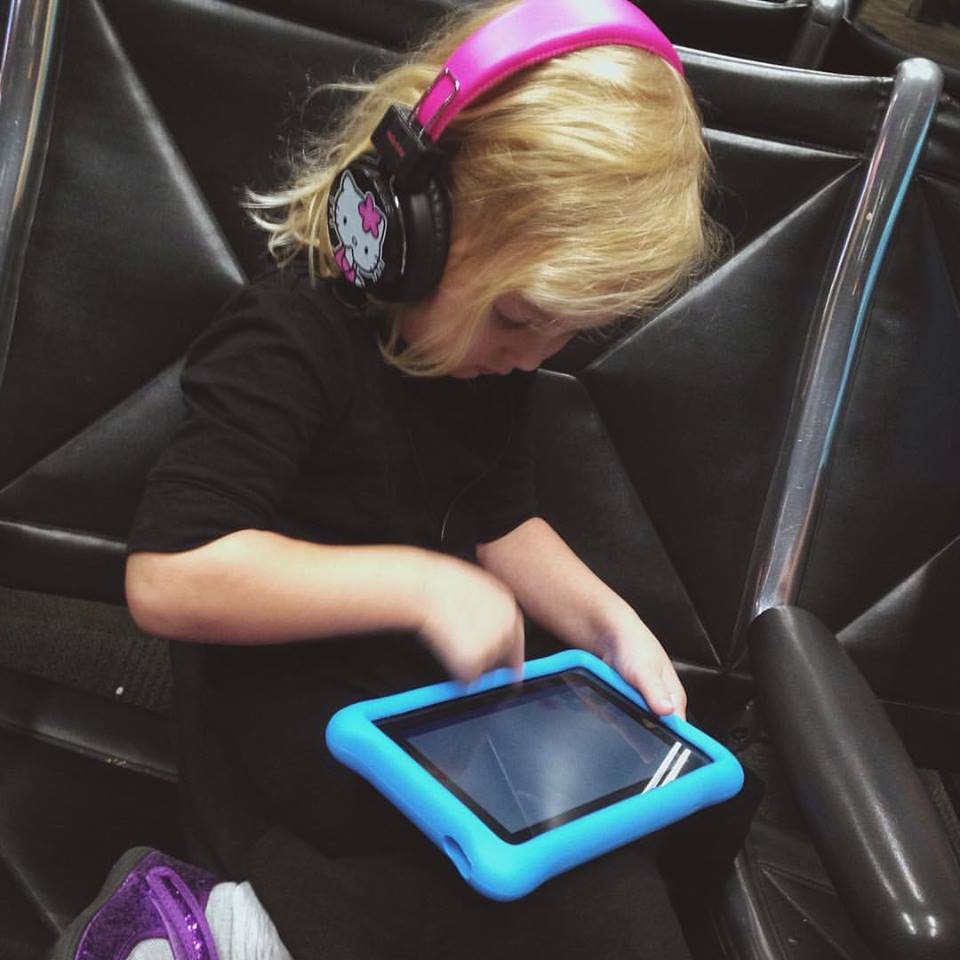 Why We Picked the Fire Kids Edition
The reasons I recommend the Fire Kids Edition over other kids tablets (primary competition is from the Fuhu Nabi tablets) are:
Value: For $100 (currently on sale for $84.99) it's hard to find any tablet less expensive.
Apps: With Amazon's FreeTime Unlimited you can get any of 10,000 kid-friendly books and apps for free. This contains an awesome number of apps–Toca Boca and Sago Mini among others–and books–Sandra Boynton, Mercer Mayer, Dr. Seuss, etc.–she loves.
Longevity: With 2 years of free replacements with Amazon's Worry-Free Guarantee, you don't have to worry about the kid breaking anything or the battery giving out. The solid, kid-friendly case similarly helps stave off damage.
Parental Controls: We can control everything from time limits on books vs. apps to times of day it's allowed to be played at all. I personally like the feature when you can set it to turn off after a certain amount of time on the tablet.
Battery Life: We've done several 8+ hour travel days to visit family and have yet to run out of battery.
Storage: With the SDHC card slot, you will never have to worry about running out of space!
Drawbacks of the Fire Kids Edition
There are, of course, a few complaints:
If your kid tries to grab any new apps/books/etc., you will need to be on Wi-Fi. This can be frustrating to a toddler on a plane or car trip.
After the first year, you'll have to pay for continued access to the kids apps/books/etc.  It's $60/year for non-Amazon Prime members and $36/year for members.
While you can get non-Amazon-approved apps on the tablet, it takes a little bit of work and isn't intuitive. (Note: this was only necessary because we have a video playing app we love, which Isla has become very familiar with, so we didn't want to change it up on her.)
The tablet is noticeably slower than other, more expensive tablets. All the apps Isla runs seem to work fine, but there can be some lag when loading or quickly paging through options.
Personal Experience
On the whole, we've had the tablet now for 2 long trips (one 6 hour road trip and one 8+ hour plane & road trip.) The Fire Kids Edition has held up exceptionally well and served its purpose. Isla was quick to figure out the controls, despite her prior familiarity being exclusively Apple products, and I was able to pre-load it with dozens of books and apps which she loved. Plus, with a large SD card and the aforementioned loading of a non-Amazon video playing app, I could fit a dozen movies and a few seasons of her favorite TV shows for her enjoyment.
To summarize:
There are several cheap tablets on the market, most of which are indeed very cheap.
There are several "kids" tablets on the market, many of which don't offer much to kids beyond a padded case.
The

Fire

Kids Edition doesn't feel cheap and offers way more than just a good case.