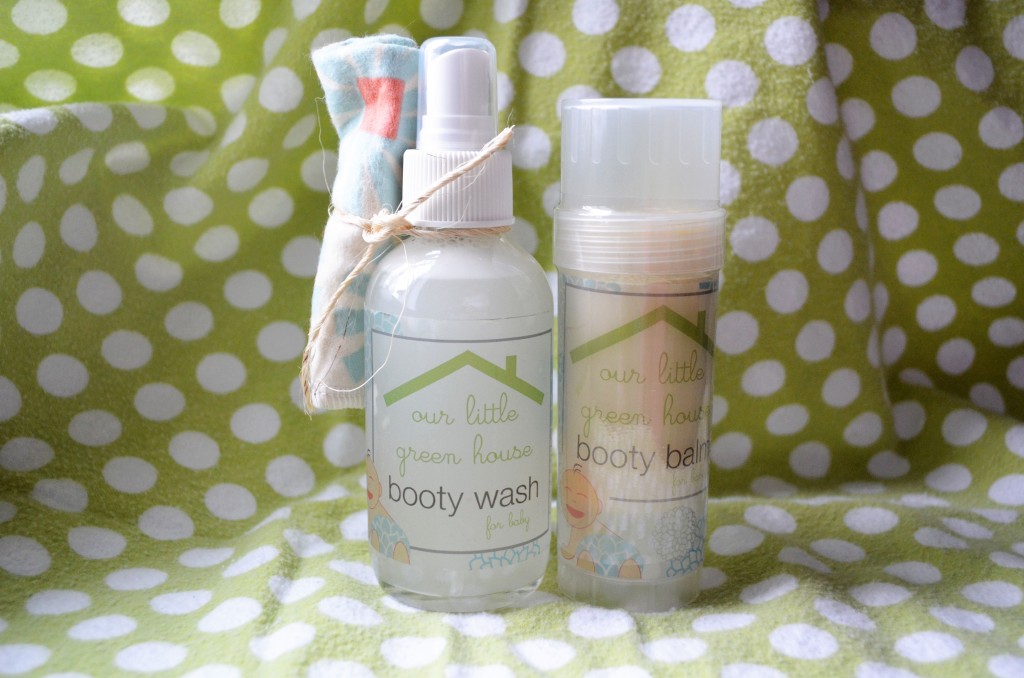 About Our Little Green House
Our Little Green House is a fantastic little company run by two awesome moms. They are committed to providing reasonably priced, environmentally friendly household products. Cleaning products, candles, toiletries, and baby care items…they've got so many wonderful products that families can use and feel good about, not only because they are green and safer for their families, but also because these products aren't going to break the bank.
About Our Little Green House's Booty Wash and Booty Balm
This is a set of cloth-diaper friendly baby care items that are really helpful to have close at hand at your changing station.  The booty wash is made with organic castille soap, sweet almond oil, lavender and tea tree essential oils. The booty balm is made with beeswax, calendula and comfrey infused olive oil, apricot kernel oil, coconut oil, mango butter, shea butter, and a delicious blend of essential oils. Our Little Green House uses natural and organic ingredients in order to provide a nourishing experience for your baby's behind.
My Experience with the Booty Wash and Booty Balm
I love this stuff! The first thing I noticed about both is the light, fresh scent. I love spraying on the booty wash, especially after Isla has a big #2, because I know it's going to help get all of the icky stuff that causes diaper rash off her bottom, and not leave behind anything else that might irritate her sensitive skin. It smells very nice, and bonus points for the fantastic flannel wipe they included, which works super well. (Flannel is my favorite fabric for cloth wipes, FYI, and these have a gorgeous pattern.)
The booty balm is not the most heavy duty diaper ointment ever, but I like to rub a little of this on between diaper changes as a preventative. It definitely helps keep diaper rash in check by protecting the skin from moisture. Bonus points for the fact that it comes in a roll-on type bottle, so I'm not having to get my fingers (as) dirty every time I apply it. Also, since we started using this, I haven't noticed any wicking on our cloth diapers.
Both of these have replaced the previous products I was using for booty wash and preventative diaper ointment, and both of the products they replaced were far more expensive. I fully intend to keep using this after my samples run out, because these products beat the socks off what I was using before.
Buy It
You can purchase these, and many other, Our Little Green House products from their Etsy. The booty balm is $10 and the booty spray is $5.
Win It
For a chance to win these products, please come back to Robot Love on Friday, August 24, 2012, and enter the Accessorize Your Stash giveaway, which will run from August 24-31.