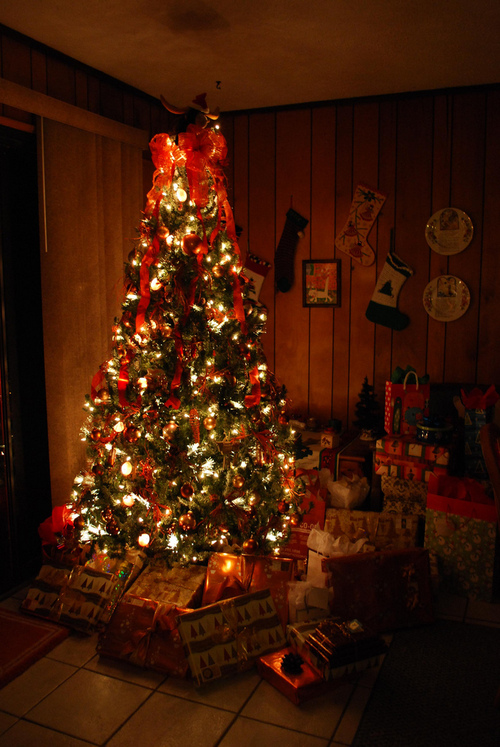 Last year at Christmas, Farrah, one of our favorite ladies who worked at a restaurant we visited at least once a week–a lady who'd known Kellen and me from newlyweds to new parents–told us about how her family did Christmas. She said they kept it simple. She bought her children gifts using these guidelines:
Something you want, something you need. Something to wear, something to read.
I really loved Farrah's idea, especially after talking to some of my other parent friends about how stressful holiday gift giving was for them and how it seemed every year, their kids' expectations got a little bit higher and a little more expensive. It seemed really smart to put a limit on the number and kind of presents to give your kids, both for you and for them.
As a frugal person, I always struggle at the holidays with the amount of money I spend on presents. On the one hand, I love giving gifts, love seeing someone open a present that's something they really wanted. On the other hand, I hate how sweaty and nauseous I get when I look at my bank account in December.
More importantly, though, I worry about sending the wrong message about Christmas, particularly the message that Christmas is about receiving and receiving in large quantities.
Kellen and I are not religious, so the reason for the season isn't something that really applies in our home. Still, I grew up in a home where Christmas was all about family and spending time with the people you love most. Yes, presents were great and a lot of fun, but that was only a small part of Christmas.
Christmas for us was about decorating the tree as a family and baking cookies and drinking cider and driving around the neighborhood to see all the lights and having all of my aunts and uncles and cousins around the table at my grandmother's house. It was about caroling to see the smiles on people's faces and helping people in need and random acts of kindness. The presents were a one day event, but the spirit of Christmas–of warmth, love, sharing, and giving–pervaded the whole season. It was what made the holiday season seem so magical.
In raising my children, I want to focus on the spirit of the holiday season. I want to focus on family and togetherness. I want to focus on kindness and generosity. I want to focus on charity and showing good will to all people.
I don't want the focus to be on things we get in shiny wrapping paper on one day.
I know it's a little early to start talking about Christmas (I blame Target!), but usually by this time of year, I've stashed away a few presents in an effort to avoid the holiday rush and to spread out my spending a little. This year especially, since we'll be moving right in the big middle of the holidays, it will be important to plan ahead for shopping and be smart with our money.
Mainly, though, I want to be mindful going into the holiday season, from Thanksgiving right on through the New Year. It's a season for celebrating both what you have and all the blessings to come. I want to make thankfulness, generosity, and love the centerpieces of my family holiday season, and it's never too soon to plan for that.
So we'll be keeping it simple this year. Simple and wonderful.