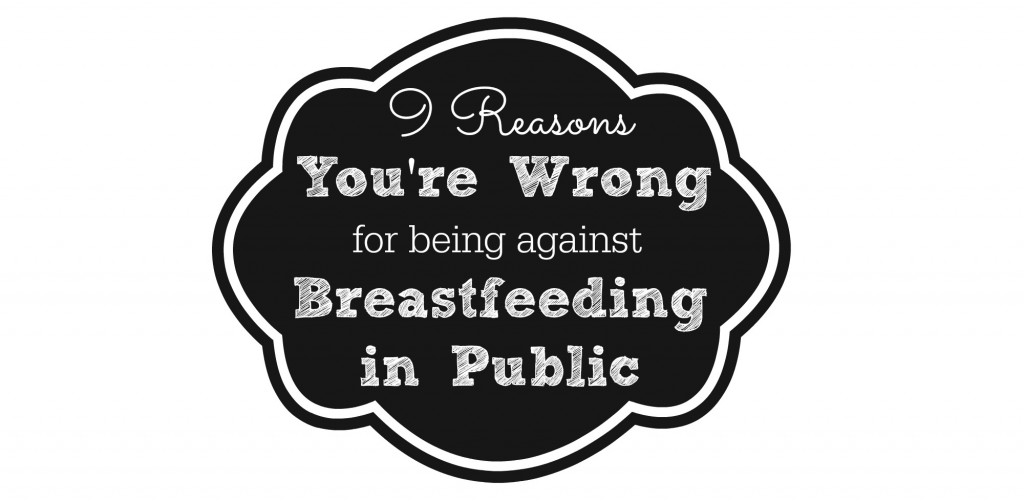 As a mother who breastfed her first baby (sometimes in public) and plans to breastfeed any future babies I have (sometimes in public), I've heard a lot of comments over the years, mostly from total strangers, about why it's totally immoral, gross, and perverted to breastfeed in public. Some of the comments are merely ignorant. Some are completely insulting. All of them are wrong, and here's why.
1. Breasts are sex objects. They should be kept covered up!
Breasts are the way virtually all mammals nourish their young. Their purpose first and foremost is to feed babies. The fact that some human cultures have fetishized and sexualized breasts does not change the fact that we evolved breasts to feed our babies or that breasts are for breastfeeding our children. Breasts are not inherently sex objects. Breasts are inherently meant to feed babies. You'll have to excuse me if your personal inability to see breasts in a way that is anything other than sexual, objectifying, and dehumanizing does not prevent me from using them in the manner for which they were intended for the survival of our species.
Also, when I breastfeed you will see far less of my breasts than you will see on some model in your average perfume, lingerie, or fashion ad, and I don't see your head spinning on your neck like something from The Exorcist every time you, for instance, walk past Victoria's Secret in the mall. I'm really not interested in your selective morality or modesty.
2. Can't you do that in the bathroom?
You go squat over a toilet in the nearest public restroom for half an hour, and tell me whether that's someplace you want to spend a lot of time.
3. Can't you go do that in some other dark corner where no one can see you?
It really depends on where I am, what spaces are available to me, and how upset my baby is. If I'm in a place where there are no other places for me to nurse conveniently, no. If my baby is crying urgently because s/he is hungry, no. If I know there's a quiet nursing room somewhere that's clean and unlikely to be crowded and filled with distractions, and my baby is hungry but not yowling, I would actually prefer to make my way leisurely to a quiet space to nurse, because it's more relaxing for me and less distracting for baby. It's just not always in the cards.
4. Why don't you pump before you leave your house?
I could pump before I leave home, but in a couple of hours, regardless of whether my baby has a bottle, my breasts are going to become painfully engorged because they know it's time to feed my baby. Imagine several pounds of weight on your chest suddenly turning rock hard and getting excruciatingly tight and painful. And then there's always the possibility my breasts will let down, and I will leak breast milk and soak through every article of clothing I'm wearing above the waist. Neither of these experiences are very pleasant, so I tended to skip pumping if my baby was going to be with me, because nursing is a lot easier, less uncomfortable, and less messy.
5. Why don't you put a blanket or cover over yourself?
Because a baby may or may not tolerate having a blanket over his or her head while s/he eats. In my case, my daughter refused to eat under the cover after she was 3 months old and would flail her arms and grab the cover and move it off her face. The cover served no other purpose than to be a distracting toy, so I stopped using it in public. Additionally, if it's hot, it may be uncomfortable for parent and baby to cover, and it's possible maybe the parent forgot their cover or it became soiled in an earlier outing. I understand some people's desire to cover, but not everyone wants to cover up all the time or at all, and not all babies will eat under a cover. Because there is nothing inherently wrong with breasts being used for breastfeeding, I don't really see why covering up should be a requirement for all people who breastfeed.
6. Children/my husband don't need to see that.
I'm confused. The person I am breastfeeding is a child. Should they not see me breastfeeding? Should I put a mask over their eyes while breastfeeding so they don't see what they're doing?
In all seriousness, breastfeeding is natural and normal. It is the way humans were meant to feed their young. I'm not particularly concerned about children seeing my breasts being used for their evolutionary purpose. In fact, it's probably healthier for children and for society to see breasts used to feed babies–the thing they are meant for–rather than seeing them exclusively as sexual objects.
As for your husband, if he can't turn his head and look the other way, then I suggest you take that up with him, as he's the only one with control over his own neck.
7. I don't poop or pee in public, so you shouldn't breastfeed in public.
Would you poop or pee in a baby's mouth? If you can understand how breast milk is different from urine and feces, then you can understand why urinating or defecating in public are entirely different behaviors than breastfeeding in public.
8. You're just looking for attention.
If I were looking for attention, I'd just sit here and let my baby scream. Trust me, that's going to get way more attention than discretely popping a boob in my baby's mouth.
The last thing I really want a few weeks or months post-partum, with my squishy tummy and engorged, stretch-marked breasts and hair that hasn't been washed in 3 days, is strangers ogling me. There are a lot of reasons I breastfeed in public. Not a single one of them has to do with sexually titillating strangers. It is literally the furthest thing from my mind, well behind feeding my crying baby, actually getting a hot meal myself, taking a shower, eventually fitting back into my non-maternity clothes, and taking a much-needed nap.
9. But it makes me uncomfortable!
Look. I get that breastfeeding in public makes some people uncomfortable. You've been taught that breasts are sexual in all contexts and are having a hard time divorcing that from what you are witnessing. You are a grown up, though. I expect you to be able to talk yourself out of your discomfort by saying, "She's just feeding her baby," and politely averting your eyes. You can even get up and move away from me if it makes you that uncomfortable. My primary concern is not total strangers who may or may not be uncomfortable with what I'm doing, but with my baby, who is definitely uncomfortable about going hungry, and with myself, because it gets pretty uncomfortable for me when I go a few hours without nursing. If you expect me to jump through flaming hoops (while carrying my baby!) to accommodate you, an adult, then I think you can understand why I would expect you, an adult, to do something as simple as look away in order to accommodate my infant and me.