Last week, my family took a trip to Texas. We live in Oregon, and getting to Texas involves either one 4-hour flight or some combination of multiple shorter flights where we end up spending 4+ hours on planes and usually an hour or so in an airport. Traveling to visit my family and friends in Texas has never ben easy, but since we had a baby, it's become even more of an…adventure.
We'd already flown with Isla twice before this visit, but this trip marked two major firsts for us: 1) it was the first time we traveled with a toddler, and 2) it was the first time we didn't have a direct flight. On top of these new challenges, we had serious problems on either end of our trip: the airline lost our luggage for 48 hours after we arrived in Texas, and then due to a snowstorm in Denver the day before, our flight home was canceled. (There was also a flat tire in between when we traveled from one side of Texas to another, but that's another story, and the moral is routine maintenance on your vehicles is very important.)
Needless to say, the actual travel portion of our vacation was no picnic, and I wanted to impart some wisdom we learned the hard way:
Don't open a sippy cup with a straw mid-flight without unscrewing the lid first. The change in air pressure will force the water out of the straw mid-flight, and if you have one of those straws that pops up, the air will spray out like Old Faithful. Just ask the old dude sitting next to me who got drenched.
Take full advantage of the grandmotherly and grandfatherly types on your flight. We adopted multiple grannies and poppops on our travels, and I'm not kidding when I say I don't think we would have survived the trip without them. Thank you, random strangers, for holding my baby and making her laugh, while I cleaned up her messes!
Get a baby carrier. I was so glad we had the Ergo, because there was no way we would have made either of our connecting flights if we'd had to wait around for a gate-checked stroller. Also, when we ended up spending 6 hours in the Austin airport trying to get on another flight back home at the end of our trip, we would never have gotten our kid to sleep in the airport if it weren't for the Ergo. And sleep sheep. And Patsy Cline.
Parents typically pack way more than they will ever need for their kids even on the shortest trip, but rarely ever pack anything they might need for themselves. When you fly, though, always pack a clean set of clothes, underwear and a toothbrush for you in your carry-on. No matter how hard it is to fit anything for you into your carry-on, what with all the formula and diapers and books and toys, you will be so glad you did if the airline loses your luggage. And they do that. A lot.
When all else fails with airline customer service, go to their Facebook page and let loose. You can spend hours sitting on hold with customer service, or you can complain on social media, and people are suddenly calling you to fix your issues. Personally, I prefer the latter.
Bring things to entertain your toddler, but don't be surprised when you've cycled through every toy and book you brought with you, plus several things that weren't toys like safety cards and your water bottle, in the first half hour of the flight. Get up. Take them for a walk. Let them play in the bathroom. Go stand in the galley and force the flight attendants to help you entertain your kid. They are paid to be nice to you! Take advantage of that! There are a lot of times when it is wise to be strong in the face of a tantrum and not give into your child's every whim. When you're hurtling through the air 30,000 feet off the ground in a sardine can, that's not one of those occasions. Do whatever you can to stave off the shrieking.
The only caveat: don't let your kid kick the back of the seat in front of them or climb and drool on people who clearly have no interest in your baby. Come on, guys. Don't be jerks.
At the same time, stop worrying about what everyone else around you is thinking about you and your screaming child. You weren't imagining it when everyone at your gate cringed when they saw a baby in your arms or breathed a sigh of relief when they realized you weren't in their boarding group. No one wants to sit next to people with a baby on a plane because everyone who has flown before knows what's going to happen. Babies scream on planes. They scream because their ears hurt, because they don't like sitting still, because they're overstimulated or understimulated, or because they've missed their nap. If you go into it expecting the screaming, you'll be a lot less surprised when it happens (and it probably will, unless you happen to have the most chill baby ever) and able to deal with it more calmly when you aren't desperately trying to assure everyone around you, "She's not usually like this, I swear" and shooting apologetic grimace-smiles at your neighbors. Babies sometimes have to get on airplanes, and unfortunately, airlines don't give parents private cabins to travel in with their kids, so people without kids are just going to have to deal with it. That's not to say you don't try to keep your kid happy, but don't stress yourself out even more by worrying that people around you kind of hate you. They do. And it doesn't matter.
Embrace the chaos. The truth is, airlines pack more people onto flights than ever before, and a single cancellation here or incorrect label there or a fairly simple mistake (like the connections person giving you the wrong terminal because they read the wrong line) can wreak all sorts of havoc on flight schedules. I travel a lot, and I'm a former flight attendant. I know for a fact flights get delayed and canceled all the time. People miss their connections all the time. People lose their luggage all the time. Bad weather happens. Mechanical problems happen. Overbooked flights happen. Stupid people happen. If you're flying somewhere, do not show up at the airport expecting your day to go the way you planned. That's honestly the best advice I have. Expect everything to go wrong, and you'll be able to cope with it better.
On that cheery note, here is an adorable picture of Isla sleeping in the Ergo at the Austin airport.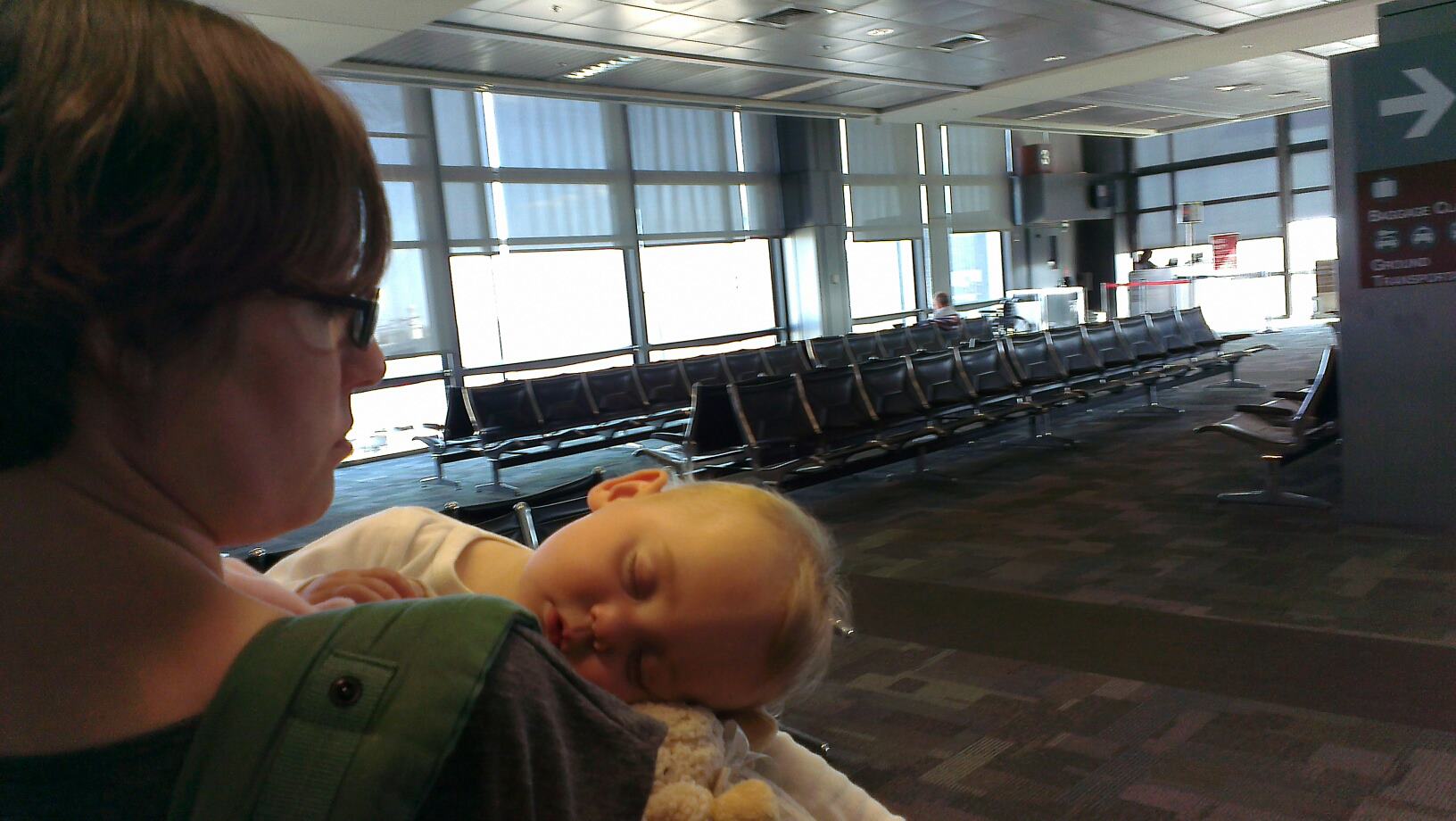 Happy travels, everyone!