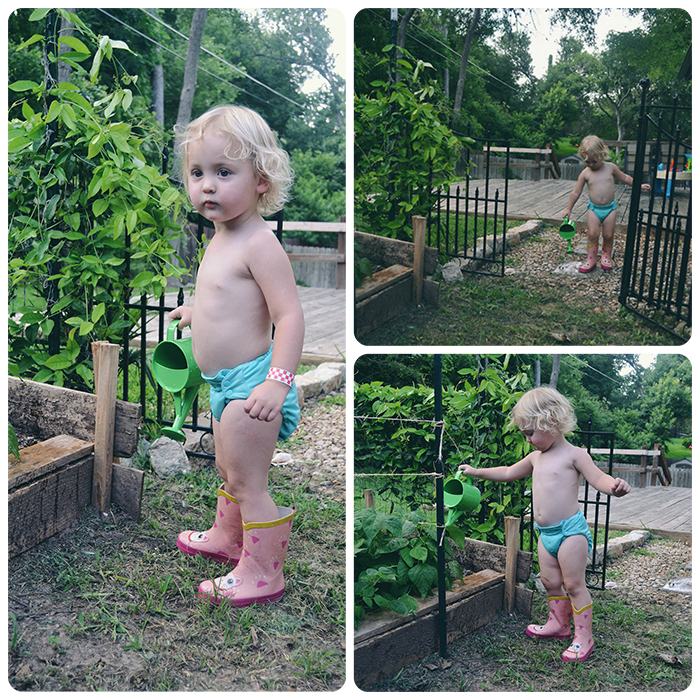 I grew up in the country. I spent my days playing in the dirt and hunting for salamanders and going crawdad fishing in the ditch in front of our house. My parents kept a big garden on the acre of land beside our house, and our huge backyard was always overflowing with vines and flowers, so I grew up with plenty of places to hide and explore, and eating lots of fresh food my parents grew. My friends all lived in the middle of nowhere, too, so I grew up playing at houses where "the yard" consisted of acres of woods and fields.
I moved to the city when I was 18 years old and haven't really looked back. Sometimes, though, I wax nostalgic for the idyllic parts of my childhood: running through the woods with friends and spending hours alone getting lost in my own backyard, pretending I was on some great adventure or that I was Mary Lennox from The Secret Garden. After Isla was born, I wondered a lot about what her childhood would be like, and sincerely hoped it would be filled with lots of open spaces to roam and explore and lots and lots of green things and yummy, fresh, home-grown food to eat.
When we first looked at this house, the thing that really made me think this was our home was walking out on the big back porch, and I could instantly picture our children growing up in this yard. I could see children playing in the dirt and rocks, digging in the garden, chasing after the chickens, learning to ride bicycles down the hill, and playing kickball in the open spaces. I could imagine what it would be like to be small and to be overwhelmed by all the green things and to be able to disappear into the magic of the outdoors.
Our house is in a quiet neighborhood with rolling hills and old trees, near a creek so there's greenery everywhere. Because our house was built in the 70s, the yard is pretty substantial. We are able to have chickens and a vegetable garden and blackberry brambles, and Isla still has plenty of room to play. And at night, the fireflies come out and dance in our back yard.
It makes me so happy to see Isla playing outside here. To see her digging up rocks and hiding in the trees and eager to water and pick plants from the garden. I love watching her peek through the slats into the chicken's run to watch them pecking and scratching or hearing her squeals of laughter when she knocks a golf ball off the porch. It's not the newest or fanciest house, but I feel like it's a place where my children can experience some of that same magic of wilderness, albeit on a small scale, in the midst of a big city.
I love our home.