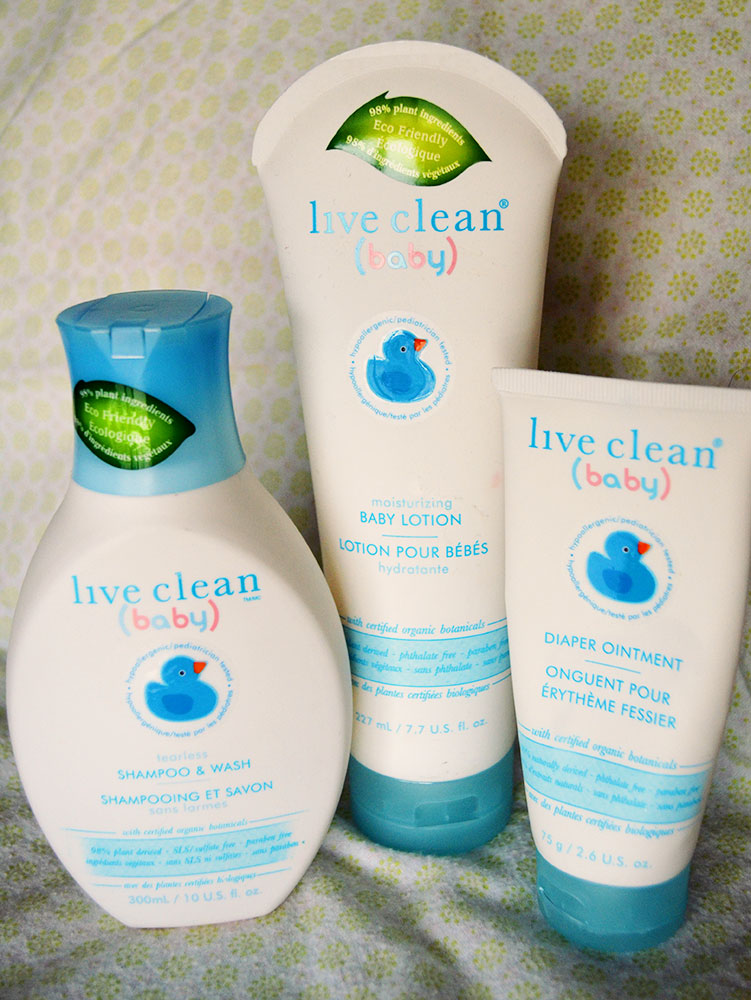 Several months ago, I was asked to review the Live Clean Baby line. The wonderful folks at Live Clean sent me a huge, pretty box filled with all sorts of fantastic products, and I used some of them and loved them, and apart from a brief mention in one of my big lists of favorite products, I forgot to review them.
Oops.
Although, I have to tell you, I love, love, love these products. Made almost entirely from plant ingredients, preservative free, petroleum free, paraben free, and phthalate free, with some products being 100% naturally and sustainably sourced, it's a fantastic line of baby bath goodness. It smells good, feels good, and is good.
Granted, I haven't used every product from this line. I've yet to find a use for the non-petroleum jelly or the bar soap (although I did give it to my father-in-law to help with his rosacea), but I have used the rest pretty regularly.
The run down:
Moisturizing Baby Bath
This is by far my favorite product. A few squirts of this in Isla's bath, and you get fun bubbles (Isla likes to try to pick them up) and a delicious smell. I wouldn't normally use anything like this, but it's so gentle, I never worry about it and have never had any issues. A lot of times, I just do this in the bath and skipped the shampoo/body wash. It leaves Isla smelling sweet and clean, doesn't dry out her skin or cause cradle cap, and her hair is so soft and fluffy after.
Shampoo and Wash
When Isla is really dirty–we're talking food-smeared-in-her-hair, how-did-that-get-there dirty–I use this. Like the baby bath, it smells wonderful and doesn't dry out Isla's skin or scalp. I've used a couple of other baby shampoos, and neither left Isla's hair as soft as this does.
Baby Lotion
This is a really great lotion that makes your skin feel so soft. I don't use it on Isla, but I use it myself after I give Isla a bath. A little bit goes a long way, and again, love the way it smells.
Diaper Ointment
This is my favorite diaper ointment to use when Isla has particularly nasty diaper rash. It isn't cloth-diaper friendly (but then, most of the mega-diaper-rash-combating creams aren't), but it kicks diaper rash's butt and gets Isla back in her cloth diapers fast. The ingredient list reads like a dream, too, so I don't feel bad about using it.
While I was sent these products to use and review by the company, it's worth noting that these are products we've continued to use even after our original supply ran out. We use the baby wash, shampoo, and diaper ointment on a regular basis. I love that I can feel safe about what's in them, but I also love that unlike some of the other natural baby bath products we've tried, it smells wonderful and doesn't dry Isla out or, worse, leave her skin and hair with a greasy film.
If you're interested in trying it out, it's sold exclusively at Walgreens and Walgreens.com. It's affordable, natural, safe for baby, and I can't recommend it enough.