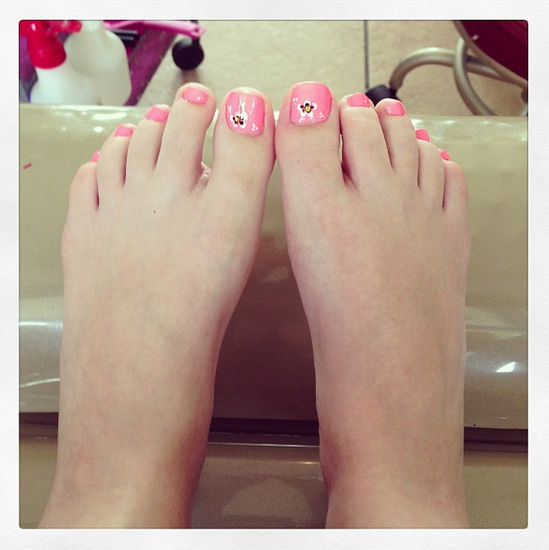 It's been a rough couple of months. I've been slammed at work, starting from the moment I get into the office at 8 until the moment I leave at 5, and I usually have to hit the laptop again after Isla goes down at 7. We've had a packed social calendar, and Kellen has been out of town a lot, meaning I've been doing double duty at home.
Isla has been sick and teething. She's gotten 6 teeth in the last few weeks and had to miss a day of daycare and her first trip to the water park thanks to a nasty virus. While Kellen was out, this translated into a lot of long nights with no sleep for me.
I've had what feels like one long continuous cold since June of last year. Even when I can breathe through my nose, I haven't been able to beat the wrung out feeling in between, and it seems like every time I start to feel better, I get walloped with another cold.
Before this weekend, I couldn't remember the last time I had time to myself that didn't involve picking up groceries or being en route either to or from work.
3 weeks ago, I broke down and told Kellen I desperately needed some time off. I just couldn't keep pushing myself so hard at work and at home without getting some time to myself to recharge. Unfortunately, our schedule was so packed that it took 3 weeks to get a day to myself. But finally, on Saturday, I got a mommy time out!
My mother-in-law came down last Friday to go see David Sedaris perform here in Portland with my husband, so on Saturday, she hung out and helped Kellen clean the house, make dinner, and watch Isla. Which meant when I woke up on Saturday morning, I got to leisurely check my e-mail and get caught up on blogs (something that never happens on the weekends these days), get dressed, and take myself shopping.
I've lost 20 lbs. since November. The last 2 summers I've spent either in maternity clothes or clothes made for a larger body, and a lot of my older summer clothes have long since been packed off to Good Will. So it was really nice to reward myself both for all my hard work AND for my weight loss and to finally get some clothes that are fashionable and flattering and comfortable for the warmer weather we've been experiencing.
It was wonderful getting time to pick through all of the sales racks and actually try on everything to make sure it fits properly without having to worry about a screaming baby or my husband tapping his toe outside the fitting room or having to rush back to work because I was shopping for a necessity on my lunch break.
It was nice to get some time to myself, where all I had to think about was myself, because frankly, I barely do that at all these days.
I wrapped up my time out with a pedicure, and I went all out. Paraffin wax, massage, and even a bejeweled design. It's not the sort of luxury I'd treat myself to–I can cut and paint my toenails myself, and usually I can't justify paying someone else to do something I can easy do at home–but it was a special day.
Then, I got to come home to a clean house and dinner ready to be popped into the oven.
The amazing thing is how much better I've felt since. Before, I felt withdrawn and worn out. I kept losing my temper with everyone–my husband, my daughter, even the dog. I was short on patience and would snap at anyone. Just a few hours out of the house, just a few hours to myself, and I can really tell the difference. I'm being nicer to everyone, including myself, and I'm less frustrated and overwhelmed by the demands on my time. Plus, the new wardrobe has given me a confidence boost that I've needed since I was pregnant with Isla.
Making time for yourself is so important, and I think it's something most moms don't do nearly enough. We get so busy in our daily lives, we get so used to being the mom, that I think we forget we're still people with regular human needs. We need rest and relaxation. We need time to ourselves. We need things to make us feel good. And these things are beneficial not only to us, but to everyone around us. When we take care of ourselves, we're better able to take care of our families, friends, and our jobs.
I'm currently running a giveaway on a great book, Mommy Time Out Means Mommy Can…, that encouraged me to get out and enjoy some time to myself. If making time for you is something you struggle with, you can read my review and sign up for the chance to win the book. It was very helpful for me, and gave me the nudge I needed to put a date on the calendar with my name on it.
I hope you parents reading this remember that you are too important to your family to neglect. Take care of yourselves.