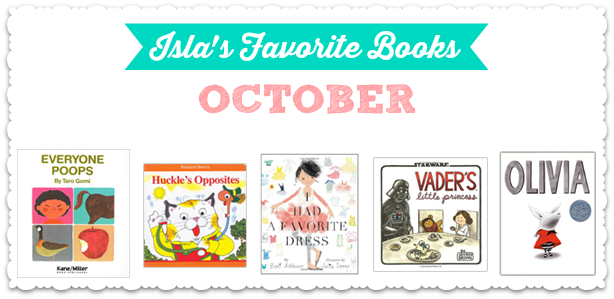 I want to try something new. We are big readers in our house, and Isla tends to cycle through favorites pretty quickly. I'd like to record the books Isla is loving month by month (if I can remember to keep up with it) and also share what books you might want to consider getting for any toddlers in your life.
This month, Isla's favorite books are:
It's a book about poop. Isn't it obvious why a 2-year-old would find it hilarious?
We actually have 4 Richard Scarry books, and Isla loves all of them. Huckle's Opposites is one of her favorites to read, though, right as we get ready to go to bed. She especially loves Lowly Worm's exclamations.
I think this book appeals to Isla because right now, she's really into two things: dresses and the days of the week. The book also has beautiful illustrations and great repetition. Either way, Isla asks for this one constantly.
Olivia by Ian Falconer
Isla and Olivia have a lot in common–particularly the part about wearing people out–so I think Isla sees in Olivia a kindred spirit. She loves Olivia's outfits and imagination, and so do I.
Yes, the Vader in the title is Darth Vader. This is a great story for kids about what Darth Vader would be like as a father. I bought this mostly because I knew Kellen would get a kick out of it, but Isla loves this book as well. Young princess Leia is spunky and mischievous, and the illustrations are really fun, even if virtually all the references are lost on Isla who has yet to make it through an entire Star Wars movie. If you're looking for a way to introduce your toddler to Star Wars, this is a good way to start. Also: it's a great book for fathers to read with their daughters.