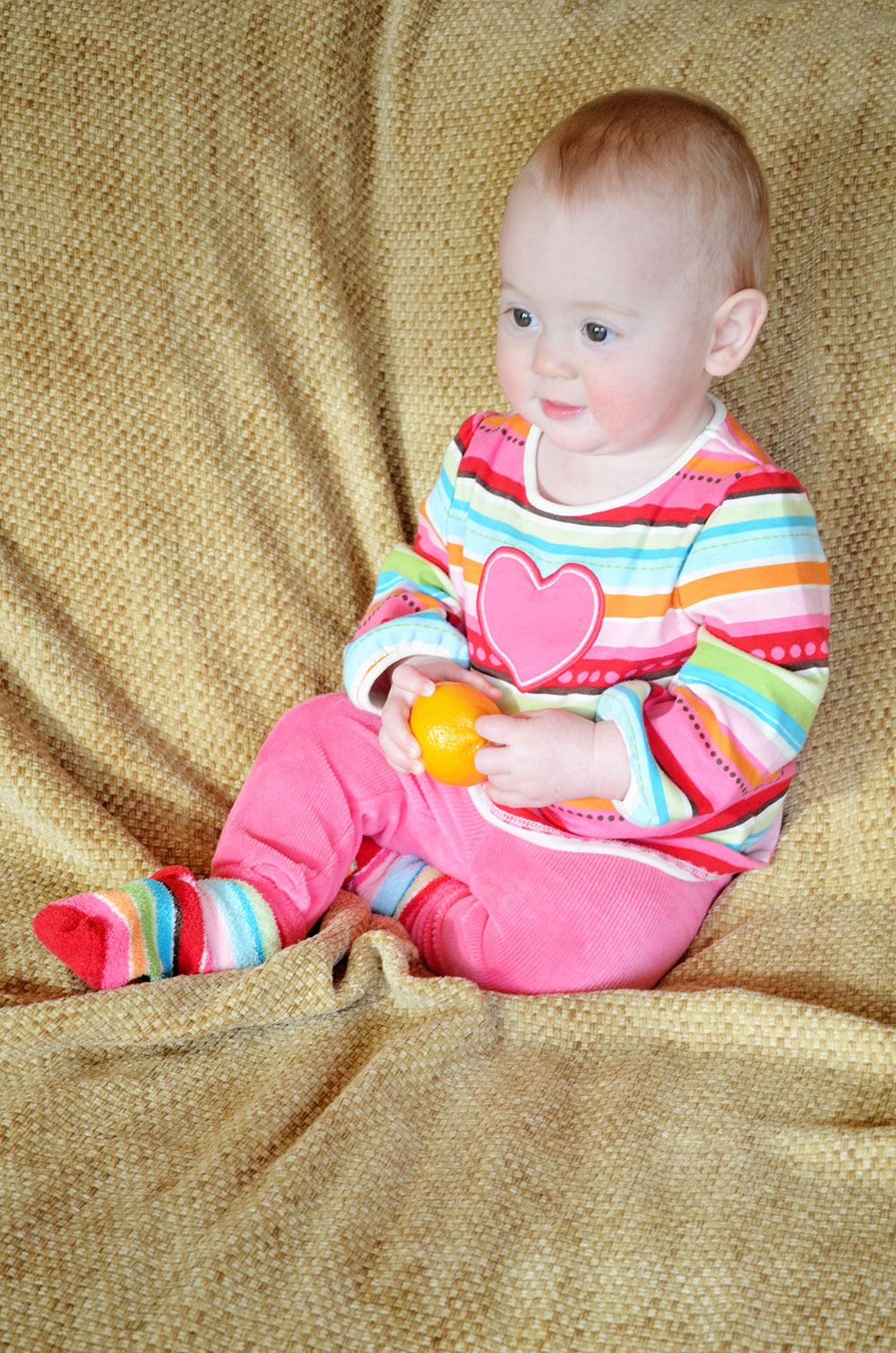 This is a little late, so I'm going to try and filter out all of the milestones Isla has reached just in the last few days and all the Christmas excitement.
We kicked off this month with another plane trip–visiting family in Texas for Thanksgiving. It went pretty well, all things considered. She slept an hour-and-a-half on both flights, which is a little less than half of the flight time from Portland to Dallas. It's awfully hard for an 8-month-old to sit so still for 4 hours, especially when it's extremely cramped quarters, but with Fuzzy Bee & Friends and Happy Baby Puffs, we all somehow survived.
Isla has finally gotten her two bottom teeth. Kellen calls them her goblin teeth, and I kind of have to agree…but she's the cutest little goblin there ever was!
This month has been filled with puffs and patty cake and cruising and every so often taking a couple of steps on her own, albeit not very sturdy or confident steps. I'm hoping some of the walking toys we got her for Christmas will help her get up on her feet more often and help her gain confidence and a better sense of balance. I have a feeling next month's update, though, will include walking on her own.
We also got a first word: turtle. Granted, she thinks everything is turtle, but it was loud and clear and she was saying it non-stop for days, so we're calling it. After that, her next word is "dog," and that is pretty clearly about the dog. Still no intentional "mama" or "daddy" yet. Only love for Pippin and stuffed animals. 🙂
We had her 9-month well baby check on her 9-month birthday, and it went smoothly. Isla is meeting all her milestones and is a very healthy, happy kid. She's 28.75 inches tall (88%) and 18 lbs. 15 oz. (54%) with a head circumference of 43.5 cm (36%), so she's growing right on track. She's growing out of her 9 month clothes and growing into her 12 month outfits. I'm having to buy new tubs to store all of her clothes. It's unreal to me both how many clothes we have for her and how much space storing all of your baby stuff takes up.
After we got home from our Thanksgiving trip, we officially retired the swing and the cosleeper (which has gone to a new temporary home with one of my coworkers who is due in January!) This meant we got to rearrange all of our furniture, move a bunch of stuff from the living room into our bedroom where baby stuff previously resided, and now we can actually walk through our dining and living room…although this was before we brought home all of our Christmas loot so this isn't really true anymore.
Speaking of Christmas, Isla has had a lot of fun with Christmas festivities this month, like going to see the Oregon Zoo's lights and Santa Claus with her buddy Liam, watching Mama put up the Christmas tree, and helping Mama and Daddy do the advent calendar.
Isla has gotten to be such a big, sweet, funny girl. We're so very lucky to have her and so proud to call her ours.