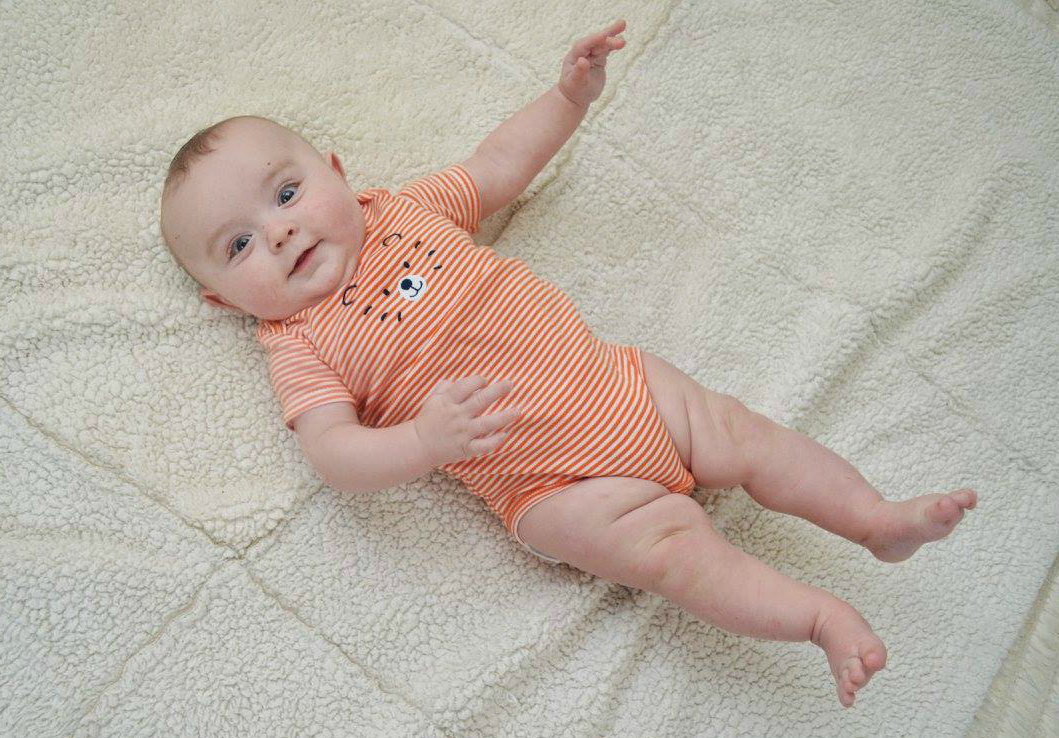 Ian Mac is 5 months old. This month has been quite busy. He's able to sit up on his own (propped up on his hands) for several minutes at a time and can roll back to tummy fairly reliably. He's rolling tummy to back less often, but I have seen it happen!
We've been working on getting Ian out of the swing at night and into the pack 'n play, but we've been foiled both by him "turtling" (getting stuck on his tummy in the middle of the night) and sickness. Sleep training is not too far off, but we'll probably wait to get serious about it until after he's more mobile and until he's feeling a bit better. As is, he still sleeps better than Isla did, and we're generally only getting up with him twice a night. Lately he's even been sleeping until after 7. (Knock on wood that continues.)
Ian has also started trying solid foods, and he's seemed to like avocado, sweet potato, and squash. I also let him have a taste of my butter chicken at Masala Wok, and he liked it quite a lot.  He wasn't fond of apple and banana, though.
This month, his favorite things are his feet, his sister, playing in the walker and on the play mat, and being "dropped" by Daddy. He's a pretty happy boy, easy to smile and laugh, and keeps himself entertained most of the time. He's also super chubby and cuddly and endures my constant hugs and kisses every night like a champ. (I just started a new job, out of the house, and I miss all the time I used to get with my kiddos. That's a story for another post, though.)
I'm so excited to see what the next month brings. We're getting into the exciting part of babyhood, where it seems each day brings a new milestone, a new accomplishment, a whole new little person. I can't wait to see who Ian becomes.
This month, Ian's favs are:
Avocado
Isla
His feet
Daddy tossing him around
Ian's not-so-favs are:
Apples
Having snot sucked out of his nose
Having his clothes changed
Being in his car seat