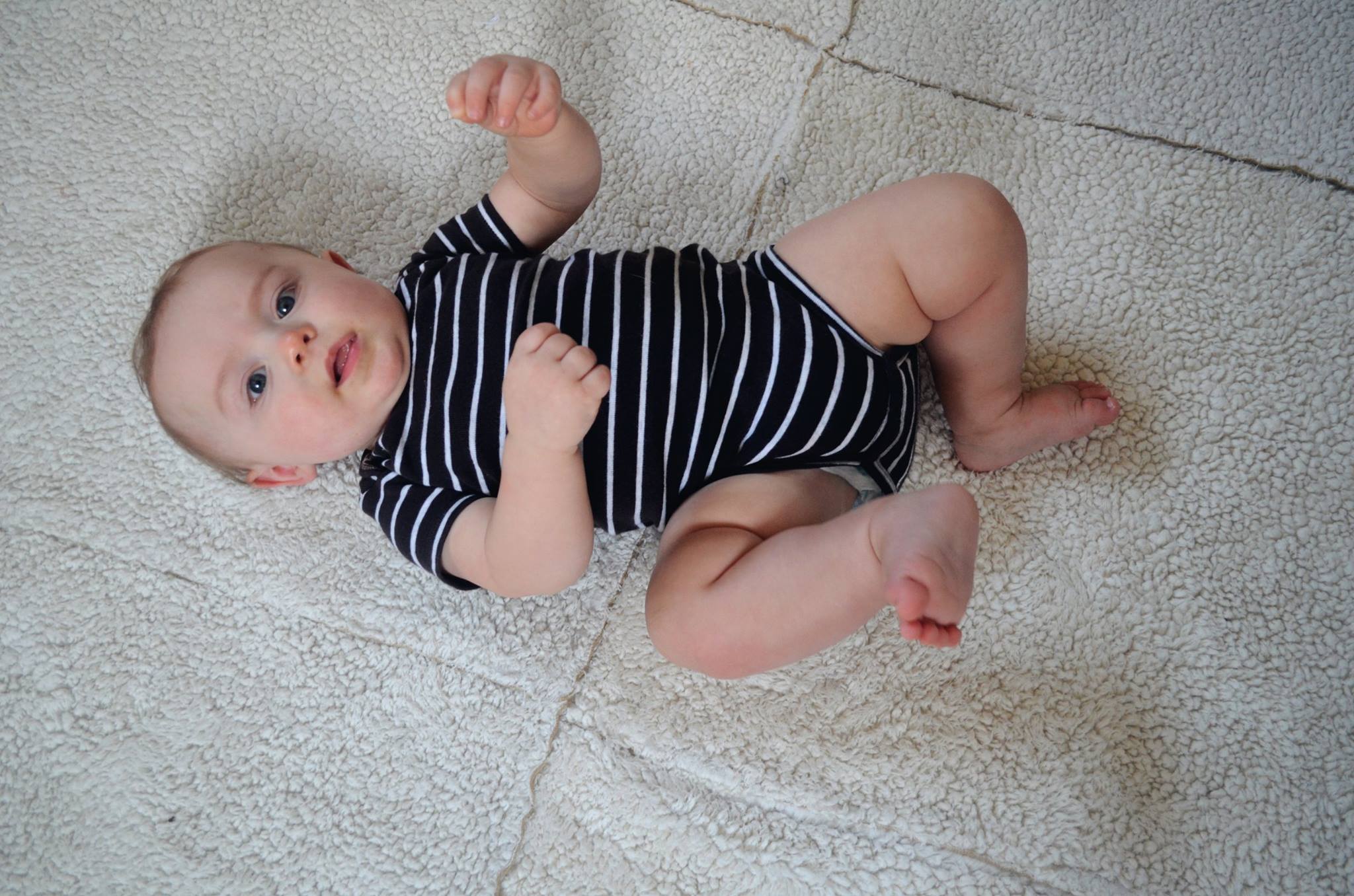 First things first. Ian is enormous! He's in size 18 month clothes and weighs somewhere north of 21 lbs. His Christmas ornament handprint relative to Isla's–who was a month older when she did hers in 2012–is massive. He crawls at lightning speed all over our house, with his bottom lip jutted out, cheeks wobbling, and meaty hands turned in looking like nothing so much as an English bull dog.
He eats to match his size. He's handily putting away 3-4 packets of food a day, plus snacks like puffs and veggie straws. And still taking all his bottles besides!
He's busy, busy this month. His crawling and pulling up have gained in grace and speed. He can walk behind a walker like a pro. He's been practicing standing while holding one-handed onto the stove door of Isla's play kitchen and then standing up for a second or two when he lets go. He loves for anyone to hold his hands and let him walk run upright. It's no wonder he's eating so much.
He's practicing lots of vowel sounds, and I would swear is saying "da da" and "bah" intentionally when he wants Daddy or his bottle.
His favorite person in the house right now, hands down, is Pippin. Pippin gets constant squeals of delight, and Ian watches him like a hawk wherever he goes.
In spite of his busy-ness, Ian is a peaceful soul. I spent a few days home alone with him over the holidays, and he is largely content to sit and study his toys, look out the windows and watch the birds and squirrels and leaves rustling in the breeze, or to lay on his back and wonder at the ceiling fan. In his husky little voice, he hums tunelessly to himself most of the day. He's rarely upset or fussy unless hungry or tired. He always has a big smile for anyone who has a smile for him and is happy to cuddle in between adventures.
Naps and overnight sleep have improved for the time being. He has started showing an affinity for soft things, and because his mobility has so greatly improved, we've started putting a blanket and lovey into his crib with him. Before, we noticed he was rubbing his hands on the sheet to fall asleep. Now he nuzzles into his blanket or chews on his lovey. It helps a lot. I know he's a little younger than the guidelines recommend for blankets, but like his big sister, it's just not something I worry about given his physicality.
Other firsts this month: first plane trip, first Christmas. He didn't really get the whole Santa/presents thing, but he adored the Christmas tree and lights (and not just ours–no tree at any house we visited in December was safe.) The plane trips went pretty well all things considered. After our experiences traveling with Isla when she was small, we wisely bought Ian his own seat and he rode in his car seat. The worst thing that happened was our flight home was canceled and we were delayed in Portland a day, which gave us time to catch up with old friends and him time to make new ones. He did well, though, and napped through a chunk of each of the four flights. It wasn't the easiest, and I'm glad I'll never have to fly with an 8-month-old again, but I think he's already on his way to being an expert traveler.
I'm so grateful for this sweet little soul who joined our family in 2016. I hope some of his chill rubs off on me in the New Year. Happy New Year to you, friends.