I'm not a very crafty person. I get on Pinterest and start perusing the crafts section and pretty quickly feel completely out of my depth. Somehow, my hands just don't cooperate with my brain, and I lack the patience and thoroughness–with crafts, anyhow–to get the details just right. Most of my crafts end up in the rubbish bin, and I end up at Target buying some cute little knick-knack Made in China instead.
When it comes to some things, though, I like to have a cute, personalized touch, and our family Christmas cards are definitely one of those things. Because I don't have the time or the aptitude to DI-myself, though, I go to Tiny Prints.
Tiny Prints is a fantastic little site where you can make all sorts of greeting cards, birth announcements, invitations, stationery, photo books and tons of other adorable gifts using your own photos. All you do is select the product template you want–in this case, a Christmas card template–and then personalize it. You drop in your family's names and pictures, tweak the messaging and the graphics, and voila! you have super adorable customized items.
When you're done, you can either have them ship all the cards and envelopes to your house so you can hand address them, or you can have them print return labels or print the return address on the envelopes and send them to you, or you can load all your address into Tiny Prints and have them print both the return and the mailing addresses and send everything to you to mail out yourself, or you can have them handle absolutely everything for you. I always go with the latter option (because I am supremely lazy) and have them print all the addresses and ship them out. It's not that much more than I would spend having them shipped to me, and I never have to lick any envelopes or make a trip to the post office.
I will seriously never do conventional Christmas cards again. Once you go Tiny Prints, you can't go back to normal Christmas cards.
And it's not just because it's so easy. Here are some of the absolutely precious holiday cards I created for my family this year.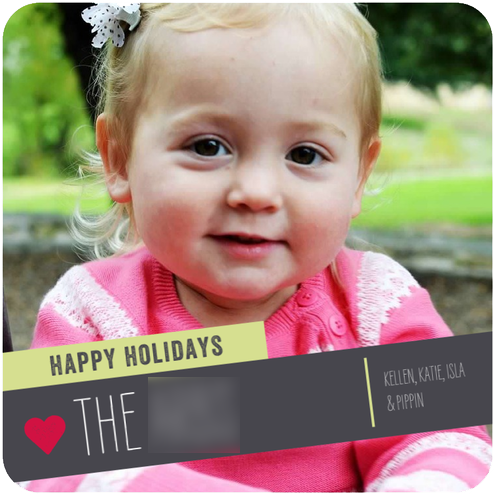 I'm still not 100% sure which one we're going with (what do you guys think?!) but we've got a whole lot of cute to choose from.
Celebrate the holidays with customized Christmas cards from Tiny Prints! Seriously, y'all. It's the absolute best. And their 30% off sale runs through the end of today.