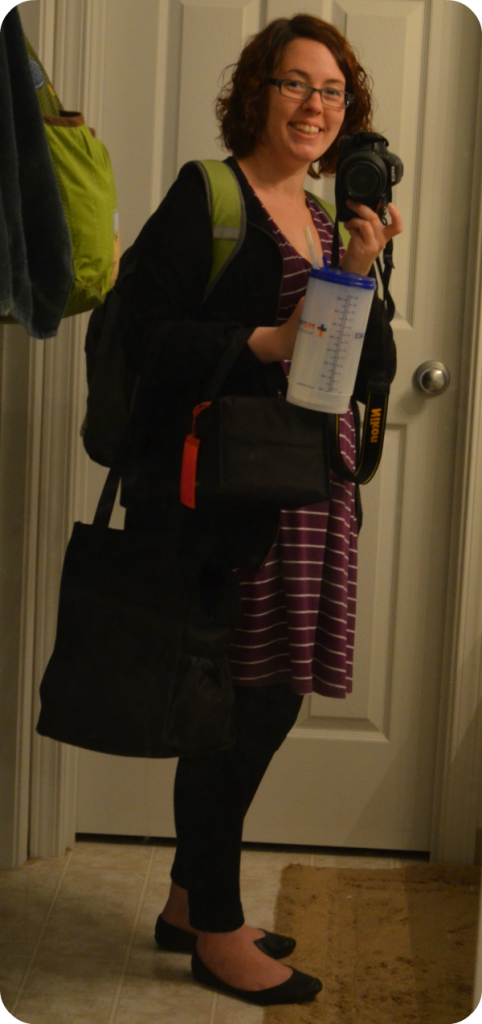 Yup. This was me on a typical work day, loaded up like a pack mule with my backpack, pump, lunch box to put my milk in, and water bottle.
I'm no longer breastfeeding, but the days of spending my nights nursing and my days pumping don't seem that far behind.
When I was still pregnant, planning to breastfeed and hoping I would be able to continue after I went back to work, I was unsure how it would all work out. I knew next to nothing about breastfeeding, and the classes and reading material beforehand were helpful, but it was a big unknown. No woman in my family had breastfed (more than a couple of weeks) since the 1920s and the only woman who had passed away when I was 8 years old. The baby came, though, and after the initial stress of waiting for my milk to come in and a 3-day hospital stay, Isla and I started breastfeeding with little trouble.
The first several weeks were hard, mostly because I spent so much of my time nursing, but by the time I was starting to think seriously about returning to work, I was set on continuing to breastfeed. A little before I went back to work, I tried replacing a few nursing sessions with pumping sessions, and was startled by how little milk I would get (2 oz. or less.) I had a friend who was also pumping oversee a pumping session to give me tips, but she didn't have any. She let me borrow her pump, but it didn't really increase the yield. I read tons of advice on the internet, tried the things that seemed most successful, but when I returned to work, despite all reassurances I'd be able to pump enough, I was unable to do anything about the pithy amount I could pump.
When I got back to the office, I promptly located the nursing mothers' room, figured out how to get access, and booked the room for 3 times a day, which meant that I also had to clear out my schedule for those nursing sessions.
Every morning, I'd wake up, get Isla and me ready, then nurse before running out the door, lugging my work backpack and breastpump with me. (Kellen took Isla to daycare.) I'd work from 8 until 9 or 10, then pack up all of my things and head on down to the nursing mothers' room, on the opposite side of the building. I'd pump for 15-20 minutes, spend another 5-10 minutes getting my milk stored away in the fridge, cleaning up my pump parts, and then sanitizing the area. Then I'd pack everything up again and head back to my desk.
At lunch, I'd pack everything up yet again and head home. Once home, I'd set up my pump, then prepare my lunch, then sit down and pump and eat at the same time. When I finished, I'd clean everything up, store the milk in the fridge, take the dog for a quick walk, then grab my backpack and pump and head back to the office.
My last pumping session would be between 2 and 3. I'd do the same thing as in the morning. And then come 5 o'clock, I'd have to go back to the nursing mothers' room, collect my milk, and then head home, stopping on the way to pick up Isla from daycare. I'd nurse when we got home and through the better part of the night.
It was exhausting, and I only did it 3 days a week. I started working from home as much as I could so that I could leave my pump and computer in one spot and continue working while I pumped. Nobody cares if you're topless at your meeting if no one can see you! I would frequently have to rearrange my pumping schedule and have to rebook the mothers' room because I had meeting conflicts that couldn't budge. I trained half a dozen new hires in my first month back at work, which meant I had very little time in my schedule to pump. Sometimes I'd have to be at a different office location, and would have to try to locate and book the mothers' rooms there.
And after all that, most days I was happy if I pumped 8 oz.–usually got closer to 6–and was barely pumping enough to send Isla to  daycare with 2 full bottles, when Isla took 4. I did everything I could to get my milk supply up and to pump more short of reverse cycling, and the only reason we didn't try that is because I was already up 3-4 times a night nursing. Even with cosleeping, that is a lot of wake-ups and not a lot of sleep. I did fenugreek, I did Reglan, I did Domperidone, I did Mother's Milk Tea, I did all sorts of massage techniques.
Nothing helped. Over the next few months, my supply basically wasted to nothing, and I was lucky to pump 2 oz. in an entire day. Recognizing the futility of it all, I eventually gave up pumping except when I needed to relieve engorgement. We were still nursing at night and in the morning, though, and I was still trying to fit in extra pumping sessions here and there on weekends and evenings. Until we weren't. First Isla dropped the morning nursing session. Then she dropped the one right after I got home from work.
I kept nursing going for 8 months, with Isla getting an ever-growing proportion of formula, before there was finally nothing left, and she stopped taking the breast. I had really hoped to nurse to a year, maybe longer. I still get sad when I think about the fact that we aren't breastfeeding anymore.
I meant this post to be solely about working and pumping, but I don't think that's what it is after all. I know a lot of working moms who had the same problem I did, who gave it their best shot and eventually stopped because in the end, nothing could save their supply short of quitting their jobs. I don't feel exactly guilty about working, because it's not like I have other options and I'm not sure I would take them if I had them. I do feel like Isla and I missed out, though. I feel like it really sucks that there isn't a better way. I wish I'd had more maternity leave. I wish I'd been able to work from home all the time and maybe had a nanny who came to my house rather than taking Isla to daycare so we could still nurse full time.
I wish it had been different, and I kind of resent my pump for ultimately being both harbinger and cause of the end. Like a lot of my emotions since becoming a parent, I'm not always positive what I'm supposed to do with how I feel about all this, so I'm sharing it with the internet, hoping this will resonate with someone or maybe even help someone out. I hope other breastfeeding and working moms have better experiences than I do and have the opportunity to breastfeed for as long as they want.

Here are some excellent resources for pumping moms: