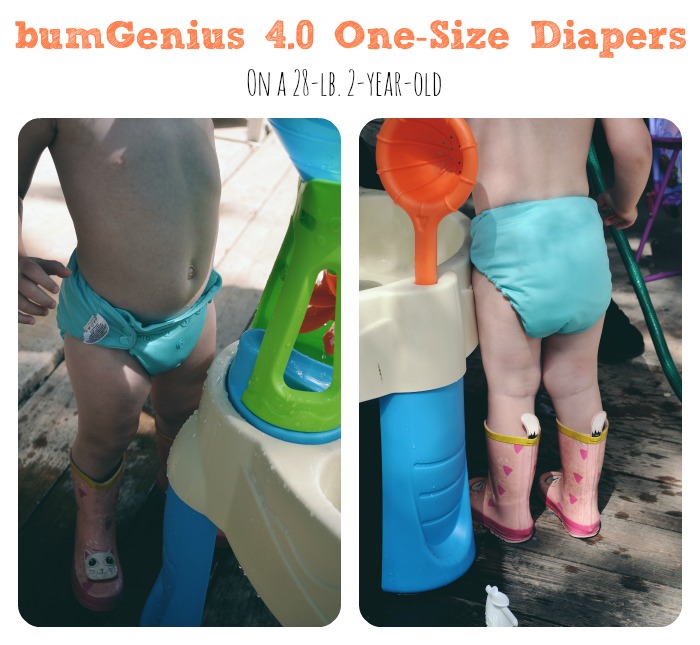 These are hands down my favorite cloth diapers. Bum Genius 4.0 diapers are good old fashioned one-size pocket diapers with 3-snap rise settings and either snap or hook and loop closure around the waist. (We have bumGenius diapers with both.) They consist of a waterproof cover lined with a soft, sueded fabric that wicks moisture away from the skin and a microfiber insert that is surprisingly absorbent, despite being very thin. The diapers have worked for us from about 8 weeks–and Isla was small for her age at 8 weeks–to 26 months. The diapers don't size down as small or size up as large as FuzziBunz, and I don't know how much longer we could keep Isla in them, because they are a snug fit right now. However, 2+ years of use will cover the majority of your kids' years in diapers, so the one-size claim holds true. They are easy to use, easy to clean, easy to get on and off, and seem to be very comfortable for Isla. The operative word here is "easy."
Pros
Easy to stuff. Our bumGenius diapers are incredibly easy to stuff, thanks to the fact that they are wide through the crotch and the inserts are not very bulky.
Easy to adjust. These diapers are also easy to adjust up or down in size. They have a 3-snap rise setting, so you can easily move the diaper up or down a size that way in well under a minute. The waist either has snaps or hook and loop closures which, on the whole, are pretty easy to adjust. Hook and loop closures (velcro) are easy for obvious reasons, but the snaps are pretty easy, too. I like that there are only 2 parallel rows of snaps at the waist, which makes it quick to find the right setting.
Not bulky.  The inserts are fairly thin (although still absorbent), and the diaper itself isn't bulky. This makes it very easy to get pants over them and for Isla to move around in. She's very active, and these never leave marks around her legs or waist or cause any chafing.
Easy to wash. Granted, this is pretty much across the board for cloth diapers. The laundry issue isn't nearly as challenging as I thought it would be. Still, it's nice that I can pretty much just toss these in the wash without any prep work, run them through a hot wash, cold rinse cycle twice–once with detergent, once without–then dump them in the dryer and call it a day.
Cute colors. bumGenius has by far some of the cutest colors and patterns. I love our Albert and Lovelace diapers, in particular. I pretty much want every color they have, and unlike some of my other diapers, I don't have any colors I wish I didn't have to use because they are kind of ugly.
Minimal leaking. We used the newborn insert, which is very thin, without any issues with leaking up until Isla hit about the 8 month mark. After that, we started to notice some leaks, so we started using the larger bumGenius inserts. Problem solved. We will see pee leaking if we leave the diaper on a long time–3.5 hours or longer–but we've never had poop leak out of these diapers.
Now on Amazon. I buy pretty much everything on Amazon. When I was pregnant, it was hard to find bumGenius on Amazon (which is why I have so many FuzziBunz instead), but since then, they've become available on Amazon. My bumGenius stash has exploded, not only because they are awesome diapers, but also because with my Prime account I can have them at my house in 2 days without paying a dime for shipping.
Cons
Can't use them for overnights. At least, not just with the regular insert. I've heard that doubling up the insert or using hemp inserts might help, but I didn't bother with cloth diapering overnight.
Inserts don't always agitate out in the wash. This doesn't happen very often to any of my diapers, but if it does happen, it's pretty much always with the bumGenius 4.0's.
Velcro issues. On the diapers with hook and loop (aplix, velcro, whatever you want to call them) closures, I've had problems getting the velcro to stay stuck to the tabs you are supposed to stick them to when you put them in the wash. Instead, they come loose and stick to everything else, and then we get crap stuck in the velcro, and the velcro doesn't stick anymore, so the diapers come off. I love velcro, because it's so stinking easy…but then it's not, and then I wish I only had snaps. So your choice: velcro that gets gross and stops working so you have to pick all the junk out, or 10 minutes of screaming while you try to chase your baby down and get her in a diaper with snaps.
bumGenius 4.0s make my life make the cloth diapering experience a breeze. I highly recommend them to any mom who is interested in trying out cloth diapers.
Original ran on January 4, 2013. Edited on June 16, 2014. Republished November 25, 2014.