We only have 2 BabyKicks Basic Cloth Diapers right now, but so far, I really like them. They are one size pocket diapers with a super soft microfleece lining that doesn't pill. The insert is long and has 4 layers–2 layers of microfiber and 2 of hemp terry. The hemp helps make them extremely absorbent diapers. They hold a lot of fluid without leaking and are one of our longer-lasting diapers, so good for outings where you may not be able to change as frequently as you normally would.
BabyKicks Basics with snaps have side snaps. This means the diaper essentially snaps on backward–instead of pulling the sides in over the front of the diaper and snapping that way. You pull the sides in first, then pull the front up over the sides and snap. This makes the diaper very trim and prevents wing droop. Plus, Isla can't figure out how to unsnap these and get the diaper off, so gold star for side snaps!
We did have one snafu with these. One of the diapers we ordered arrived with the elastic in one leg popped loose, so we couldn't use it. (I'm not a skilled seamstress.) I e-mailed BabyKicks, though, and they responded quickly and sent us a new diaper with no problems. Great customer service!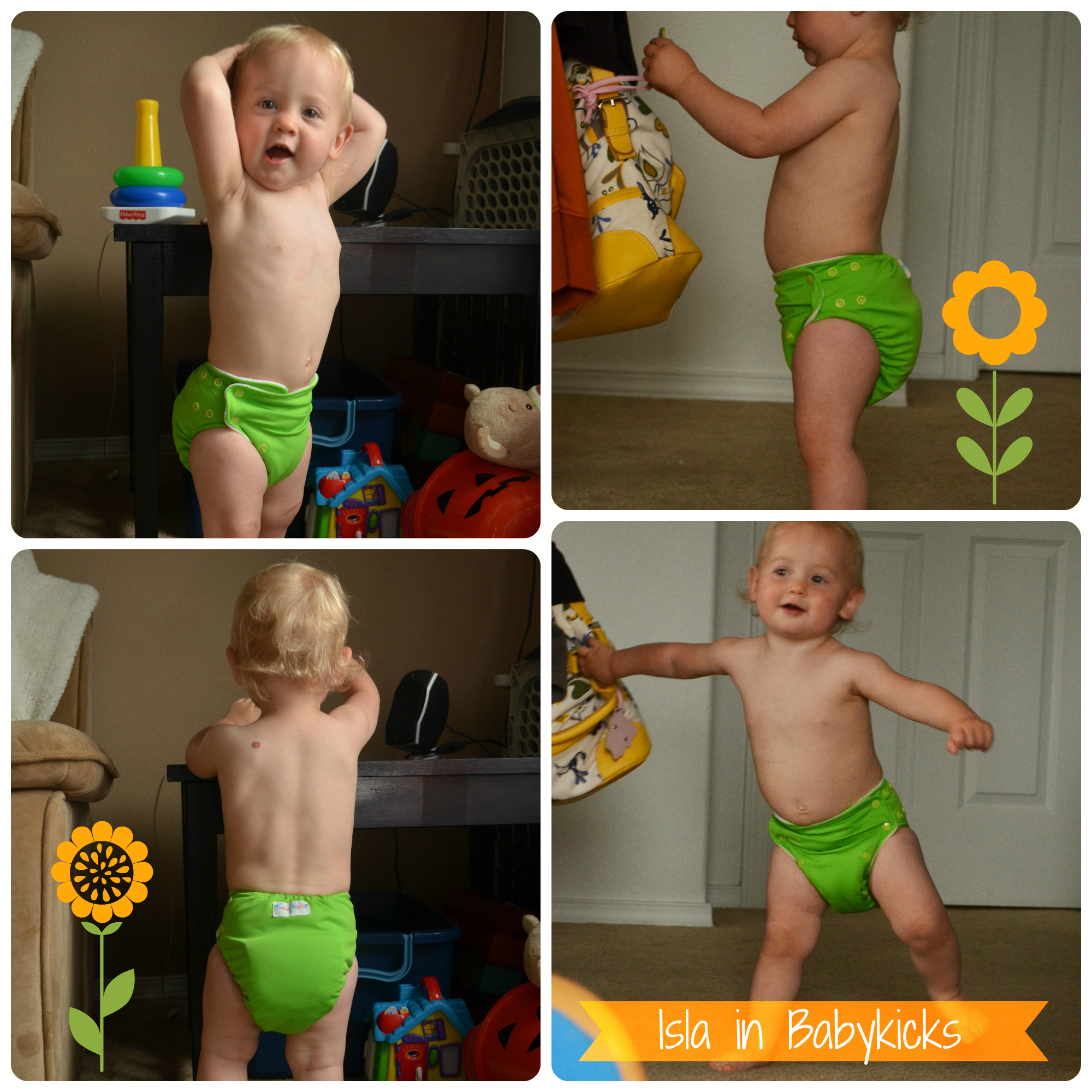 Pros:
The diapers are very trim and fit well under clothes.
The side snaps make it hard for Isla to get the diapers off herself.
Very absorbent, especially for the trimness of the diaper.
Super cute! These are some of my favorite diapers.
The fabric is so soft, both the outside and the liner. In general, these diapers seem to be very comfortable and don't leave marks on Isla's skin.
BabyKicks has fantastic customer service!
Great price! They are currently selling for $15.99 each on the BabyKicks website, and I purchased them at a slightly lower price through Amazon when Amazon Mom was running a deal.
Cons:
The diapers run a little small for an all-in-one, and I'm worried our giant kiddo is going to outgrow them soon. It would probably work really well for little ones.

The hemp inserts and side snaps can be a little confusing for people who aren't used to our diapers. I think it would be less so if this were the bulk of our stash, but I know these diapers require an explanation for everyone who tries them out, grandmas and babysitters included.
All in all, I love these diapers! I wish we'd discovered them sooner, and if we need to replenish our stash before baby #2, we will definitely be purchasing more BabyKicks Basic Cloth Diapers.