Isla's 2nd birthday just came and went, so I thought I'd share some of Isla's favorite toys right now, in case you're looking for a great gift for your favorite 2-year-old.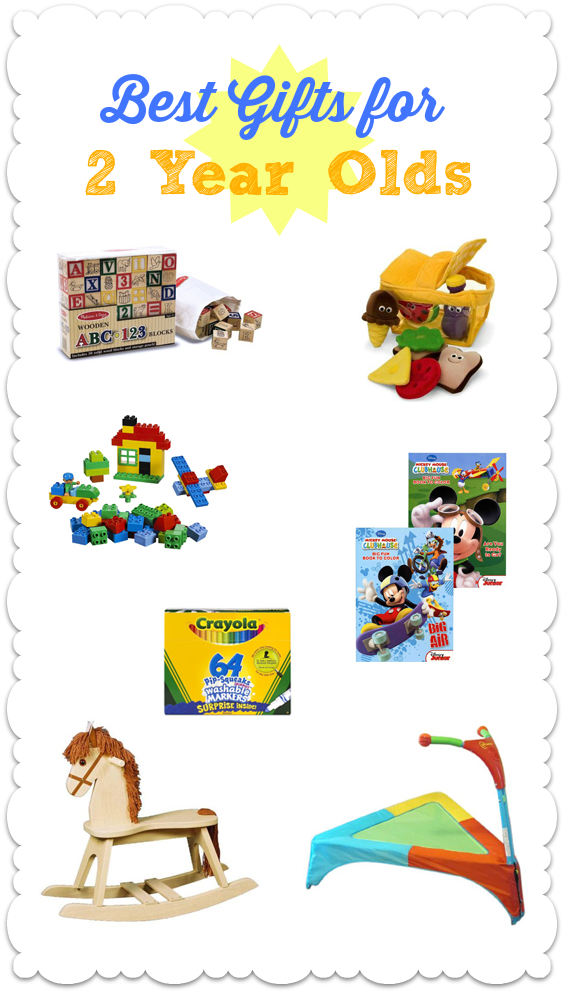 This is a soft picnic basket with plush food items that are simple and easy for little ones to use. The sandwich items come with velcro so they all stick together. Isla loves pretending she's making sandwiches and eating ice cream. She likes to bring this basket to other people and "feed them." Cuteness quotient: out of control.
You can't beat the classics. My husband and I both had almost identical blocks growing up, and they have become synonymous with childhood. And no wonder! These blocks are fantastic because they allow so much open-ended play, creativity, and learning.  Plus, kids love them, proving that simple things often make the best toys.
Another classic that both my husband and I had! And another that Isla has had a great time with. She occasionally gets a little frustrated when she can't get the pieces to line up just right, but these are great tools to teach patience and build fine motor skills. Also, they're so much fun! Kellen and I both are always happy to sit down and play with Legos.
Sidewalk chalk is bright, messy, colorful fun! Isla loves art of all sorts–and getting head-to-toe dirty–so sidewalk chalk is a big hit with her.
Isla gets totally absorbed in coloring and stickers. They're also a great way to let her express her creativity and develop fine motor skills. Plus, they're pretty cheap! I usually hit up Dollar General and $1 bins at Target for these items.
Isla loves rocking horses. My parents have one, as does another family we know here in Austin, and Isla is completely taken with them. She can get on and ride for half an hour, squealing "Yeehaw!" and making horse sounds and grinning from ear to ear. It is adorable, and I love seeing the pure joy on her face.
Our babysitter has this, and both the sitter's 2-year-old and Isla have a blast on this thing. I have to pull Isla off the trampoline screaming at 5:30 most evenings. It has handles for them to hold onto, and it plays music. It's basically a toy geared toward causing your kid to burn off every last ounce of energy they have, and toddlers have a lot to burn. Technically, it's meant for 3 and up, but with close supervision and a coordinated 2-year-old, you shouldn't have many problems other than the tantrum when it runs out of batteries.
Other great gifts include: clothes, books (Isla loves Little Blue Truck and Ten Twinkly Stars right now), and "experience" items like a trip to the zoo or a music class or a dance, gymnastics or swim class geared toward toddlers.
Good luck finding the perfect gift!