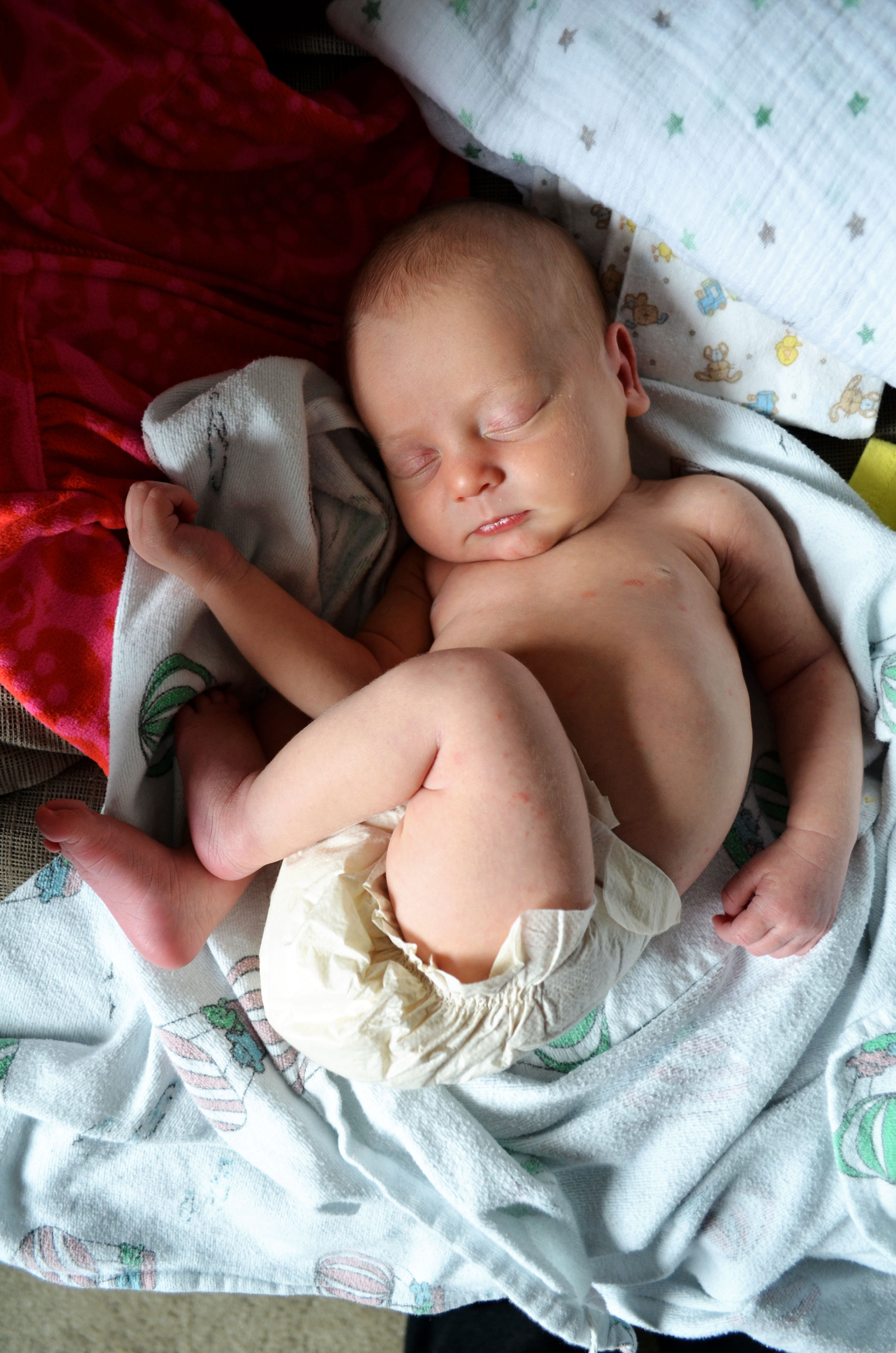 I want to preface this by saying I'm not a baby sleep expert. I don't even have a baby who sleeps well, at home or during the day. I can't guarantee these tips will help your baby go to sleep faster, stay asleep longer, or take better naps during the day. I won't even begin to wade into the shark infested waters that are parenting sleep philosophies.
What I can say is that I've read a whole lot about baby sleep, from a number of wildly different sources, and while they differ on a lot of things like CIO, cosleeping, and how possible it is to actually train a baby*, there are actually a lot of things they agree on. These are some things that maybe didn't help my baby become a great sleeper, but I do believe have helped us overcome a number of sleep humps and have absolutely encouraged better (if not ideal) sleep habits.
Establish your "this is what we do at night" and "this is what we do in the day" routines early. Keep nighttimes dark, quiet, and discourage playing. Try to keep things relatively bright and active during the day except for naptimes. Newborns often have a hard time with night vs. day, so this is useful to get their circadian rhythms synced up with the outside world, and it will set the stage for daytime and nighttime routines for years to come.
Establish a bedtime routine from day one. It may be something you tweak over time, but start out with something simple like, "bath, fresh diaper, jammies, bottle, rocking, a song, bed." And do this from the very first day you bring baby home, every single night. Your baby may be too young to be trained, but your baby's parents aren't. Getting into these habits are just as hard for Moms and Dads as they are for babies, so work out the kinks before your baby is old enough to learn from your trial and error.
Early bedtimes are critical, and I'm not talking 8 PM. Think 7 PM or even 6 PM to start your bedtime routine. It may sound silly, and you may be worried about early wake-ups, but what pretty much all baby sleep experts agree on is that babies who go to bed earlier fall asleep faster, stay asleep longer, and tend to accumulate more sleep hours. I know once we moved Isla's bedtime up by about 2 hours, she started sleeping much later in the mornings.
Sleep begets sleep. So the more your baby sleeps at night, the better your baby sleeps during the day, and the more sleep your baby gets during the day, the better your baby sleeps at night. There are a lot of tables floating around out there that discuss ideal amounts of sleep for babies, and I won't go into too much detail, but from our experience, this has definitely been true.
Make sure baby has a comfortable, safe environment that is conducive to sleep. Wherever that may be, ensure that it is free of loose covers and blankets, toys, and pillows, that it is a nice neutral temperature, and that your baby is in safe and appropriate sleep wear. Black out curtains will probably be helpful for nighttimes and the summer, when the sun is still up well after your baby should be in bed.
Swaddle your newborn. This was the advice that we received the most from other parents of babies when we were waiting for Isla to arrive, and it is still some of the best and most useful advice we ever received. Don't forget to swaddle even for naps, which is something I forgot for a while, and when my husband suggested I try it to get better naps out of newborn her never napped (like I said, she's really not a great sleeper), I felt like a total dunce.
And some of my personal advice, which I didn't necessarily get from any sleep training books or experts, but which were critical to maintaining my sanity:
If your baby is sick, teething, or extra gassy, and just won't sleep, don't be afraid to use one of those dreaded sleep crutches. In our case, the magical element was the swing, which we used pretty regularly until Isla was 7 or 8 months old. A lot of sleep experts will discourage this as establishing very bad habits, but honestly, if the difference is a sleeping baby and sleeping parents or a screaming baby and parents who are thisclose to losing it, you should go with sleep every time.
Honestly, whatever gets everyone in your house sleeping, do it. Prolonged sleep deprivation is bad for everyone in so many ways, and as I mentioned earlier, sleep begets sleep. Do what you have to for everyone to get some sleep, and then start over once you've managed to regain some patience and rationality.
Enjoy your baby. Nothing is sweeter than a sleeping baby, and even if it was a hard fought 4-hour epic battle to get them down to sleep and you are completely exhausted, hold them for a few minutes longer than is absolutely necessary. Those few extra moments will be so precious to you later when your baby is no longer small enough to hold in your lap, no longer little enough to sleep in your arms.
Don't beat yourself up if your kid isn't a great sleeper. Within a single family, where the routines and habits are the same from child to child, you will find children who are both great sleepers and terrible sleepers, babies who sleep through the night at 3 weeks and babies who still haven't gotten the hang of it at 10 months (I'm talking about you, Isla!) Do your best. Stick to your routine as much as you can. But if your kid just won't sleep, well, you just have a kid who doesn't sleep. It's not a reflection on you or your parenting abilities. Be kind to yourself.
I hope these tips are helpful. Again, I'm not an expert, but these are just things that I've gleaned from a whole lot of reading and nearly 10 months with one of the most awake babies I've ever encountered. Good luck!
* For you new and expecting parents (or folks who don't have kids at all) who think that training a baby is not only 100% possible, but relatively simple, all I have to say is

😉