When I was pregnant, I wasn't really sure what baby products I would need or want. I did a lot of research on various and sundry baby items and tried to make educated guesses as to what we'd use and what we wouldn't, but it was pretty much a crap shoot on a lot of the items whether I'd use it a ton or not at all. What helped me hone in what might be the most useful was reviews and advice from other parents.
I figure now that I've had a month of being a mom under my belt, I'd pass along what has been the most helpful for my family this first month. You'll probably notice a lot of breastfeeding supplies. That's because breastfeeding takes up at least half of your waking hours for the first few weeks!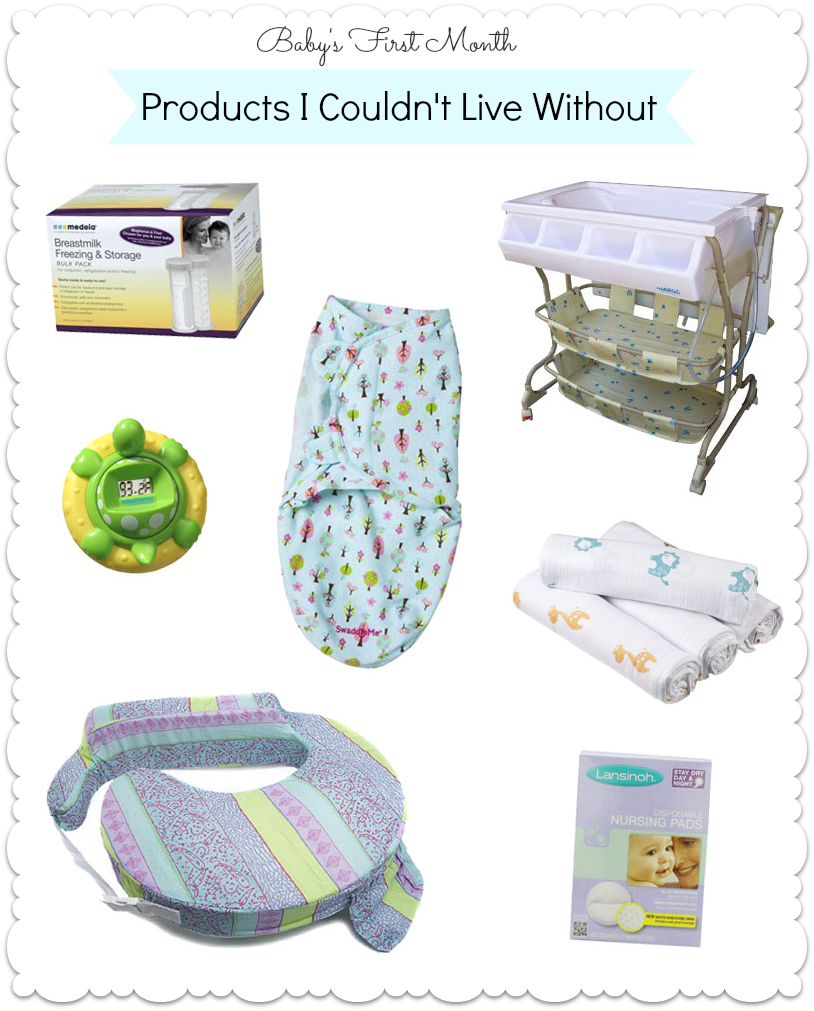 I don't know if I would have survived the first couple of weeks of breastfeeding without this pillow. It made it easy to ensure that Isla got a good latch every time, sparing me the agony of sore, cracked nipples and even enabled me to get my hands–or at least, hand–free to do other super important things like, you know, surf the internet. (Your sanity is important, too!) The extra slip cover was super useful because sure enough, not two days after I brought Isla home, she had a blow out diaper that got poop all over the original slip cover. Having a back-up is great so you don't have to worry about laundry.
Without nursing pads, I'd still be leaking through my bras, shirts, and jackets multiple times a day. I pretty much always have nursing pads in, night or day. Note: I tried using some washable/reusable nursing pads, but they weren't as soft or as comfortable as the disposable nursing pads and were leaving my nipples red and irritated. These nursing pads are great because they have adhesive and will stay in the shelf of a nursing tank or a nursing bra even when you fold it down to give baby access.
Nursing Bras
If you plan to breastfeed, you'll want to invest in good nursing bras. I'm using Bravado Body Silk Seamless nursing bras during the day, which provide excellent support and are SUPER comfortable, and Lamaze sleep bras for overnights. (I can't find the ones I have online.) These are an absolute necessity. I can't stress that enough. Nursing would be a huge PITA without my nursing bras.
Nursing Tanks
I'm just going to start this by saying, those peek-a-boo style nursing tanks are a waste of money. Get the ones with the snap down straps. This one is my favorite from Target. You can wear these under t-shirts, sweaters, jackets, cardigans, etc., and they will make nursing, especially if you're out in public, much easier.
A Good Pump
I'm using the Ameda Purely Yours, but really, any double electric pump will do. (Read the descriptions and reviews, though, to find out what will work best for you.) Once you get the whole latching thing down, or maybe even a little before, you'll probably want to start thinking about pumping. Having expressed milk stored up so you can run to the grocery store by yourself or just give you a little break and your partner the opportunity to bond with the baby over a feeding session is good for the sanity.
I knew after one pumping session, I needed a hands-free device for the pump. This bustier helps hold the flanges in place so you can do other things with your hands, and not aggravate your carpal tunnel, while you pump. Invaluable!
Breastmilk Storage Bottles
I can't find the ones I'm using, but you'll want extra storage bottles like these by Medela, preferably ones that snap to your pump, for your expressed milk. It's nice to be able to build up a stash.
A Bottle That Works for Baby
If your breastfeeding, it may take you some work to find a bottle that works for your baby, but you'll definitely want to introduce the bottle within the first month, especially if you're planning to go back to work. My favorites have been the Avent bottles. It's different for different people, though, so you'll probably want to try out a few different kinds. For newborns, you'll only need a small 4 oz. bottle, and you'll want to make sure you get the slowest flow nipples.
Baby Wash Cloths
We got so many packs of baby wash cloths at our shower it was comical, but as it turns out, you'll use a lot of these. Isla in particular has goopy eyes, so I find myself cleaning them out a couple of times a day. Plus, I use them at bath time, to clean up drool, to wipe up messes on her changing pad, etc. They're smaller and softer than grown-up washcloths, making them easier to use on baby. We have several sets of the Circo washcloths from Target.
I've mentioned our Baby Diego Bathinette before, but I have to rave about it again. Not only does it provide lots of storage for cloth diapers, but the changing pad and bath tub are the perfect height for changing diapers and washing baby. No back ache or sore knees for me! It's been especially helpful since I'm recovering from a c-section, and this keeps me from bending at an awkward angle. We keep the storage baskets on the front of the bathinette loaded with all of the things we need for a quick change or bath time.
If you don't want to go this route, you'll still want to come up with a good solution for changing diapers and giving baths. Keep in mind that you'll do both a lot, so it's good to have something where all your bath and diapering accessories (wipes, rash cream, extra diapers, baby wash, wash cloths, etc.) are close at hand and where you'll be comfortable.
Bath Sponge
Since a lot of bath tubs (including the Baby Diego Bathinette) don't have padding inside to keep baby comfortable, you might want to consider getting a removable sponge that is made to conform to baby's body in her bath tub. We use the Munchkin Safety Baby Bath Cradle.
I worry a lot about the water temperature when I'm giving Isla a bath. I have this fear of either scalding her or causing hypothermia. Plus, having the bath water at just the right temperature is critical to having a happy baby during a bath. (Isla likes it at 98-99 degrees.) I use this thermometer every time I give her a bath. It's easy to use, and it helps me make sure everything is comfy for my baby.
I don't use these prefolds for diapers. I use them as burp cloths. Like the baby wash cloths, they are great for cleaning up all sorts of messes, but I use them mostly for when I'm breastfeeding. They're way more absorbent than the wash cloths, so they're great for when I have a big leak or when Isla spits out a mouthful. They're good for when you use formula, too, because when you use formula, it's pretty much a guarantee it's going to go everywhere. That stuff doesn't smell great, either, so better that it goes on one of these cloths than on you.
If you haven't heard about the miracles of swaddling yet, I'm going to tell you now: swaddling is magic. It helps to soothe fussy babies and frayed grown-up nerves, and you will get so much more sleep if you swaddle overnight. But forget the complicated Happiest Baby on the Block method. Just get a few of these SwaddleMes, because they are fast and easy to use, even when you're half asleep in the dark in the middle of the night, and your baby is far less likely to jailbreak out of them. Another one of those sanity savers.
Lots and lots of blankets
This will probably be taken care of for you, because people love to give blankets to babies, but they're actually really helpful. You'll want some big, thicky fleecy ones for strollers and car seats. You'll want some thin, soft, gauzy ones, like the Aden + Anais muslin swaddling blankets (which aren't actually very useful for swaddling), and some good old-fashioned receiving blankets, which we use in place of a changing pad sometimes or as a giant bib for Kellen during a bottle feed. I've been using some hand-made flannel blankets, too, lately, mostly at bed time for me over my top half so I don't have to worry about the comforter going over Isla when she's in bed with us. The more of these you get, the better, even if the number of blankets you receive seems sort of ridiculous at first.
I wrote about this in my post on babywearing, but trust me. The K'tan Carrier is magic. I use it all the time. At home, I use it when Isla is fussy, and I can't get her to settle down. I use it when I need to take the dog on a walk or do anything that's going to require both hands. When we're out, I use it as a general way of toting my baby around (shopping malls, grocery store, etc.), but it's useful too if we're at a restaurant and Isla starts to get fussy in her car seat. I can just take her out of the car seat, pop her into the carrier, walk around a bit, and she's nice and quiet again. I may have to spend the meal with her in the carrier, which I've done a lot (my baby looks adorable with crumbs in her hair!) but it's worth it to at least get to have a peaceful meal, preferably before it gets cold.