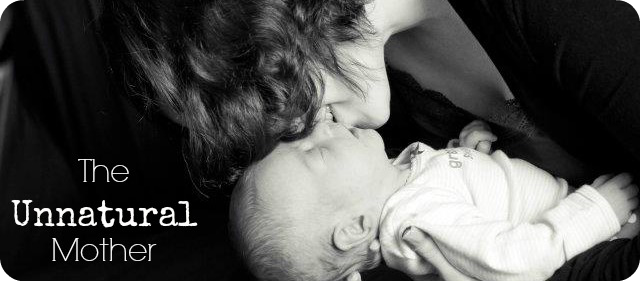 When my daughter was little, I did a lot of things you find "natural" or "attachment" parents doing. I breastfed her. We coslept. I wore her in a wrap. I made her baby food myself. I put her in cloth diapers. I found myself frequenting many of the same haunts as attachment parents and often found myself seeking advice on topics the natural parenting community had cornered the market on.
I always felt uncomfortable in those spaces, though. Some of the things they said made sense. Some of it was helpful. But so much of it made me feel terrible. Guilty. Angry.
After Isla was born, I was completely overwhelmed by motherhood. I've always been a perfectionist and an over-achiever. If I did it, I had to do it right. You can't do that with motherhood, though. Kids aren't products. Each one is different, and not a single one of them comes with a manual. There aren't even any clear specs on how they should turn out. They're people. They have their own unique gifts and challenges and quirks, and they grow and change constantly, so what works on that kid won't necessarily work on this kid, and what worked on one kid yesterday may not even work on the same kid today.
But in the natural and attachment parenting communities, I kept encountering this idea that if I did X with my child, I would get Y results. Or that if I did B, my baby would do C. For instance, if you breastfeed, your baby will be smart and healthy and smell nice, and you will have a better bond with them. If you respond to your baby's every cry, they will cry less. If you just keep your baby close and avoid schedules and electronic baby minders and follow their every cue, your babies will be able to sense when you're tired and give you a break. And anyhow, a mother who is well-bonded with her baby won't feel overwhelmed or smothered or like she has nothing left to give. If you are truly connected, everything you give, your baby will give back.
That's not how it worked out in real life, though, at least not for me. Here I was following all of these instructions, and the magical mother-child bond did not erase my fatigue or my stress or make my colicky baby stop crying or sleep any better. I was exhausted and frustrated. I hated being stuck on the couch nursing 12 hours a day, was desperate for sleep, and felt completely bereft of the physical and emotional reserves my new role demanded of me. And my baby was not by any stretch of the imagination sensing my needs or "giving back." On what planet is that even a reasonable expectation? She was a baby.
I still felt like a failure, though. I felt like I must be doing something wrong if my baby wasn't giving the proper Y output to my X input. Or worse, maybe I was just an unnatural mother. Maybe the reason I wasn't "bonding" with my baby (i.e. living out some blissful TV commercial fantasy of motherhood) was because there was something wrong with me. Maybe I should never have even had a child. A natural mother wouldn't feel like this…would she?
So much of the advice I encountered from the attachment parenting community told me my feelings were abnormal, wrong, and unnatural. If I wasn't willing to reverse cycle with my daughter to continue breastfeeding after I went back to work, if I needed more than 2 consecutive hours of sleep in a bed not shared with my husband and a squirmy infant, if I used an electronic swing to soothe my daughter instead of my own arms because I was exhausted…these were not moments where I was prioritizing my own physical and mental health. These were moments of supreme selfishness or even viciousness. How can you deprive your daughter of the precious life-giving elixir that is breastmilk just because you want to sleep? some in this community asked me when I chose sleep over my ability to produce more breastmilk. How can you exile your baby to a lonely crib or allow her to cry alone in the dark? they asked when I hadn't slept more than 4 non-consecutive hours a night in over 6 months. 
Are you cruel, they asked, or just lazy?
There is nothing cruel or unnatural about feeling overwhelmed, exhausted, and frustrated, even if you are a mother. Every mother I know has had at least one moment where she found herself at the end of her rope, and most of us have many such moments. And there is absolutely nothing lazy about realizing you need to take care of yourself in order to be a good mom. I'm not talking daily trips to the spa. I'm talking occasionally getting a full night's sleep or a few hours to yourself and having family and community support so you're not trying to do absolutely everything all by yourself.
Ultimately, I couldn't continue to listen to the voices of a community which had turned many mothers' natural, normal feelings into the monstrous and taboo. I couldn't continue to listen to discussions about "health" wherein women were being encouraged to do things that put their own health and safety–and therefore, their baby's health and safety–at risk. I certainly couldn't keep listening to the cruel goading of other women who used their personal parenting choices to insult and belittle other women. It was toxic and frankly felt more like my worst memories from high school than a community of grown women helping and supporting each other.
Instead, I listened to my mother and mother-in-law, both wonderful mothers with advanced education and long careers focused on children's health and well-being. I listened to my friends, who quietly admitted they'd decided to do things differently and everyone in their homes seemed to be much happier. I embraced a community of mothers who promoted education and awareness and support without the shame or the guilt.
Most of all, I listened to my baby and myself. What did we really need? Was exclusive breastfeeding or avoiding letting my daughter cry for even a few minutes at night really better for my daughter than a mother who was well rested, less stressed out, less sick, and therefore happier, more patient, and more engaged? No. Long term, there were just not enough proven benefits of exclusive breastfeeding and avoiding cry-it-out to outweigh my daughter's obvious and immediate need for a physically and emotionally healthy mother.
These are not my excuses for failing to do right thing, by the way. I just came to the realization that this approach to parenting was not healthy for my family and that if I wanted to be a good mother, I was going to have to do something differently. So many people in the natural parenting community told me if I wasn't seeing the desired results in my baby from doing their specific proscribed actions, then the problem was almost certainly that I wasn't trying hard enough or I wasn't doing it correctly. I just needed to do more attachment parenting, better. The thing is, I'm a perfectionist. I was trying as hard as I could. When it comes to your kids, though, if you keep trying the same thing over and over again, and it's not making your kids happier or improving your relationship with them, then chances are the issue is not that you aren't doing the right thing enough. It's probably that you just aren't doing the right thing. Assess, adjust, move on.
It was a huge relief to me to realize that parenting didn't have to be miserable or a competition and that being a good mother was so much more than my ability to nail myself to a cross. Parenting, when done right, feels natural . It's not always perfect. Your kids aren't always perfect. You certainly aren't always perfect. But it does feel like you are actually living and being a family, and not just constantly trying to tick off items on an imaginary Good Mom list. In the long run, my daughter will get so much more from having a happy, healthy, engaged, patient mom than she would have if I'd followed someone else's silly rules.
My way of mothering may not be the "natural" way. It almost certainly won't be for everyone. It's the best way for me to be a mother to my daughter, though, and in the end, that's all that really matters.