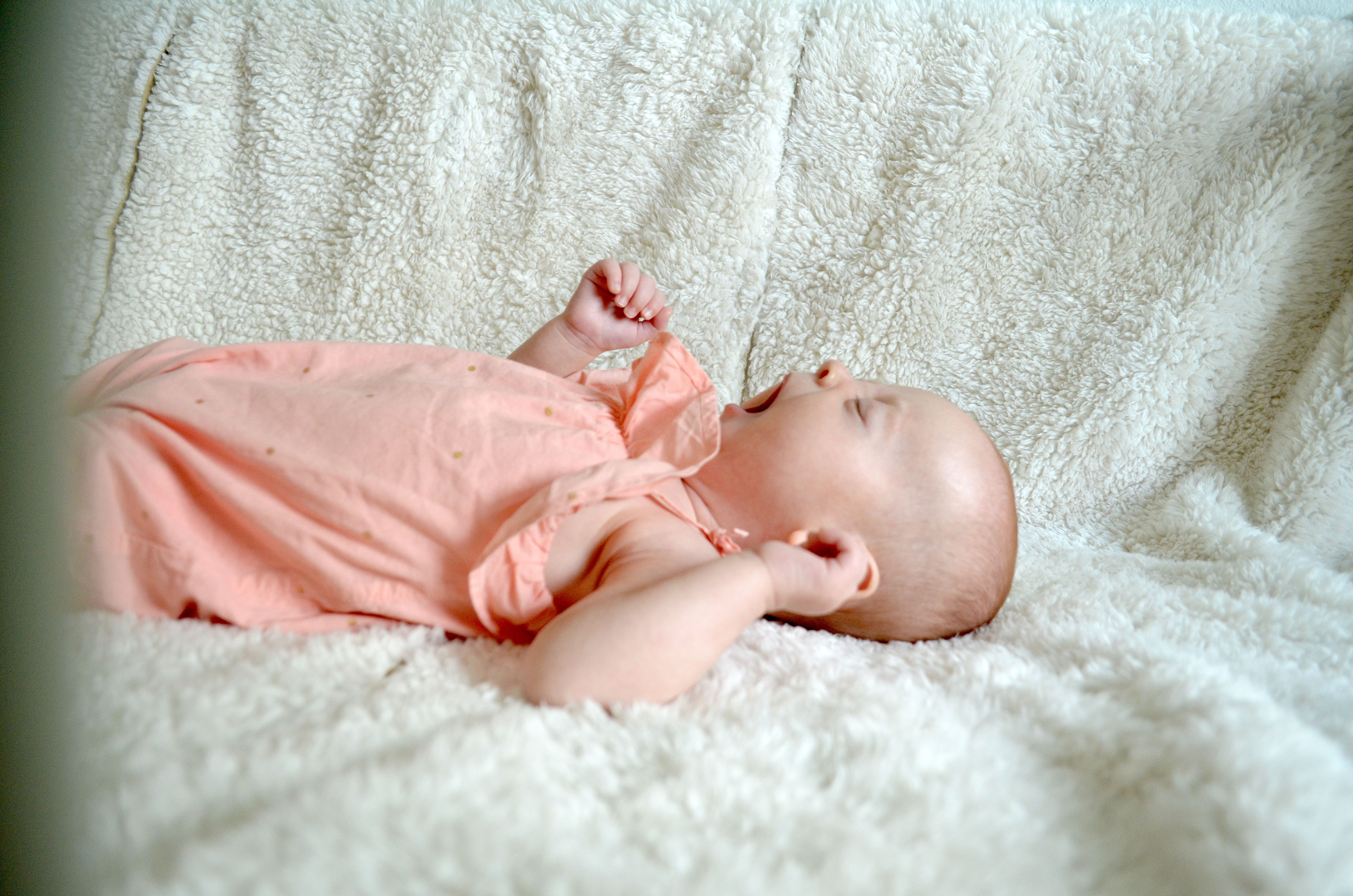 Lately, it seems like every night has become dominated by getting my baby to go to sleep. It starts at around 6:30, with mega-fussiness and clear cues that Isla is beyond ready for bed. We get her swaddled, jammied, fed and down for the night…only to have her wake up again half an hour later. We'll try for another half hour to get her to go sleep, finally give up when it becomes clear that she is completely and totally awake, then start trying to get her to go to sleep again around 9. When we finally get her into bed, it's 10 o'clock and time for us to go to sleep, too.
After that, it's a crap shoot how long she'll sleep. Most nights, she wakes up between 1 and 3. One night, she randomly slept until 4. Whether she'll wake up a second or third time is anyone's guess. It all sort of depends, only on what, I haven't the foggiest.
It wasn't always like this. Before my maternity leave ended and before our 2-week trip to Texas, we actually had a pretty good sleep schedule going. Around 7-7:30, depending on Isla's sleep cues, we'd swaddle, jammy, and feed her, and she'd be out by 8-8:30, and that was the end of it. I could depend on her to sleep until about 2 AM, after which she'd be awake again at 4 and 6, then wake for the day at 8. Her nap schedule during the day was a completely mystifying and frustrating ordeal, but at least at night, I could depend on her to be dependable.
I know we need to sleep train and get this nightmare under control before it starts controlling us any more than it already is. I can't do another 3 weeks of this if I want to be functional at work or get the things I need to get done around the house at night. Sleep training is so daunting, though, especially when I have no idea why she's doing this.
Now that she's at daycare, her daytime nap schedule has gotten remarkably consistent. The only thing I can figure is that there's a little too much time between her last nap of the day and when we start bedtime, which is still about an hour earlier than I think her body really wants to try sleeping. Either that, or she just refuses to sleep reliably around the clock. It's either she sleeps well during the day or she sleeps well at night. Honestly, if it comes down to it, I'd take the latter in a heartbeat.
So I'm looking for a sleep training method. I think for right now, we're going to talk to daycare about making sure her last nap of the day is around 4 instead of at 2 or 3 and hope and pray that she doesn't get overly tired and treat our first attempt at putting her down as little more than a nap. Then, we're going to start doing CIO at bedtime. At this point, I'm less worried about the mental scarring caused by CIO than I am about the health impact to our entire family with our 3-month-old essentially only sleeping from 10 PM to 6 AM with 3 naps during the day that pretty much never exceed an hour. It's not healthy for her to average 10 hours of sleep a day, and it's not healthy for us to be staying up late every night trying to get all of the things done after she goes to sleep that we've been too busy trying to get her to go to bed to do in the hours immediately after we get home from work. I'm lucky if I get 5 hours of sleep most nights, especially if I end up with one of those really unfortunate nights where she wakes up at 2 AM and thinks it's party time.
Which reminds me, I have additional concerns about how many times she wakes at night and whether she actually needs to eat or just wants to eat because that's what she's used to doing to get to sleep. Although she is 15 weeks old (a little over 3 months), weighs barely over 10 lbs. and hasn't put on so much as an ounce in about a month, which of course makes me wonder if she's getting enough to eat… Thinking about how to solve the night waking issues, though, are too much for me to think about right now. One thing at a time. For now, I just want to be able to put her down to sleep once at night and not have to do bedtime 2 or 3 times before it finally sticks.
If any of you have recommendations on how you sleep trained or when you sleep trained or really anything related to getting your kids to sleep, I'd really appreciate it. I'm fed up with what little downtime I get in the evenings being obliterated by a fussy baby who refuses to sleep and my nights being punctuated by multiple wakings.