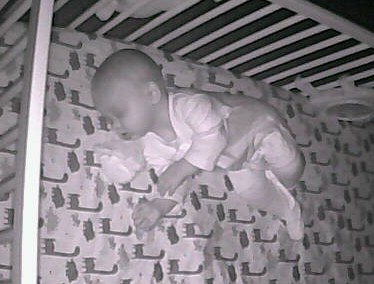 That last post prompted me to talk a little bit about Isla's sleep habits, because they are just as erratic and maddening as ever.
The good news: we have a pretty solid sleep routine down. We follow the same process every night, and she's usually in bed by 7. For the most part, she easily sleeps until 6:30 or 7 the next day, and sometimes she can play happily on her own in her crib and drift in and out of sleep until as late as 8 AM. HOORAY!
The problem is that Isla still wakes up a lot at night. She wakes up at 8 for another bottle. Then at 11. Then sometimes also at 1. And 3. Sometimes even again at 5. I would say most nights, it's just waking up at 8, 11, and then either 1 or 3, but some nights we get the whole shebang. Other nights, she just wakes up every hour on the hour for a solid 6 hours after we put her down.
We don't rush in the second she starts making noises or even crying. A lot of times she wakes up, fusses a little, and then gets comfy and goes back to sleep. It's when she gets herself all the way into a sitting position and starts flinging her lovey around while screaming at the top of her lungs that we know we either go in, or it's going to devolve into a full-blown meltdown. Usually, she just wants to eat some more, which I think is because she eats so little during the day formula-wise. (Did I mention we're 100% on formula now? We are. I finally completely dried up over the Thanksgiving holidays, and Isla quit nursing because the well was dry.) Sometimes, though, she just wants to be held. Or to play.
If she wants to play, we put her back down and leave until she demonstrates she's actually upset. Sometimes she goes back to sleep. Sometimes she doesn't.
If she's genuinely upset, but not hungry, we try to figure out what might be bothering her. Teething is a biggie lately, so we sometimes do ibuprofen or teething tablets. Sometimes she's gassy, which is no surprise considering all the new solids she's being introduced to. We also know she's hitting a boatload of milestones right now–walking, pointing, etc. I know that will definitely make sleep difficult.
Regardless of the reasons or lack of reasons, it's really frustrating that she's 10 months old and still often never gets more than a 3 or 4 hour stretch of sleep at night, which as I understand it, means she's still not sleeping through the night according to pretty much any definition of the phrase. We've toyed with doing CIO or not responding to her cries at night, but I still don't feel completely right with that. No judgment for others. In Isla's case, it just seems to turn into a total meltdown and makes everything that much worse. Plus, I know she really is still hungry a lot of the time.
So I don't know. She can definitely self-soothe and get herself back to sleep a lot of the time, but it's not all the time, and Kellen and I are both ready for at least 8 hours of uninterrupted sleep at night. Does anyone out there in bloggerland have any tips or personal experiences to share?