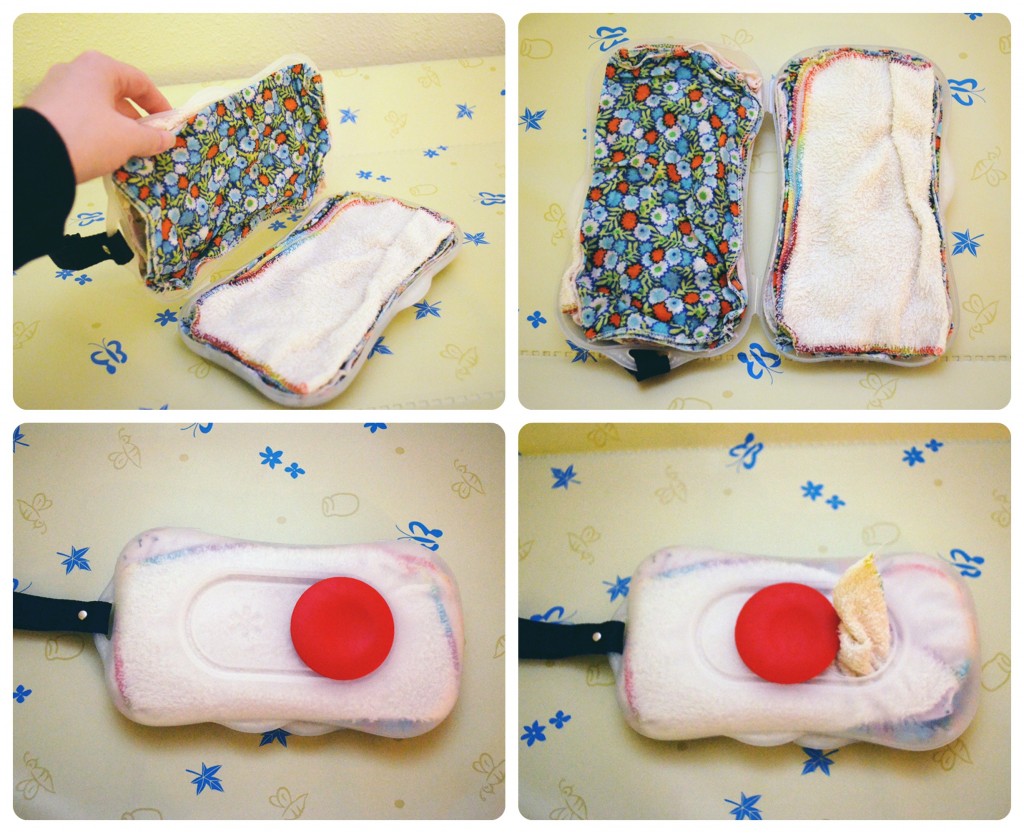 A few weeks back, Kellen and I decided it was time to go back to sending Isla to daycare with cloth wipes. We'd used cloth wipes exclusively when I was home with her the first few months and continued to use them after she started back at a big daycare center near our house. But after we switched to a sitter who kept Isla in her home, we started sending disposable wipes to daycare. It initially seemed easier to send a big pack of disposable wipes than having to repack cloth wipes every day, and we didn't really have a good system for sending cloth wipes. We were rolling a bunch of damp wipes up and sending them in a ziploc sandwich bag, which isn't an elegant or easy to use solution. It was really hard to get the wipes to unroll and after a few days, the bags would stop zipping very well or get holes in them.
It was never a favorite policy of mine. It was a pain to have to go buy big boxes of disposable wipes. I hated having to pick them out of the laundry, since the sitter would toss them in with the diapers. (Where else was she going to put them?) Once we started adding in a lot of cloth diapers with velcro closures, the wipes were continually getting stuck in the velcro and causing our diapers not to stay closed and on. Super fun. 
Before we could switch back, though, I wanted a better storage solution than a ziploc bag. My only problem is that most of the wipes cases I found were not cloth wipe-friendly. They were made for small, thin disposable wipes instead. After thoroughly searching Amazon, I found this Skip Hop Swipe Baby Wipes Case, which seemed unique in that it was big and had a wide-mouthed opening. I didn't find any reviews specifically stating, "We use cloth diapers, and this was awesome," but I thought we'd take a chance. After all, it wasn't very expensive, and if worse came to worst, I'd just put disposable wipes in it and give up on our cloth wipe idea.
It ended up being a great solution, though. I can fit plenty of cloth wipes in for a single day–a dozen or a little more, which is more than enough, even for a day where Isla has a lot of #2s. I just take our damp wipes out of our big wipes warmer and load them into both sides of the case. I make sure everything is tucked in, then close up the case. In order to take a wipe out, all you have to do is slide back the red circle, and the opening is wide enough for even our thickest terry wipes and our flannel wipes are not a problem*. It keeps the wipes damp all day, and you don't have to mess with having to shake them out the way we did when we were using our rolled up storage method in sandwich bags.
The case easily slips in to Isla's daycare bag in the morning, and I feel like it's a pretty direct substitute for the big packet of wipes we were sending. Our babysitter is happy, and we're happy because our laundry has been 100% less obnoxious. We're no longer having to pick remnants of cloth wipes out of our velcro closures or separating out a stack of clean wipes out of the laundry before we start folding diapers.
The Skip Hop wipes case also works well when we're out and about and using cloth diapers. The case is big enough for a day's worth of wipes, but slim enough it slips into the side of a stuffed diaper bag. The slide mechanism and the wide hole to pull the wipes out makes it one of the easiest cloth wipes solutions we've tried, and that includes our wipes warmer at home. I highly recommend it to parents using cloth wipes, for home use, for carrying in your diaper bag when you're out of the house or traveling, or for daycare.
Update 8/13/14
We're still using this wipes case almost a year and a half later. It's not in perfect condition. A few months ago, our sitter did drop the case and the hinges broke, but we're still using it because it still works in general, even if the hinges no longer do. I'll probably get a new one before we have another baby, because a year and a half is a pretty good run for a plastic wipes case.
* Originally posted March 4, 2013. Republished August 13, 2014