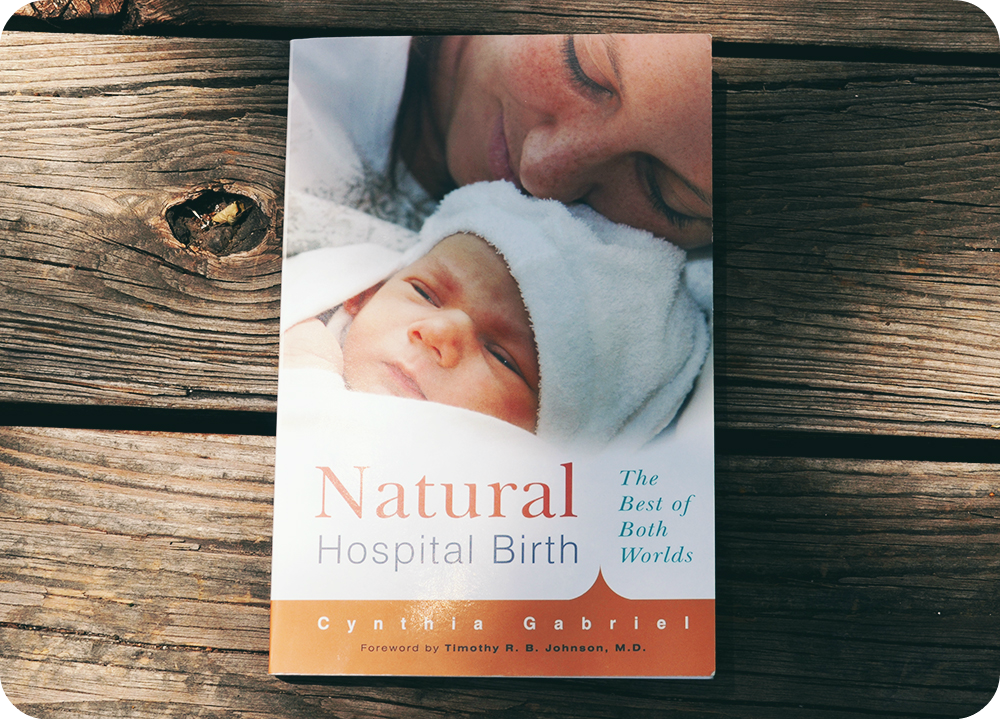 If I could recommend one book to parents who are seeking a natural birth, but know home birth is not for them, Natural Hospital Birth by Cynthia Gabriel is the book I'd suggest. I loved this book so much the first time I read it, I immediately made my husband read it. And after he read it, we both agreed it was something we'd want to read again, next time armed with highlighters and post-it notes. I wouldn't be surprised if this book goes with us to the hospital next time.
My first birth was a mess. I agreed to an induction I didn't need, before my body was ready, because my doctor frightened me into it, and when the first round failed, my doctors and nurses put my baby and me through hell to try to force birth. When my daughter finally did come out–after 16 hours of painful contractions, some of them up to 4 minutes long and with little break in between–it was by emergency c-section. For the last 2 years, I've struggled with the decisions I made that led to the c-section and with how I was lied to, manipulated, and treated by medical staff when I was incredibly vulnerable. I've struggled to overcome my fear of putting myself at the mercy of doctors and nurses again.
For me, one of the biggest final roadblocks to deciding whether and when to have another child has been: can I avoid this happening to me a second time?
Obviously, there's no way to know for sure whether I can avoid another c-section. Natural Hospital Birth gave me confidence, though, that I can have a better experience.
The book has so many things going for it. For me, the most powerful things this books offers are strategies for finding out how truly necessary an intervention is (spoiler: if doctors say it absolutely cannot wait, it's probably actually urgent) and how to get the doctors and nurses on your side. Unlike a lot of natural birth books, Gabriel doesn't treat doctors and nurses as adversaries. Instead, she sees them as necessary partners for a great birth experience. Whether you manage to pull off the mythical 100% drug-free vaginal birth or not, if your medical staff isn't supportive, it could make your birth experience an absolute misery. And if you have them on your side, they're more likely to be rooting for you, honest with you, and more likely to be kind to you if something truly does go awry and you need an intervention.
Gabriel also provides tons of recommendations for how to prepare for birth, how to find supportive medical practitioners, how to handle unique situations (like VBAC, birthing multiples, and being a survivor of trauma), and strategies for coping with birth at each step of the way to maximize your chances of birthing naturally. The book closes with the appendix "Common Medical Interventions and How to Avoid Them." My birth felt like running a gauntlet of interventions. The doctors and nurses kept recommending them, and because I had no way of knowing or determining whether they were necessary, I agreed to all of them.
If I could go back and do it all over again, I would have taken up my CNM's recommendation at my 41 week check-up to put off the induction my OB had scheduled the week before until 42 weeks. I was not a good candidate for induction, with my cervix so high at my 40 week appointment the OB could barely even find it. I had one slightly elevated blood pressure reading that was never repeated as the "reason" for my induction, but the real reason is that my doctor was already going to be in the hospital that day. At the time, though, I was afraid to push back. I didn't want to be that patient. I didn't know what questions to ask to get the answers I needed to say yes or no. Mostly though, I didn't know how badly things could go. I trusted my doctor to be on my side, and she wasn't, and I didn't know then how much that would matter in the L&D room until I was already there and it was too late.
For me, this book helped me answer the question "What did I do wrong?" Which, again, is not to say that if I'd made different choices I could have entirely avoided an induction or an epidural or a c-section. This book did help me see where I failed to ask the right questions and therefore failed to get the best answers. This book helped me see where I should have seen red flags with my OB and where I might have considered going to a different practice or at least switching to a different provider within the same practice. This book helped me see a way to do it better next time.
After my husband read the book, it gave him a lot of clarity about our birth, as well. It helped him realize how important the role of the support person is in birth and how he can help me have a better experience when we do this again. I feel like this book will help us be a better team, and when you are in labor and your entire mind and body are focused on the task at hand, you really need your support person and team to be there to ask the right questions and make the right decisions.
Natural Hospital Birth gave me confidence about having to give birth again. After I read this book, I felt like it was possible after all to have a better experience. It gave me strategies for a better birth with a better shot at the outcome I want, and hopefully a positive experience even if things don't go exactly how I'd like them to. It made me look forward to being back to L&D, rather than terrified.
If you are interested in a natural hospital birth, if you are recovering from a traumatic birth, if you are hoping for a VBAC…this is the book for you. Read it. Read it twice! Have your highlighter at the ready. Best of luck.