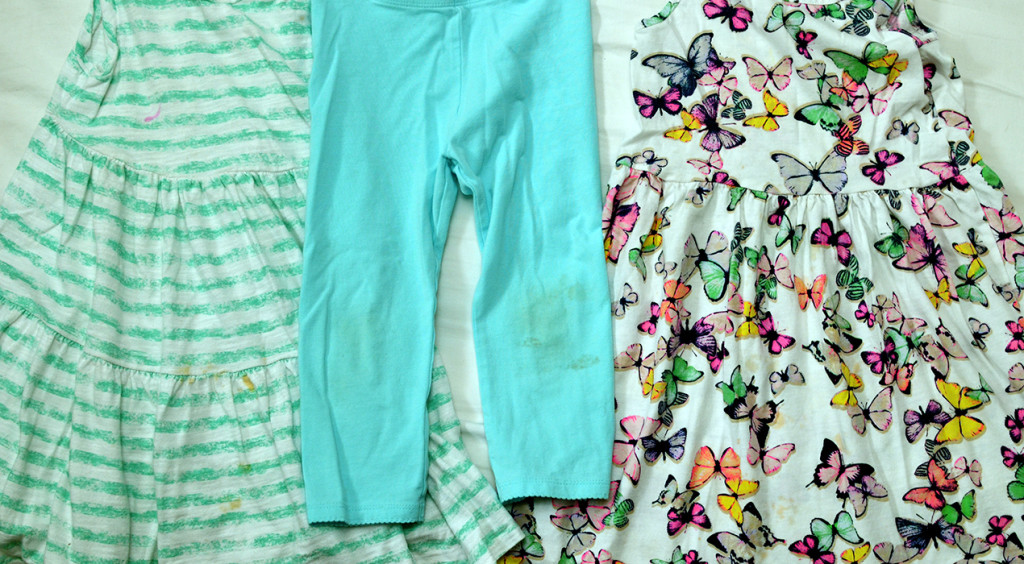 When the weather began to  warm up in March, I was so relieved. Pretty much all the clothes Isla had worn during the winter were stained, ripped, and had holes in them. Frankly I was a little embarrassed to take her out in half the outfits given their bedraggled state, but I couldn't justify spending money on clothes she'd wear for the remaining few weeks of sporadic cold weather and then outgrow by next winter. I went out and purchased new summer clothes, grateful I'd finally be able to take her out in public without feeling the judgmental eyes of total strangers at my daughter's ragamuffin appearance.
Thank goodness I don't spend a lot of money on her clothes. (Shout out to H&M's $5 dresses and $4 leggings.) 6 weeks later, pretty much every dress is stained, mostly with whatever she ate at lunch at daycare, although sometimes it's paint. The leggings all have permanent gray seats from playing in rocks and dirt, and grass and dirt stains on the knees. One dress came home with a big hole in the back. I asked Isla what happened. "Evelyn cut it!" she grumped, scowling. Well, at least it wasn't her hair, was all I could think.
Don't even get me started on the shoe situation.
So it's May and I'm buying an all new batch of clothes for her–in dark colors that won't show stains as badly, I hope. I don't know what else to do.
Most of the disasters happen at daycare, and by the time she makes it home, the stains are too far gone to do anything about. Not that I have time to scrub and experiment with Pinterest stain remedies every night of the week. The holes for the most part can be patched or sewed up, but the repairs don't last long. While I don't blame daycare–I don't know how they'd begin to manage stain-fighting with 20 3-year-olds when I can barely manage with the one–sometimes I do lament the fact that if she were home, I'd be able to keep her clothes in better condition.
I feel like I'm fighting an uphill battle. Not that I fuss a lot over Isla's appearance. She has pretty strong opinions about what she wears and how to do her hair, and I have no interest in fighting daily battles over how she looks. It's not worth it, and after all, it is her body. For the most part, I'm satisfied if her hair looks like it's been combed at some point in the last week and her clothes have no visible tears or stains. Maintaining this bare minimum standard for presentableness, though, requires a degree of hypervigilance I simply can't manage given everything else that needs to be done in the course of the day.
I look at other kids, and while they usually have that rumpled look of children who've played hard all day, they don't typically look like they've just survived a hurricane made up entirely of spaghetti sauce, dirt, and hot pink paint. Which is precisely how my daughter looks every day of the world, 5 minutes after I've put her in a brand new outfit and combed and fixed her hair. Even when there's absolutely nothing for her to get dirty from, she somehow manages. She's a mess magnet.
I think I just have to accept that my daughter will forever be the little kid encrusted in filth, bed head proudly floating up like a puff of cotton candy, scabby knees visible through holes in the grass-stained knees of her pants. That's just who she is. I might as well embrace it.