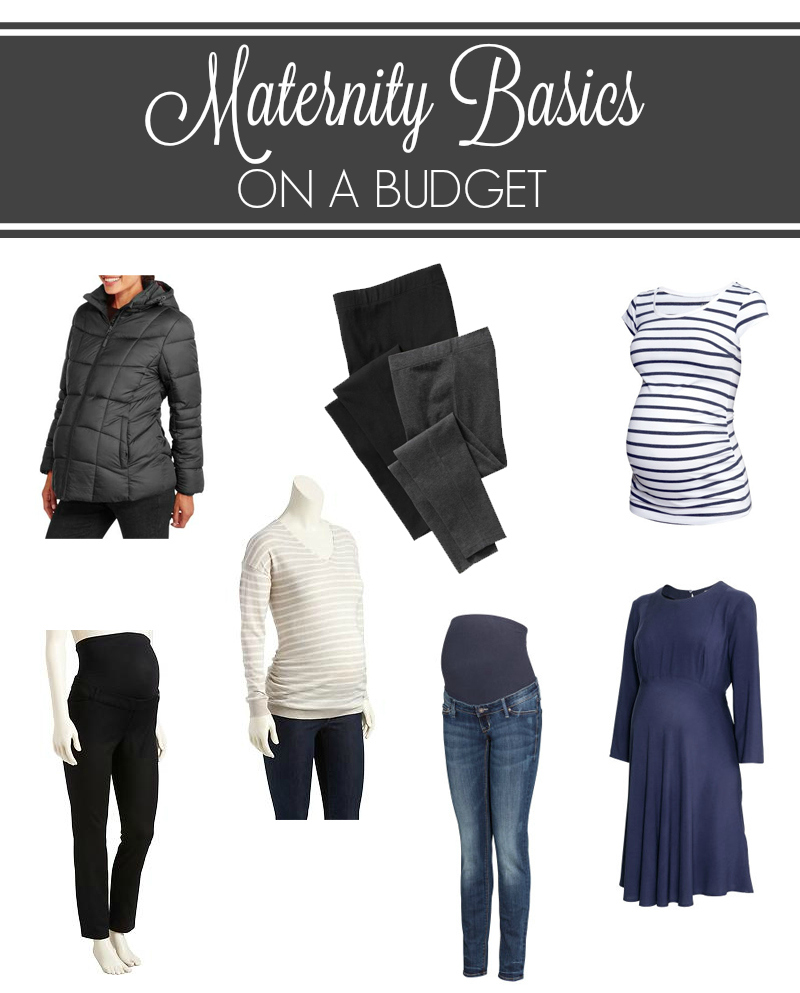 As the title of this blog might have tipped you off, I'm not exactly a fashion plate. I'm a busy working mom, and I prefer my clothes to be simple, practical, comfortable, flattering, and inexpensive. My wardrobe tends to hinge on a handful of staples that can be easily mixed and matched, so that most days I don't have to think a whole lot about what I'm going to wear. Now that I'm shopping in the maternity section, these priorities have become even more important, since I have a limited budget to purchase basically all the clothes I'm going to wear for the next few months.
I know that a lot of women face the same challenge I do, trying to get the most mileage out of their maternity clothes when they may only be able to buy a few pieces. Below I share the staples I've used to build a maternity wardrobe on a budget.
Jeans
My favorite maternity jeans are H&Ms MAMA skinny jeans. They run around $40, but they hold their shape better than some of the less expensive maternity jeans and the full belly panel is nice and thick, so they stay up. Plus, they are super cute and fit well. No dumpy rear end in these.
Slacks
Slacks are an important staple for working moms-to-be, especially in the winter. I dig these Pixie full panel ankle pants from Old Navy. They are professional, flattering, and comfortable, and like the MAMA skinny jeans, they run around $40.

Leggings
Leggings are the true workhorses of my maternity wardrobe. I wear them under dresses, under long t-shirts and tunics, under sweaters. I can pair them with sneakers for casual weekend wear or dress them up with boots or flats for work. Leggings are my everything, and my absolute favorites are these 2-packs from Old Navy for $20.
Tank Tops
Most knits today are so thin and clingy, some kind of tank top underneath to add some opacity and smooth out lines from undergarments and jeans is necessary. I wear these layering tunic tank tops from Old Navy, all colors under $12, pretty much every day, pregnant or not.  They are thick, soft, stretchy, and long enough to cover your belly even at 10 months. (Been there, done that!) I bought 3 in white, 3 in black, enough to last me through the week under any color top.

T-shirts
T-shirts are a staple of my wardrobe, pregnant or not, any time of year. They're the perfect classic casual style. I prefer inexpensive knit items with ruching in the sides to provide maximum give, like this MAMA jersey top from H&M for $10.

Sweaters
If you're pregnant in the winter as I have been for both babies, simple knit sweaters like the V-necked striped pullover from Old Navy, currently on sale for under $20, are a great grab-and-go item to have in your wardrobe. You can wear them with jeans, slacks, and if they're long enough (like these awesome Liz Lange tunic sweaters from Target for under $25), even leggings. They are easy to find on sale at great prices and age well, too. If you're pregnant again in 5 years, I guarantee you, the same styles will still be in all the maternity shops, meaning your 5-year-old sweater will still fit right in.

Dresses
I've been lucky in that most of my non-maternity dresses (like this pintucked shift dress from Old Navy for $35) stretch pretty well throughout pregnancy, so I haven't invested in maternity dresses. If you can't make your pre-pregnancy dresses stretch or are worried about your non-maternity dresses seeing you through the last few weeks of pregnancy, though, simple knit dresses like this MAMA knee-length dress for $30 from H&M can be a relatively inexpensive way to stay cute and comfortable. Just put them over leggings and go. Maxi dresses are also a great option, although because I'm short, I tend not to buy them because I don't want to have to fool with tailoring.
Coat
This has come up on every pregnancy board I've ever been a part of. Maternity coats tend to run expensive, and a lot of women struggle to justify the cost of something they're only going to wear a few months. When I was pregnant with Isla, I came across this inexpensive hooded puffer coat from Walmart. It's not the most fashion-forward coat, but it is thick, warm, and comfortable, and at just over $20, it's hands down one of the cheapest maternity coats around. Plus, I've been wearing mine the last 4 years, and it's withstood a remarkable amount of wear and tear.
Tips for Getting Good Deals
My biggest recommendation is to get on the mailing list for sales for your favorite stores. H&M doesn't do sales very often, but Target, Old Navy, Gap, Pink Blush, Kohl's, and Motherhood all do. Wait for the 30% and 40% off sales. They happen fairly regularly. You can also check RetailMeNot for coupon codes any time you need to purchase an item quickly and don't want to wait for a sale. Ross doesn't have maternity online, but they often have a good selection at great prices in-store. ASOS and Pink Blush are two of my favorite places to find more formal maternity dresses if you find yourself with an invitation to a wedding or formal dinner. Goodwill, eBay, and garage sales are a great way to find lightly used maternity wear on the cheap.