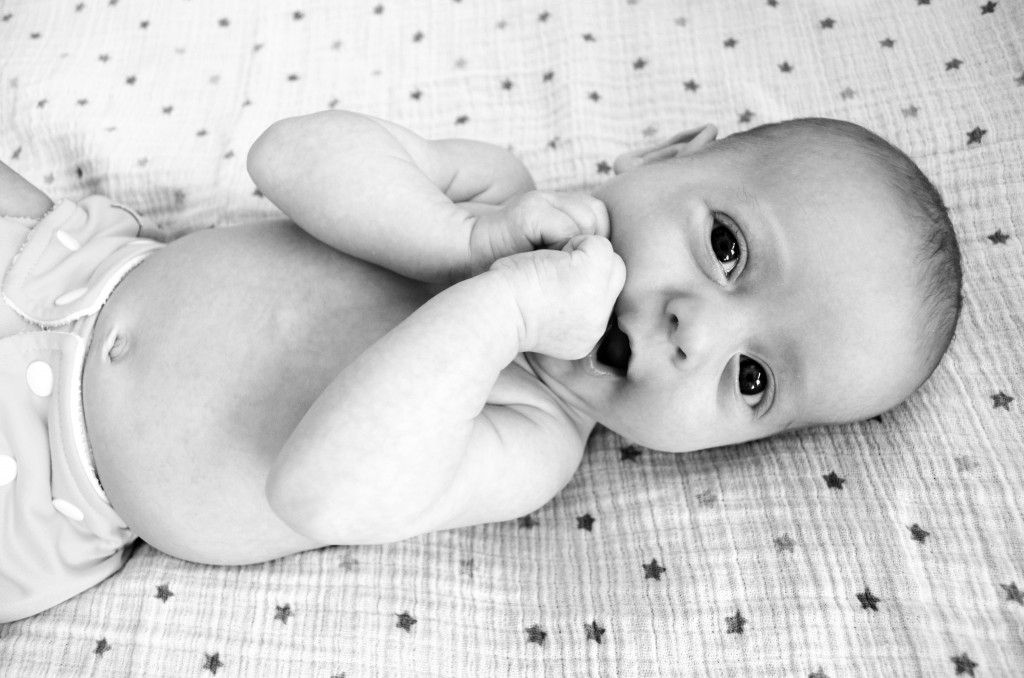 Another month has come and gone. Isla is now two whole months old.
This month brought a few changes. While she's been pretty alert since she was born, she's definitely become much more intentional in her alertness. She loves her play mat these days. She can sit on it for 20 minutes at a time, kicking and batting at her toys, chatting with them, her eyes as big as saucers. She's able to grasp things now. If I leave snappis, bibs, clothes anywhere near her hands, she'll get them and start waving them around. I know that part isn't intentional, but it's fun to watch her whack herself in the face with her bib. 😉 She's also gotten a lot more vocal. Especially in the mornings, she'll chat and chat and chat. It's so fun to talk to her, because she talks right back. I'm really looking forward to her chatter turning into real conversation.
Someone also turned on the waterworks this month. No, not tears (although she's got those in spades.) Drool. She's constantly blowing spit bubbles and has a stream of drool running down the side of her face. All of her onesies and dresses have a ring of saliva around the collar. I've also started to notice an uptick in chewing. Chewing on her hands. Chewing on her toys. It's disgusting and adorable at the same time, like so many things with a baby.
She's also starting to get more on a schedule. She naps more regularly during the day and has more consistent playtimes. It makes it a lot easier on me to get things done, in part just because I have more free time during the day and in part because she's more predictable. She sleeps pretty consistently through the night. One long stretch starting at 8:30 or 9, and then 1-2 feeds in the middle of the night. Of course, there are always days when this doesn't happen. Painful gas continues to plague us, leaving us with a couple of sleepless nights in a row. I think we finally figured out that if we put her in her swing on the nights her tummy's hurting, we all sleep a lot better…sometimes better than we sleep on days when she's feeling fine.
In all, it's been a fun month. I've really enjoyed getting this time with her and am happy we get almost another full month together before I'm back at work. Going to try to soak it all up before I'm back in the office, and she's in daycare 3 days a week.
So far…
Isla likes:
Her play mat. She loves to chat and play with Mr. Octopus and Mr. Dragonfly. These guys absorb a lot of her time these days.
Eating. Good lord does she eat a lot.
"Her birds." The birds on the mobile part of her swing, that is. Those guys get a big grin pretty much every time she goes in the swing.
Being read to. We've started reading to her in the afternoons when she's awake in her swing. She likes bright and colorful pictures in picture books, and I think just having the attention of Mama and Daddy talking to her.
People. She's generally pretty easygoing in pretty much anyone's arms. As long as someone will hold her, talk to her, and let her chew on them a little, she's pretty content.
Isla doesn't care for:
Her car seat. She never goes in her car seat without fussing. Ever. It's just no fun being strapped in, facing away from all of the fun people.
Bottles. We're still working on getting her to take the bottle easily. We've been through 5 different kinds of bottles now. Tommee Tippee seems to be the winner, although she still fusses for a few minutes before she'll take it, and has on a couple of occasions refused it altogether. *sigh* 4 weeks, baby girl, before that's going to be your main source of sustenance. You've gotta learn! I'm hoping a couple of weeks with my family down in Texas with people around all day to give bottles before I go back to work will help me get into a pumping schedule during the day (goodbye, daytime nursing–I'm still not sure whether I'm going to miss you) and her used to the bottle. Fingers crossed!