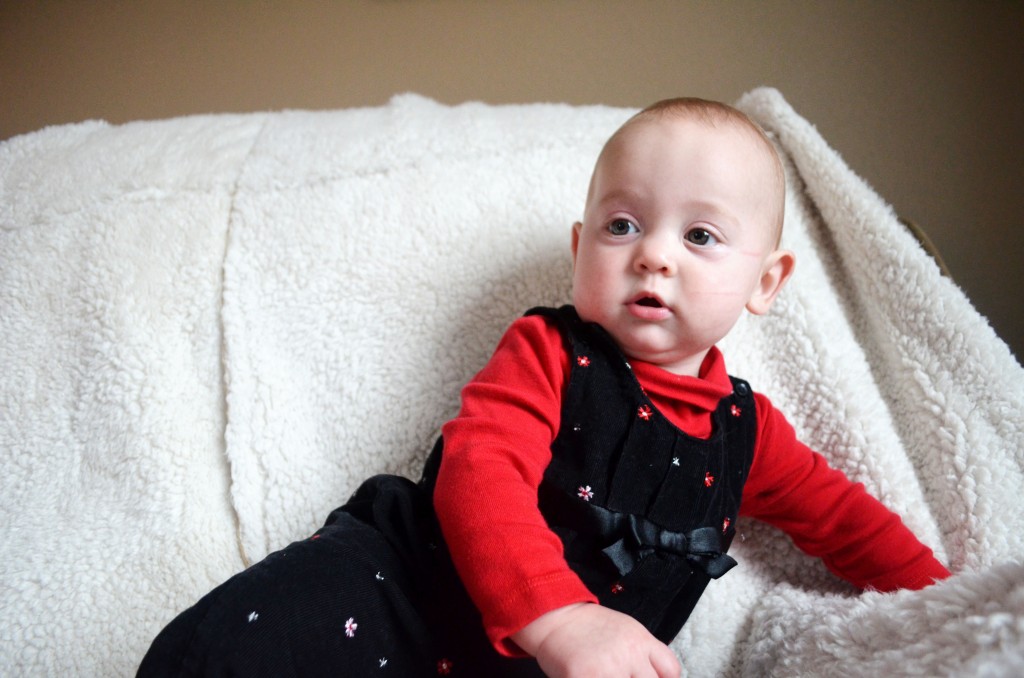 What has happened this month? A lot. As always.
This month Isla learned how to pull hair. And climb. And eat magazines. And rip apart loufas in the bathroom. And make out with the baby in the mirror. And with the oven.
She's started standing on her own unsupported for a few seconds at a time. I have video evidence of her standing up totally on her own for about 5 seconds. She's also started practice-walking. She'll get behind the wrong side of her piano and push it, effectively taking steps. I'm a little worried she might be splay-footed, since she tends to walk with her feet pointed out. My husband apparently did this and had to wear braces as a baby to correct it. Something to mention at her 9-month well baby check, I guess.
She also has learned to wave. She loves when people wave to her, and she will often wave back. We went to a local outlet mall recently with family, and Isla charmed many strangers by waving at them as we walked around the outdoor mall.
She's been trying to learn to clap. She's fascinated when Kellen or I clap, and she'll grab my hands and try to make them clap each other. She's started working on the motions herself, but she still has a tendency to curl her hands, so it hasn't been 100% successful yet.
She's sleeping much better and eating lots of solid foods. She isn't nursing as well as I'd like, but we're still hanging on to a couple of nursing sessions a day. A tooth has popped up…and disappeared. Maybe we'll have a permanent toofer soon.
We've more or less disbanded the swing and infant car seat at this point. We still use the infant car  seat in the car, but in restaurants and grocery stores, she can use the high chairs or seat in the grocery cart no problem. At restaurants, she's so cute. As long as we give her puffs, she'll calmly feed herself while we have dinner. She's very easy.
She's also starting to learn the word "no." When we give her a firm "no," usually when she's getting into something she's not supposed to be into, she'll stop what she's doing. Sometimes she'll try it again, but the "no" is usually enough. A few times, she's started crying, usually because she's tired.
We've been having so much fun with her this month. She loves to play and chatter and get into everything. She's very entertaining. She really loves peekaboo, but none of this namby pamby hiding behind your hand things. She likes when we hide our entire bodies behind walls and then jump out. She thinks it's hilarious.
We've got a lot coming up this month. For one, Isla is going to start going to daycare 5 days a week. Isla has gotten to be way too much…let's call it fun to watch and try to get any work done, so we had to give up our work-from-home/work-with-Isla days. I was way more upset about this than I was about initially returning to work, but it's what has to be done. I can't quit my job (and don't want to) and ditto for Kellen. Isla loves our regular sitter, Traci, who now has her Monday-Thursday, and will be starting with a new sitter, Chelsea, on Fridays, after we get back from our Thanksgiving holiday. I know Isla will be happy and honestly probably far better entertained by our sitters and their children than she is by us now, considering we spend our Mondays and Fridays mostly glued to our laptops while basically just trying to keep her from killing herself. It will be good for everyone.
The other thing is we're going on our second plane trip, back to Texas, for Thanksgiving. We leave today, and I am absolutely dreading it. I'll let you all know how 4+ hours on a plane and then 3+ hours in a car with a very active 8-month-old go. My guess is the word "disaster" is going to be in that post repeatedly. Pray for us! I'm really looking forward to spending time with my family, though. We're not going to be home for Christmas this year, so we'll have to squeeze in all the fun with my crazy family in this one little visit. I know they're going to spoil Isla rotten this week. I wish they had more opportunities to spoil her. *sigh*
Isla's not-so-favorites this month include diaper changes, putting on clothes, and sitting still.
Isla's favorites include PUFFS!, Pippin, "da da," waving, peekabo, playing with anything that isn't one of her toys, door stops that go "boing," bath time, the BSG theme song, and anything that lights up and makes noise.