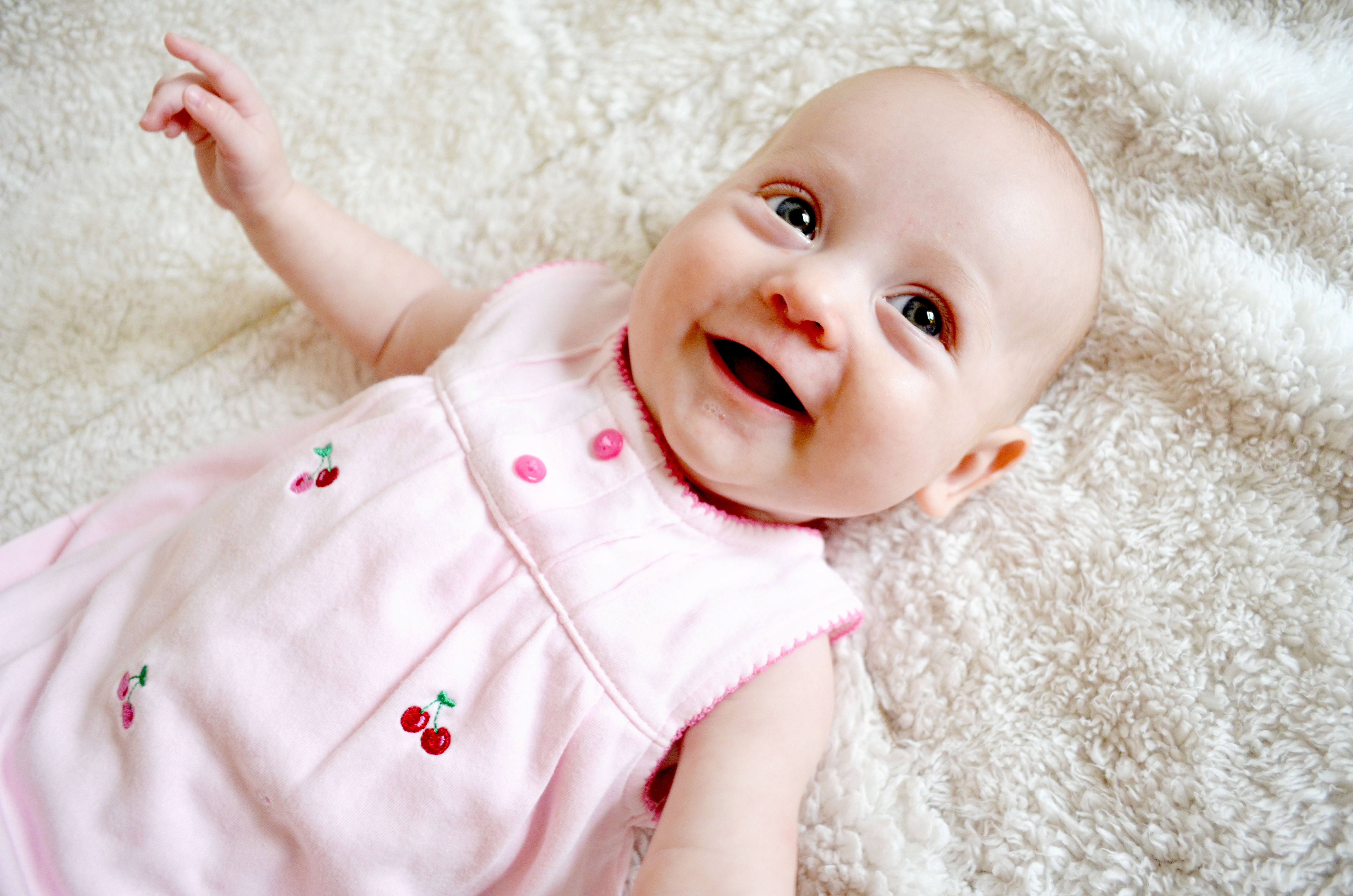 This month has been a lot of fun, mostly because this month, Isla really turned on the giggles. She laughs at everything, but especially Pippin (our dog), Daddy talking in the Batman voice, Cookie Monster, and dancing.
She's as high energy as ever, constantly on the go. She likes to be sitting or standing or held upright. Laying down is only acceptable for nursing (where she's becoming increasingly distractible), sleeping, and playing on her playmat. She's working on pushing herself up onto her elbows so she can sit up by herself. This trick means we now have to strap her in to her bouncer, or she'll wriggle herself completely out of it. Still no rolling over, but she can scoot herself in a 360-degree circle and get around just fine by pushing herself on her back with her legs. The bald spot on the back of her head is massive.
Tummy time is now Shamu time. She can hold her head up quite a bit, but she also holds her feet up at the same time. It's pretty funny to watch. As long as she's perched somewhere where she can see things (like on top of her changing table) and has something entertaining to look at (like the dog), she tolerates tummy time pretty well now. She still doesn't like being on her belly, though.
Just as we're starting to get much more exuberant happy emotions, she's got a definite mad yowl now. Sharp kicks and flails with a Pee Oh'd face and angry screaming. No mistaking it. She's got my temper.
Isla finished her first full month at daycare. She really likes her daycare (as do we), but she's had 2 colds this month, and, of course, if she gets sick, so do I. With her first cold, all of us were sick, and as hard as being a parent normally is, it's 1,000 times harder when you and your husband are both barely able to hold your heads up. You'd think, it being summer and all, this wouldn't be as much of an issue. I'm dreading actual cold and flu season.
Another sad, at least for me, is that she's hit a growth spurt in the last week or so, and not-so-slowly but surely her 0-3 month outfits are going the way of her newborn clothes. The newborn clothes she wore for a solid 10 weeks, though. Many of her 0-3 outfits had less than a month in rotation before she outgrew them, and we have a lot of 0-3 clothes that she's never worn at all because she went through them all so quickly. We're now into 3-6 or 6 month sizes. Holy cow. I'm trying to plan these out better, though, so she wears all of them.
Sleeping is interesting, as always. We were doing pretty well, until we weren't. Summer heat with no a/c in her room means she's rooming in with us, which has changed the routine a little, and the colds have meant she's spent a lot of nights in the swing, which keep her more upright and help with the congestion. I've started to look more seriously into sleep training. She's definitely hit a major growth spurt in the last couple of weeks, shooting from just over 10 lbs. to 12 lbs. 1 oz. in 3 weeks, and her sleep patterns have changed. Lots of 4 AM ready to party. Nuh-uh. Not in my house, kiddo. So I'm thinking she might have hit the sleep developmental milestone that means she's ready for sleep training. Right now, I'm reading The No-Cry Sleep Solution. I'll let you know how it goes.

Isla laughing at Pipping