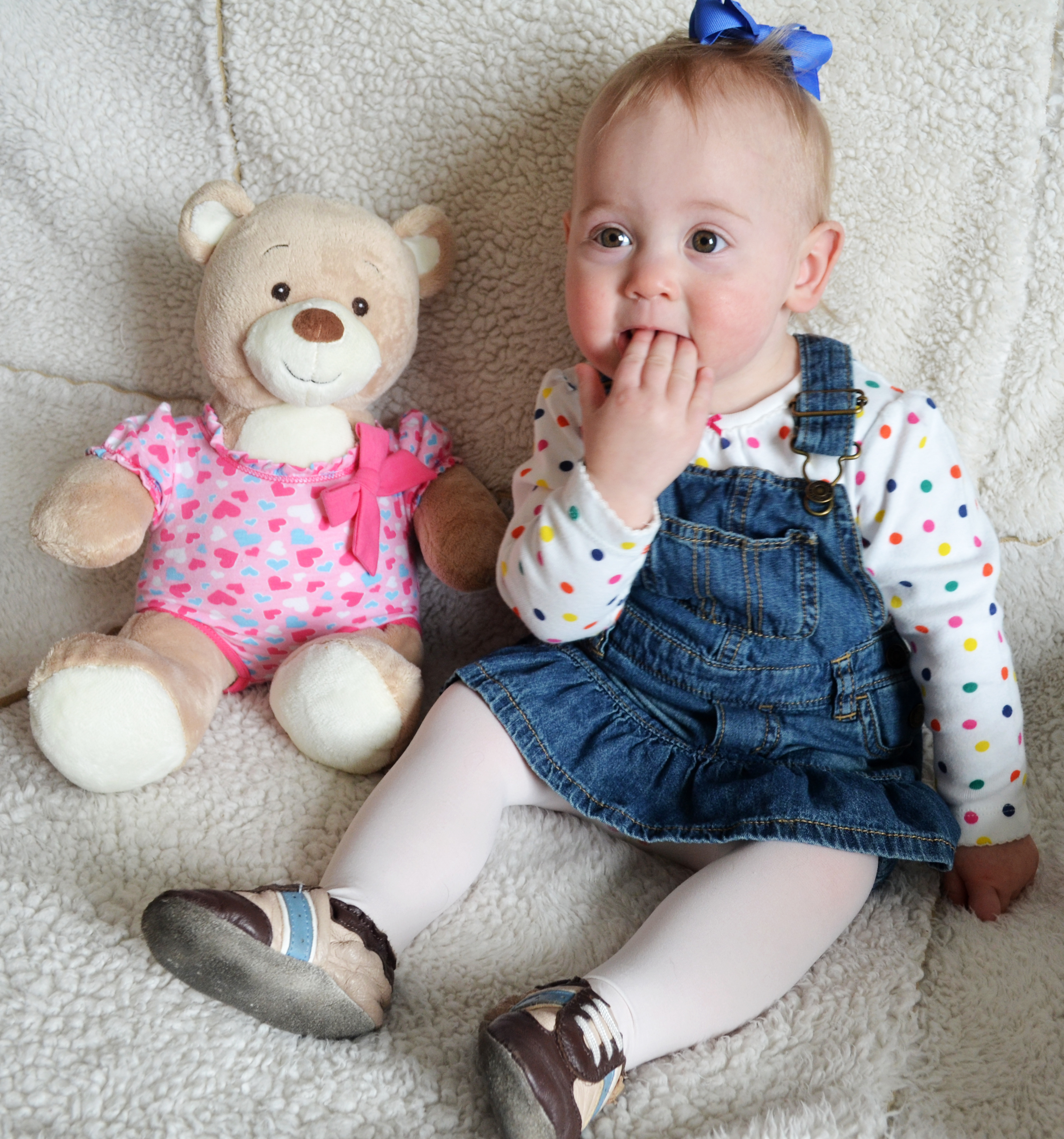 Well, this is it. Our very last monthly update. Isla is a whole one year old. I can't believe what a big girl she has become and how fast the last 12 months went.
What I can tell you now, at one year, is that Isla is extremely active. I know I say this every month and have since she was born, but it's so very true. She go, go, goes from the time she pops up from a dead sleep in the morning until the time she crashes hard at bedtime. She walks, she runs, she climbs. On Sunday, her actual birthday, she figured out how to climb into and out of our lawn chairs all by herself, and repeated the feat a dozen or more times.
She loves to explore. And climb. And adventure. She's so curious about everything. She walks around pointing at things and asking, "Da?" That? What is it? What does it do? Can I touch it? She studies things, always trying to figure things out. She's very independent. She seems to have no fear of anything. If she wants to do something, she does it, no matter how many times she falls and hurts herself or where her curiosity takes her. It scares me to death, but it makes me insanely proud to see what a self-assured, strong little girl she is.
She laughs. All the time. Nothing brings more joy to my heart than her laughter, and we have a baby who loves to laugh. She laughs when we go up or down the stairs. She laughs at the dog. She laughs at funny faces people make or physical humor. She laughs when we bounce her. She laughs when she rides on Kellen's shoulders. She laughs when you spin her in circles. She laughs when you make funny noises or talk in a weird voice.  She's so happy.
She is showing more and more affection. She will bring you a book and climb into your lap and let you read to her. (Only for about a minute, but still!) She will hug you and give you kisses. She's also started working on blowing kisses. It's mostly lip smacking at this point, but we know what it means. She loves to be picked up and carried places, and she especially loves being rocked to sleep at night. She's never met a person she didn't like, and she loves children the most. She'll walk up to bigger kids playing a game and will try to insert herself. She hasn't quite figured out how to play with other kids all the time, but that doesn't stop her from trying!
In terms of milestones, she's walking everywhere. She says, "hi," "bye bye," "no," "okay," "dog," "done," and "dada." She's gotten very good at repeating back words, so she'll repeat back "diaper," "balloon," "water," etc. She's quite the mimic. If we do something, she'll try to do it, too.
She's eating mostly solid foods at this point, although she still prefers fruits and veggies in puree form. Her favorite food is animal crackers, and split pea soup, french fries, and bananas (not pureed) aren't far behind. She's gotten very picky in the last month, and it's been kind of a challenge to get her to eat. Novelty seems to help, though, and giving her a few things to pick from at every meal. She drinks water from her sippy or from a cup, and feeds herself with a spoon, although we have to supervise pretty closely because she loves to throw things. She also loves feeding Pippin her dinner, which Pippin loves, too. We've started to substitute formula for whole milk, although we're not through our last canister of formula yet, so she gets a little bit of formula in every bottle. I know we need to get her weaned from the bottle, and may try doing that soon during the day, but I dread trying to wean her off the bottle at night. I can envision the inconsolable exhausted screaming already. We probably will wait a while before fighting that battle.
She's 29″ tall according to her growth chart, and she's a big enough girl now she can stand still in front of it long enough to guess her height. She's in 18 month clothes, but still in 6-12  month (or size 4) shoes. I'm not sure exactly how much she weighs, but my guess is around 22 lbs. She's got at least 2 more teeth coming in right, and of the 4 that are all the way in, her top teeth have an adorable little gap.
Her hair is a dirty blond and growing in thick like Kellen's with a little bit of curl to it. Her eyes are hazel, and I think they'll probably stay that way, since they are the same color as my dad's. She gets a lot of compliments on her eyes, and they seem to change from blue to bright green to brown depending on her clothes, the weather, and her mood.
It's funny. So many people have talked to me about how baby's personalities "come out" as they get older. I feel like Isla's personality was all there from the day she was born, maybe even before. I think about how even when I was pregnant, she was such a wiggle worm, constantly rolling and kicking at all hours of the day and night and impossible to get a good view of in ultrasound. When she was born, she was so alert and active, barely sleeping and constantly moving, her bright eyes constantly studying everything, always pushing to do more, more, more RIGHT NOW. She started smiling early and has been smiling ever since. She's the same person now that she was then, just amplified by a million. She definitely has a big personality, just like her daddy.
I love her so much, and she makes me so very proud. Happy birthday, baby girl! I hope one is a great year for you!