This is the Baby Diego bathinette: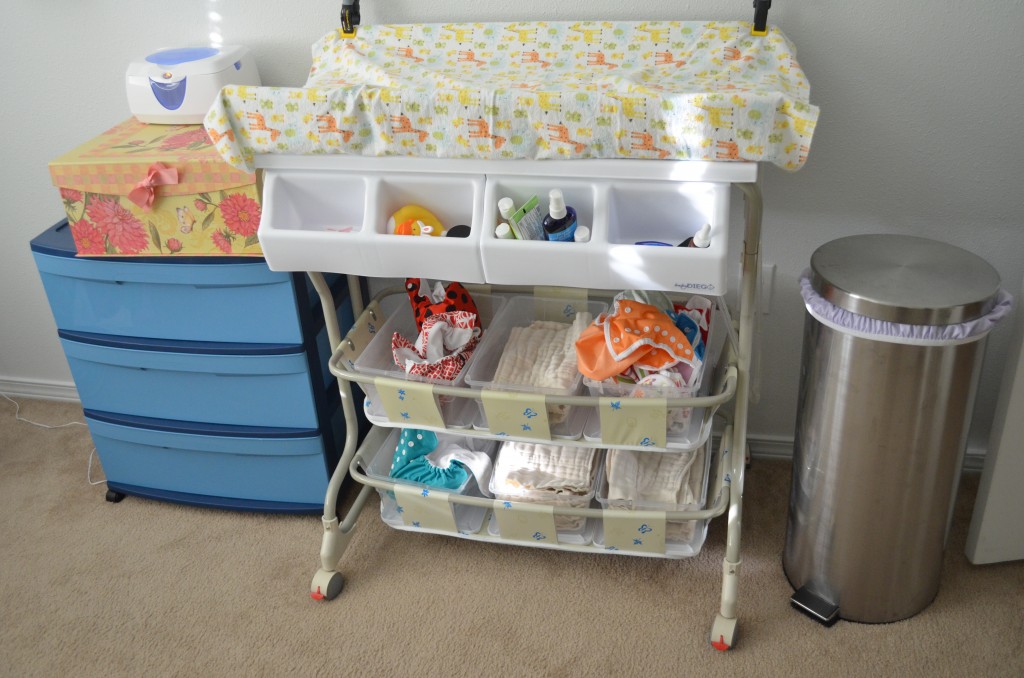 This is a 2-in-1 changing table and bath tub (it's under the changing table) with additional storage underneath. We picked up some small plastic boxes from Fred Meyer to store our diapers in. Prefolds fill 3 separate boxes, covers go in another box, and the other two boxes are filled with AIOs and pocket diapers.
Snappis, diaper lotion spray, and diaper rash creams (Baby Bee Diaper Ointment and Angel Baby Bottom Balm) are kept in the little hanging containers.
Disposables, which we're still using for overnight, go in the pink box next to the changing table. Cloth wipes–just simple flannel squares–are kept in the Munchkin wipes warmer, which is great for keeping the wipes both moist and warm.
The diaper pail is on the other side of the changing table, with a simple trash can we picked up at Fred Meyer. I use Planet Wise Pail Liners.
For SERIOUS #2's, I also have a bathroom set-up for reducing the muck on the diapers:
Sweet, tiny newborn poops are a thing of the past for us, so a diaper sprayer was a necessity. Because the bathroom is across the hall from the baby's room, we didn't want to have to carry dripping diapers across the carpet to put them in the diaper pail in her room, so I got a small Kanga Care wet bag for the bathroom. The pop-out shape makes it REALLY great for a hanging bag.
And that's our cloth diaper storage system!